THIS ABOVE ALL
Working for peace
Khushwant Singh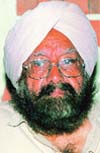 It should have been the aim of both India and Pakistan to define relations between them — fraternal goodwill. Unfortunately, we have never succeeded in achieving our aim. We have fought three wars since Independence. Both countries continue preparations for the next military encounter. We describe it as trust deficit. There are people in both countries who do their best to reduce the trust deficit.
On the Pakistan side, there is Asma Jehangir, who frequently visits India and stresses the need for friendlier relations between the two countries. On the Indian side, there is Kuldip Nayar and many others, who regularly display their goodwill towards Pakistan. Their efforts never change the two governments' attitudes towards each other.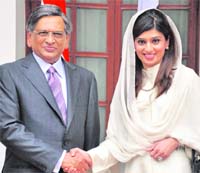 S.M. Krishna held Pakistan Foreign Minister Hina Rabbani Khar's hand and went on shaking it as if he would never
let her go Tribune photo: Mukesh Aggarwal
Consequently, there was little hope of change of attitudes with the visit of Pakistan's new Foreign Minister Hina Rabbani Khar. The first thing she did was to meet separatist leaders. It was a clear message that Pakistan was on the side of separatists in Kashmir. She did not meet Farooq Abdullah, nor his son Omar Abdullah, Chief Minister of Kashmir. Nothing should have been expected from her visit. She spent the rest of her time visiting the dargahs of Hazrat Nizamuddin in Delhi and Moinuddin Chishti in Ajmer.
The outcome of her talks with our Foreign Minister S.M. Krishna is not known. However, he gave his Pakistan counterpart a warm send-off. Those who watched the farewell meeting noticed how 74-year-old Krishna held 34-year-old Hina's hand and went on shaking it as if he would never let her go. Hina is a very pretty young woman and holding her hand must have been a pleasant experience.
Murder or suicide ?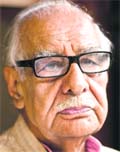 Kuldip Nayar regularly displays goodwill towards Pakistan
He is the third top medical officer to have died;
But since what the UP Government says cannot be denied; Dr Y.S. Sachan committed suicide;
In view of the "ideal" law and order situation in the state; 
The courts or the CBI cannot otherwise decide;
"Abide by the highest standards of probity;"
Is by personal example taught by Mayawati;
So not only in the Health Department;
A scam of three thousand crore in UP;
Just cannot be;
No murder can take place;
No criminal can escape;
In UP have you ever heard of rape?
No laws are violated and the farmers' agitation;
Or criticism about Noida Authority's land acquisition;
Is a ploy to defame Mayawati;
Because the whole world knows that UP;
Is the paradise of this country.

(Courtesy: Kuldip Salil, Delhi)
Air travel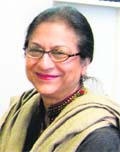 Asma Jehangir from Pakistan frequently visits India and stresses the need for friendlier relations
Many passengers from Kerala working in Gulf countries have poor knowledge of the English language. A few years ago, such a passenger at one airline check-in-counter was asked if he wanted the smoking or non-smoking section. In heavily accented English he replied that he preferred a non-smoking window seat. He was told by the airline employee that the only window seat left was on the wing.
The Keralite looked at the airline assistant with a horrified expression: "No, no!" he shouted. "Inside the aeroplane… inside the aeroplane."
Laughing matter
Six-year-old Vicky came downstairs crying loudly. "What's the matter?" asked his mother.
"Papa was hanging pictures and he just hit his thumb with a hammer," said Vicky.
"That's not so serious", soothed his mother.
"A big boy like you shouldn't be crying at a trifle like that. Why didn't you just laugh?"
"I did," sobbed Vicky.


India and Pakistan have fought three wars. Both countries continue preparations for the next encounter. We describe it as trust deficit. There are people in both countries who do their best to reduce the trust deficit
(Contributed by Reeten Ganguly, Tezpur)