Go for organic clothes
There is increasing awareness among designers about organic apparel. People are willing to buy such pieces as long as they are functional, says Surekha Kadapa-Bose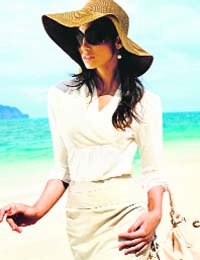 Organic fabric is made only from naturally grown raw material without using chemical fertiliser
There is a new buzz in the world of fashion — organic. Till a couple of years ago, it was only "green." Many designers like Wendell Rodriques (Goa), Sabyasachi Mukherjee (Kolkatta), Anita Dongre (Mumbai), Soumitra Mondal (Kolkatta), Digvijay Singh (Ahmedabad), Deepika Govind (Bangalore), Imcha Imchen (Nagaland) and a few others from all over India were more interested in working with green, or the eco-friendly fabric to keep up with the international trend.
But now some of the "green" designers have taken their environmental friendly or eco-friendly zeal a step further and are incorporating only organic material in their designs. Though at present the number of "only organic" users is still handful, it is growing every day.
Says Bangalore-based designer Deepika Govind: "There is definitely an increasing awareness, both amongst Indian consumers and those from the West about organic apparel. There is a positive reaction to organic dyes and organic clothing, and increasingly customers are willing to buy organic pieces and ensembles as long as they are interesting in design and are functional.''
Green designers are the ones who use fabric made from natural raw materials like cotton, linen, mull, silks etc. Additionally, they restrict only to vegetable dyes. Handloom fabrics like Kota, Khadi, Maheswari, Doria, Tussar etc. are what they play with. Power loom fabrics are no-no to them.
Organic fabric, too, is made only from naturally-grown raw material but with additional eco-friendly factor — no pesticide or chemical fertiliser at all. In fact, there are special government-certified farmers who are known only to grow organic produce. The Agriculture Ministry, after observing farmers and their methods of farming over a period of three years or more, issues certificates, confirming that their products are grown only through organic method. In the same way, there are certified weavers who use only organic raw material in weaving the fabric. Green designers who are interested in organic produce source the fabric from these weavers.
Ahmedabad-based designer Digvijay Singh says: "I am perhaps the only fashion designer who is a certified organic designer. I like the fabric. Though because of the nature of the fabric, it has a rough finish and the limited hues one can dye the fabric with, we can't get dramatic effect on the attire. But then that is where our design creativity has to be strong. The right cut, flow, design and style get noticed.''
Kolkatta-based Soumitra Mondal has adopted Chowk village, near Kolkatta, which has several handloom weavers. He gets them to weave the fabric, which he wants. This way he gets the colour, texture and weave that he wants for his clothes. Deepika has gone a step further. She has her own dyeing unit where she experiments with the vegetable dyes to get what she wants.
"My latest venture in eco-fabric innovation was reinventing Eri, my brand, the peace silk, in a softer weave. It took over two years of intensive research and experimentation to create an Eri with softness, drape and bounce that challenges the Pashmina,'' explains Deepika.
Imcha Imchen, the designer from Nagaland, though settled in Ahmedabad, is currently working at his home state to get the natural weavers there to restart their work. "Till a couple of decades ago, Naga farmers grew cotton what now is known all over the world as organic way. But as life became difficult and the facilities were dwindling, they stopped growing cotton and have become dependent on yarns procured from neighbouring states of West Bengal, Assam and other countries. If they get the correct exposure and help, they can produce the wonderful Nagaland cotton fabric once again,'' says Imchen.
In fact several big apparel brands like Wills Lifestyle and Raymond have started producing collections using organic cotton. That shows the growing popularity of organic products.