BELLYFIT balle balle
Sachin Kalra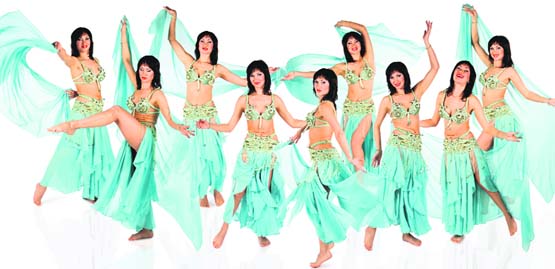 Holistic fitness is the new mantra for all the fitness buffs out there. Everyone is looking for fitness programmes that can bring together the mind, body and spirit. And Bellyfit fits the bill to perfection. Bellyfit helps you care for your entire being in a holistic, safe and highly effective manner. It is a refreshing and truly holistic application of physical fitness for women.
Bellyfit is a fun and fresh combination of moves inspired by belly dance, African dance and Bollywood, with an intelligent infusion of yoga, pilates and mindful mudra meditation. It is designed for women of all ages, sizes, ability and lifestyles.
It is a fusion fitness form that blends the power and wisdom of ancient cultures, and the style and beauty of cultural dance with the research, technology and trends of western fitness. It is designed to connect you to the deep, primal feminine side within, while helping you find the strength and inner calm to deal with modern-day stress.
Bellyfit was created by Alice Bracegirdle in 2003 to answer the need for a women-only fitness class that provided great physical benefits as well as improving self-esteem and body image. It is now a continuously evolving system, expanded by a team of fitness and dance professionals and choreographers, mind/body specialists, music visionaries, etc.
The class format
Bellyfit follows the tried and tested, group fitness class format, and provides an extraordinary exercise experience. A Bellyfit class begins with a simple meditation, followed by a warm-up, cardio section and cool down. The class can basically be divided into two parts, with the first half focussing on easy-to- learn cardio moves infused with the ancient and beautiful fundamentals of belly dance, bollywood, bhangra, African dance and more. And the second half of the class, focussing on sculpting, toning and tightening with pilates inspired core work, deep yet relaxing yoga inspired stretches and ending with mudra meditation.
The warm-up and cool down moves are all categorised according to the 7 chakras. These moves are designed to bring the participant's awareness to the chakras and the muscles that are associated with them, thereby balancing and energising the entire being.
Music is a very important feature. It is the heart and soul of the Bellyfit class experience. The sonic landscape you will hear in a Bellyfit class is unlike any other you will ever experience in a group fitness class. The music is a fusion of the very best ethno-infused techno, tribal rhythms and relaxing ambient tracks. The music brings an energetic component to each class that is essential to the unique success of the Bellyfit experience.
Benefits of Bellyfit
Bellyfit classes have a variety of benefits for the body, mind and spirit. The changes a participant may start to see in her body include improved cardiovascular health; weight loss (particularly in the abdomen area); core strengthening; healthier and stronger thighs, buttocks, back, arms and shoulders; improved posture, flexibility, balance and coordination, greater full body flexibility, improved breath awareness, grace of movement and fewer digestion and menstrual problems.
Mind benefits include; development of a strong mind/body connection, improved self-esteem, greater ability to deal with stress and a non-intimidating introduction to cultural dance.
The spiritual benefits of Bellyfit include fulfillment, community building, feeling of empowerment, feeling energised, learning about the chakra system and how it relates to your body, embracing femininity and sensuality.