Bollywood chronicler
Aradhika Sharma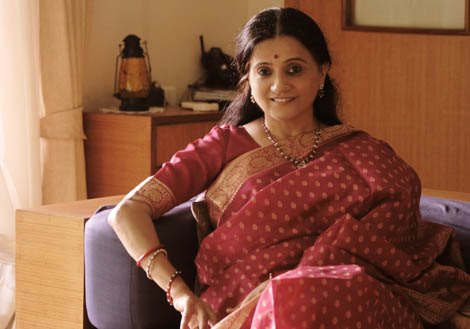 Bhawana Somaaya

Bhawana Somaaya has been a cinema journalist since almost three decades. For the famous chronicler of Bollywood, the show goes on ... and on ... and on, and she faithfully writes, and observes and interviews and chronicles it. Somaaya has recently come out with her 10th book, Amitabh Lexicon, which is a dictionary on the superstar's film etymology. An interesting and novel concept, the book completes Somyaa's trilogy on Amitabh Bachchan, the other two being Amitabh Bachchan: The Legend released in 1999 and Bachchanalia released in 2009.
She has written nine books on the subject of films, including Salaam Bollywood, Hema Malini: Authorised Biography, Fragmented Frames and Krishna: The God who Lived as Man.
You've written three books on Amitabh Bachchan. Do you think you may write yet another one on him?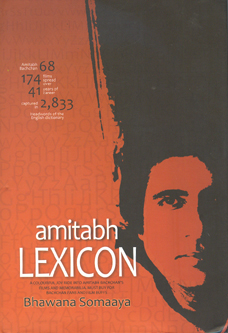 As of now 'no' and in case I change my mind and do; it will not be a factual book. It will be about my observations on the man and the actor.
All my three books were unplanned. The first, The Legend, happened because I had done innumerable interviews with the actor and thought of a biography in conversations. The second was a part of the first but excessive word count forced me to drop the text. I updated the matter over the years and the result was Bachchanalia. The third was semi-ready during the making of the second and I planned it as part of the second but nobody paid heed, so I worked on the idea diligently and at end of the year turned it into a separate book.
Is he an inexhaustible supply of matter for an author?
On the contrary, there are no secrets about him any longer. He is in print, films, TV, stage, website; he blogs and expresses himself on a daily audio platform as well. Still a writer can with a unique idea make the subject interesting. Eventually, all celebrities are human beings and details about their lives are interesting because it is about perceptions.
The idea of Lexicon? How did that happen?
The idea for Amitabh Lexicon came to me almost 11 years ago when I was heading the creative team for a portal to be launched on the actor, probably among the first of its kind in the web world. One day, I was amidst friends and everybody suddenly started conversing in dialogues from famous Amitabh Bachchan scenes. It was interesting that everybody connected with each other through what seemed like an alternate language. The book is a compilation of selective words from the alphabets of the English language associated with different scenes from the actor's body of work: fans will, I'm sure, want to take it to another level or create their own variations.
You are a diva of Bollywood yourself and an authority on it; tell us what you think about it?
I thought Rekha is the eternal diva. At a gathering I attended recently, they described me as the Bollywood badshah and I worried that Shah Rukh would take offence. But jokes aside, I feel Bollywood is a fascinating place. There is an energy, a fatal attraction about the world of cinema that is obsessive. Once you've been a part of it, you feel incomplete without it.
What would you like to change?
Nothing, I like it with the highs and the lows and wrote a book on the pain and passion of showbizz called Salaam Bollywood way back in 1999. For most this a place of eccentricity and exhibitionism but there is a better side — of creativity and compassion, of warmth and wisdom — that an outsider will never know. Inaccessibility prevents identification.
As a chronicler of Bollywood, and in the course of your career there, what are the changes that you have seen?
I have seen many superstars rise and fall, witnessed multi-hero films change to single- hero films and single-screen theatres alter to multiplexes. I have seen the advent of parallel cinema, the Dolby system, the sync sound and the re-emergence of small cinema. Trends changed, techniques got better and writing altered. Journalism changed, too. We carried tape recorders, banged on manual typewriters and pasted galleys on artworks which were carried to the processor. Today, everything happens on the computers and mobiles.
Who do you think, among the present actors, could match up to (or be second to) Big B?
The hunt for Bachchan successor has been on since 40 years, I think. In the 1980s, the media said the crown will go to Anil Kapoor, in the 1990s to Shah Rukh Khan, in 2000 they named Hrithik Roshan. The fact is Ranbir Kapoor or Aamir Khan don't belong to his generation and it is unfair to compare them to him. Nobody compares the younger stars to Dilip Kumar. There are many good actors and many successful stars and there is place for all.
Who do you think is the equivalent to Big B among the women actors?
There was a time in the 1980s and early 1990s, when Rekha's popularity was undisputed but she was not given the opportunities as an artiste in the years that followed. Hema Malini comparatively is more active both in her dance and films but is not his equivalent. It takes many decades to make a Lata Mangeshkar or an Amitabh Bachchan.
Do you think that you would write an autobiography of your life and experiences in Bollywood? If you did, do you think the idea would make some stars apprehensive?
I already have. Salaam Bollywood is about what happens to a young girl from a middle-class family suddenly thrown into the jungle of film world. It is about my experiences with them but it is also about their life and world. I have had an offer to update the book and re-release them, let me see when I find the time to do the needful.
Do you think of yourself primarily as a Bollywood chronicler or as a writer?
Interesting question. Initially, when I became a film scribe I was often asked why I chose this profession and I would say 'because I like films and I like writing'. I think when I started I was a writer, as you become senior in the job you unwittingly turn into a chronicler. It is kind of confusing today, I guess I do a little of both and don't think too much about it as long as I enjoy what I'm doing.