Skating wonder
Despite the fact that skating is still not a part of the gradation list of the Department of Sports, Punjab, the state government honoured a skater from Amritsar at the state-level Independence Day function held here on Monday.
An eight-year-old Mehak Gupta has been recognised for her achievement in skating. She received a gold medal, a certificate and a draft of Rs 11,000 during the function held at Cricket stadium in Gandhi ground on August 15.
A Class III student of DAV International School, Mehak clinched her maiden bronze medal when she was just three years old. After that there was no looking back. She has to her credit number of achievements, which include National gold medal 2010, besides other state and district awards in skating.
She covered the 30-km stretch from Company Bagh to Attari-Wagah border in 80 minutes on skates. This made it to the Indian Book of Records on April 8. Even as this task was to complete in 200 minutes with three halts for five minutes each in between but Mehak covered the distance in just 80 minutes without taking any break.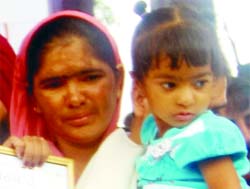 Satnam Kaur
A bus takes 30 minutes to cover the same distance, but this wonder kid is apparently the first one to do this task in North India.
Mehak said, "I want to make my parents as well as holy city proud by performing my skills on the rink of Commonwealth Games and Olympics but it will happen gradually and I am getting myself prepared for my goal."Her father Lovekesh Gupta and mother Anju Gupta want her to make a career in sports but rue the apathy of the government for not recognising this sport.
"The sport, which has become a part of the Commonwealth Games and has also been recognised by Olympics Federation, should be included in the grading policy of Punjab. The district sports wing should also take steps to develop at least 200-meter skating track for children like Mehak, Lovekesh said.
Dancing diva
Eleven-year-old Urvi Manocha, a Class IX student of DAV Public School, has many accolades to her credit. The trophies, prizes and the photographs in the drawing room of her house in Green Avenue here were testimony to that.
She was awarded Rs 11,000 by the state government in recognition of her aesthetic talent in the field of classical music and dance. In 2007, she was presented with the National Balshree Award by President Pratibha Patil, followed by a cultural talent search scholarship.
This little Kathak dancer believes in dreaming high. "It is important to dream big, before achieving something. I suppose, it works, at least in my case," she says. "The dance which I started learning just as a hobby took me to share the dais with the President of India", she said.
Her parents had transferable jobs. During their postings in Nalagarh, she started learning classical dance and singing from a teacher Savita Sharma. "Actually, it was a remote area and there I did have much to spend my past time. Then, on my father's advice, I took to classical singing and dance classes from a teacher Savita Sharma. Soon, I developed an interest in it. Then, we moved to Chandigarh, where I honed my skills in Hindustani vocal from Pt Yashpal. The Chandigarh Administration presented me with state award in 2008, followed by national child award next year," she said.
The Ministry of Human Resource Development also sent Urvi to perform in Mongolia this year.
"Though it is my passion to learn the classical singing and dance, I want to be a civil servant, just like Shobhna Narayan, who is a public servant and pursuing her passion for classical dance too," she expressed.
Green Man



Baba Sewa Singh
Chief Minister, Punjab, Parkash Singh Badal conferred the state award upon Baba Sewa Singh Kar Sewa Wale from Khadoor Sahib for social service during the 65th Independence Day function held here on Monday.
He promoted the cause of environmental conservation in the rural areas of Punjab. Thanks to his efforts all the five approaching roads to the historic gurdwaras at Khadoor Sahib are now covered with trees.
He is now busy in taking this drive to houses in rural areas. For this, he has fixed an annual target of distributing saplings to hundred houses in villages. Last year, he distributed saplings to houses in Tarn Taran, Amritsar, Gurdaspur, Jalandhar and Patiala districts. He said this year Bathinda and Barnala have also been incorporated under the plan. He said about 60,000 saplings have been distributed so far.
He said Sikh gurus had shown the path to carry out works like renovation of gurdwaras, providing education to girls, environment and sports as part of their religious duty. He said he was carrying out such activities throughout the state.
He said he is also working towards empowerment of girls in rural areas of Punjab.
He said so far 165 girls from rural areas have joined paramilitary forces and various state police forces after having been trained a preparatory training at the Sri Guru Angad Dev Institute of Careers and Courses set up by him.
Besides, a senior secondary school, run under the guidance of Baba Sewa Singh, is perhaps the only rural school in the country that has eight 'smart' rooms equipped with computers and other visual aid.
A Gian Sewa Kendra has also been set up to prepare students for entrance tests for admission in medical, engineering and other courses, he said.
He has also set up Nishan-e-Sikhi Tower, a multi-storey educational centre, he said. "Eradicating female foeticide and crimes against women were the need of the hour since this was the only way that the skewed sex ratio could be corrected in the larger interests of the society" he said.
Braveheart
Satnam Kaur, a resident of Jagdev Kalan village has set an example that even urban women should emulate because as far as female foeticide is concerned the percentage in urban areas is more than it is in the rural areas. She mustered courage and fought against the unethical demand of her in-laws to abort her second girl child. She stood her ground and refused to yield to pressure. Her bravery received the necessary support from the then Punjab Health Minister, Laxmi Kanta Chawla who intervened and even took stern action against the diagnostic centre where the sex determination test was conducted.
"When my in-laws and my husband forcibly took me to the diagnostic centre and got to know that it was a female foetus, they put a lot of mental pressure on me and even subjected me to physical torture to abort the child," revealed Satnam Kaur.
"However, I was determined not to bow under pressure and saved my child. Therefore I refused outright to yield to their demand," she added. Her bravery hit the headlines and she instantly became the talk of the town. She happily gave birth to the girl child and (the then) Health Minister specially came to the civil hospital to congratulate her and assured her full support. She also thanked her mother and brother who is a constable in the Punjab police for their valuable support. "I know I have yet to go a long way. I am still locked in a dispute with my in-laws and wonder as to how I will look after my two daughters. I am living with my brother who also has his family to support," said Satnam Kaur.
She was awarded with the state award for her contribution to the cause of the girl child at the state-level Independence Day celebrations held at Amritsar.
Her citation reads, "She has set a perfect example and has become an ideal for the women in the community to follow, besides encouraging them to fight against this social evil that is plaguing the society in Punjab." Satnam Kaur said she would definitely fight this evil in future as well.