Leapfrog to an exciting world
Science students with a penchant for research and looking for an interesting career will find herpetology to be a good choice if they have a strong desire to study reptiles and amphibians, writes Preetinder Kaur
Jobs in biology traditionally fall into four areas — college and university employment; government jobs; medical related work; and zoological park or museum staff. More recently, industrial and medical biotechnology have emerged as areas with new and exciting opportunities for biological research. What all these jobs have in common is training in a field of biology.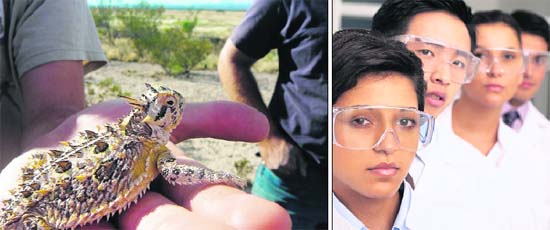 The specific training required for a career in herpetology varies according to one's goals
— Thinkstockphotos/Getty images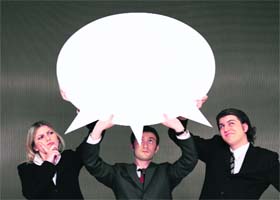 OFFICE MANTRA
Never shy away from saying NO
Ragini Gulati
Most of us find it difficult to say 'no' whether it is helping a colleague with an assignment or organising a friends' party. We feel compelled to agree to every request and would rather juggle a million tasks than refuse to help. However, in our quest to please everyone we often overlook that we are being nice to others at the expense of ourselves.
EYE CATCHERS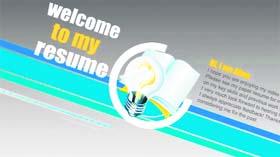 Ingenuity on a roll
Video resume is a new tool in the hands of job seekers to make a lasting impression and get that coveted interview call, writes Deepak Kaistha
With job market getting tougher and trickier day by day, job seekers are using ingenious routes to catch the eye of recruiters. One such new trend is of the online video resumes.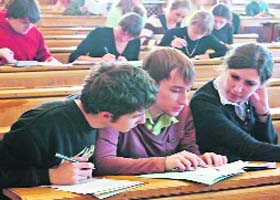 FIRST PERSON
The Language of success
Proficiency in a foreign language can go a long way in making your CV stand out apart from opening new career opportunities. Kevin Muller, CEO clickonfrench.com, a project of the Embassy of France, talks about the ways in which the knowledge of a foreign language can make you a much sought after candidate in the job market.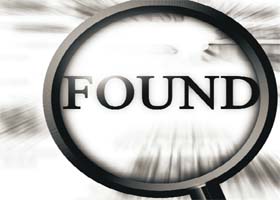 The select sense
Zeroing in on the right B school is the first step to a successful career, writes Ravindra Bhatia
MBA/PGDM schools have mushroomed, of late, making it more difficult for choosing the right B-school. MBA and IIM's were synonymous 25 years ago. However, some good B schools have now emerged both in the private sector as well as in the universities. This has made it very difficult both for the students and their parents to decide which is a good institution.
CAREER ADVICE
Strong building blocks
Dinesh Kumar
As per some recent news reports some of the students who appeared in the interview of the prestigious management programme of the Panjab University were quite at a loss to answer the basic GK questions such as the name of the Finance Minister of India.
NEWS BOARD
Job Deluge
Telecom sector to provide 1 crore jobs by 2012: Study
Indian telecom sector will provide employment to around one crore people by 2012, a study by PwC has said. The telecom industry will provide about 28 lakh direct jobs and around 70 indirect jobs by 2012, the study commissioned by the Cellular Operators Association of India (COAI) and done by PwC said.
Happiness @ work
Gems of ancient wisdom
The fall of the dice
If you are stuck in a bad situation, don't fret. Nothing is constant but change. Highwayman Angulimal was waiting for his 100th victim to complete his necklace of fingers, but Gautam Buddha came that way. He not only made Angulimal repent his past acts but also made him join the sangha.
Right to competent management
Managers have no trouble making demands of their employees, but it's time for those individuals to make sure they are laying the groundwork for those staff members to succeed, says Harvard Business Review.


Careercature
Sandeep Joshi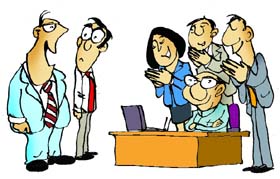 Welcome to the family, young man. You know, I prefer to employ relatives only.

Career Hotline
Pervin Malhotra