pu poll 2011
Are student elections relevant in PU?
Sumedha Sharma
Tribune News Service
Chandigarh, August 17
A little less than a decade-and-a-half after Panjab University restarted student elections in 1997, one wonders if the exercise had any relevance in the current academic surrounding at all.
The so-called student leaders, over the years, have failed to give any indication of being even aware about any national development in any field of life. Their consistent silence over any major issues speaks volumes about the relevance of the observation.
Besides organising strikes, dharnas, roadblocks or agitation, these student leaders have never bothered to be even a part of the university literary events, including quiz, debate, declamation or lectures by eminent personalities. They prefer showcasing their raw power in organising "Agaaz", a welcome function for freshers.
Their demands are nothing more then extra hostel seats, giving them roll numbers for university examination even if they did not attend any classes, mercy chance after failing four times, demanding removal of a road divider or even being exempted from coming to the dental college on time.
Instead of the traditional campus images of fashion gurus on one extreme and the kurta clad studious kinds on the other, Panjab University is more abuzz with images of hunger strike over minor issues these days.
Instead of one odd fight that happened once in a while (often at a gap of more than a couple of years), these have become common. A casual look at the local newspapers reveals that there has not been even a difference of more than a fortnight between two fights in the recent past. To top the issue, these fights are also a frequent occurrence even during summer holidays.
As a senior leader put it "earlier the party meant a small get-together with snacks. Now supporters don't settle for anything less than a crazy night party in discs". When questioned about from where the money came for such an expensive fare, he was silent. "We just manage it," he said tersely.
History
1977: Panjab University Student Union (PUSU) constituted while the student representation was in the nascent stages and national big guns were struggling with dearth of issues.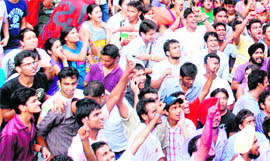 1982: Makhan Singh, an alumnus of Kurukshetra University, takes charge of PUSU taking it to new heights. ·
1983: Makhan Singh was murdered. The then NSUI president Parminder Singh Cheema was the key accused, who managed to flee. The incident shook the university, which was taken aback by the intensity of student rivalry, which became an integral part of PU politics in years to come. ·
1984: Student elections banned in wake of ongoing terrorism in Punjab. ·
1986: Destined to rule PU student politics for 11 years, Kuljitine Singh Nagra came to the university from Khalsa College. Known to have introduced "struggle" in PU politics for local students' needs, he deviated away from the regular touch with Punjab politics issues, which dominated the earlier student politics scenario. ·
1986-87: A terrorist attack a student leader on PU premises and Panjab University got its first PU-centric issue and a rigorous campaign spearheaded by Nagra. ·
1989: Nagra was rounded by over 250 unidentified students and beaten up badly. He was left seriously injured nursing over 250 stitches.
1992: Following Punjab elections, PUSU starts demanding formation of student council.
1993: The university refuses to hold elections but constitutes student-consulting committee, which was headed by Nagra for almost four years. ·
1995: Dayal Pratap Singh Randhawa joins university. This boy known for his firm ideals soon emerged as a threat for Nagra's unchallenged decade long rule. ·
1996: PU has first indirect elections where department representatives chose the council, which was headed by Nagra.
1997: PU has first direct elections, which were won by PUSU.
1998: First clash between PUSU and SOPU where Nagra opened fired at DPS Randhawa who had a miraculous escape. The attack marked the end of its rule and SOPU arrived victorious on the campus in alliance with HSA, ABVP AISF and HPSU.
Lyngdoh Committee
n Candidate contesting elections must be a regular
student.
n Candidate should have a minimum of 75 per cent attendance.
n Candidate should not have any academic arrears in the year of contesting.
n Candidate should not have any criminal record.
n Maximum expenditure per candidate shall be Rs 5,000.
n In case of any excessive expenditure, the election of the candidate will be nullified.
nn Undergraduates can contest elections between the age of 17 to 22 years. A postgraduate candidate can contest maximum up to 25 years of age and research scholars can contest up to the age of 28 years.
n No printed posters, pamphlets or any other printed material for the purpose of canvassing will be allowed.
Violence, a regular feature
Violence seems to have an impeccable part of the university scenario. Besides normal students who carry on their work quietly, the most visible groups are largely from the business and farmer families from Abohar, Bathinda, Muktsar, Ferozepur, Faridkot, Mansa, Barnala, Amritsar, Gurdaspur and Ludhiana districts in Punjab and from Jind, Rohtak and certain other parts of Haryana.


A mild provocation ends up in a bloody brawl. Senior police officials concede the fact that besides the already burgeoning number of police cases, which are reported, there were several others (maybe more), which never entered the record books.
Despite being accused of murder bid, culpable homicide, rioting, using deadly arms, damaging property, wrongful confinement, abduction, assaulting public servants, arson and gate crashing, both Panjab University and UT Police have failed to tighten the noose on erring student leaders who take the university to ransom day after day.
Talking of the law enforcing authorities, out of a total 67 cases registered since 2006 against various PU students, a majority ended in compromise rather then conviction and consequent action. The UT Police as per its records arrested a total of 112 PU students since January 2001 in a majority of cases taking preventive measures against them apprehending breach of peace under Sections 107 and 151 of the CrPC, while another 64 were booked for apprehension of breach of peace under Sections 107 and 150 of the CrPC.
Despite tall claims by PU about having suspended certain offenders, there is no action visible on ground because barring a few, all names, which did the rounds of the campus, police stations and newspapers were seen back on the campus the very next day after the incident.
'Student politics getting frivolous'

I have been seeing them for the last five years and the student politics is getting frivolous with each passing year. Barring a few, a majority of leaders specialise in picking fights and creating ruckus to gain cheap publicity. The student council is formed with an aim to coordinate with the dean student welfare office. The university has allowed student representatives to come and sit in committees, which deal with students' issues, but they only come to us with "sifarish". elections are just a war of ego where violence is the tool.~
— Naval Kishore, Ex-DSW
'Need to tackle with academic measures'

They are students and not criminals and thus need to be tackled with academic measures. Convictions are done by court, on our part we take measures, including arrests, but if a compromise happens in court we can't say anything on that. I think these boys who are bubbling with energy needs to be channelised and oriented and that can be done by PU only. — Naunihal Singh, ssp
'zero tolerance to violence'
We are counselling leaders because it is only a changed mindset that can change the scenario. We are also beefing up the security and will ensure non-violent elections this year. — AS Ahluwalia, dsw
We are adopting zero tolerance to violence. I have already counselled and warned all student leaders. We are keeping a regular tab on campus by frequent visits and will take strict action against any erring student. — Gurnmukh Singh, SHO, Sector 11 police station
Bloody trail in recent past


Violence marred the day of polling in 2010, where the rival groups hurled chairs and ripped each other's clothes.
September 3, 2010
It was a free for all at Panjab University student council elections where rival parties ripped clothes, hurled chairs at polling officials at the Student Centre, even as PU officials and security staff continued to be mute spectators.
April 2010
Firing at a house of PUSU leader Uday Singh Wirring whose cars were alleged set ablaze by SOPU supporters.
May 3, 2008
Barinder Dhillon, Harpreet Multani, Gobind Singh Khatra and Viramjit Singh of SOPU allegedly armed with swords and bats, barged into an examination centre and assaulted Siramdeep Singh Sandhu of PUSU. A case of attempt to murder and rioting was registered.
November 6, 2007
Vikas Rathi, Abhimanyu Huda, and Anuragh, along with 35-40 other supporters of INSO and PUSU pelted stones at the residence of Vice-Chancellor. The police had arrested Anuragh Chauhan of Faridabad, who threatened the VC on his mobile phone of dire consequences through an SMS, after registering a case of criminal intimidation by an anonymous communication under Section 507 of the IPC.
Committees under scanner
Forming committees is probably the best solution PU has for any problem but the relevance of such committees in matters related to student violence comes under scanner with the report of Justice Gupta Committee. While hundreds stood eyewitness to the last year's student council election violence, the committee headed by a retired High Court Judge observed that: "There was no major violence during Panjab University campus student council elections." Giving two hoots to videos and photos of students hurling chairs, thrashing each other and even poll officials, the report claimed, "Mere newspaper reporting cannot be relied upon without supporting evidence."
'No understanding of students' issues'

A decade ago, politics was issue based rather than violence or publicity based. Today's self-styled leaders have no direction or understanding of student issues. They protest daily to gain publicity. they are not the key culprits. What do schools, colleges or university teach them other than getting a 90 per cent? student politics is a dumpyard of academically rejected students.
— Kuljit Nagra, ex-PUSU president
'Energetic, but aimless'

It's surely disheartening that all efforts to get democratic student representation in the university are going in vain, as the much reputed PU student politics is getting frivolous with trivialisation of issues. The boys today are energetic, but they don't know what are they fighting for. The students indulge in violence or publicity gimmicks. We need to introduce them to the more meaningful and powerful side of it. The university will have to take steps towards strengthening student representation. — DPS Randhawa, founder member SOPU
Elections to Panjab University Campus Student Council (PUCSC) have been trivialised, particularly in the context of consistent rise in the cases of violence every year. Write to us your take on the need and relevance of student polls at PU and affiliated colleges in the city to the openhouse@tribunemail.com