M A I N N E W S
Govt reshapes draft land Bill
Vibha Sharma
Tribune News Service
New Delhi, August 19
The Rural Development Ministry has incorporated significant changes in the draft Land Acquisition Bill.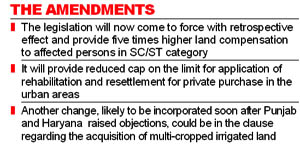 The politically sensitive legislation will now come to force with retrospective effect and provide five times higher land compensation to affected persons in the SC/ST category — a provision possibly made keeping in mind coming Assembly elections in crucial states like Uttar Pradesh, Punjab, Uttarakhand and Himachal Pradesh and vote bank politics.
While a couple of changes have also been incorporated in the definition of "public purpose" of the new draft following criticism that it was "too wide", the Bill will also provide reduced cap on the limit for application of Rehabilitation and Resettlement (R&R) for private purchase in the urban areas after objections raised by key UPA ally Trinamool Congress.
Rural Development Minister Jairam Ramesh said today that R&R provisions would become applicable if a private party purchased more than 50 acres in urban areas and 100 acres in rural areas for the purpose of urbanisation.
The modified definition of public purpose also includes acquisition of land for railways, highways, ports, power and irrigation purposes for use by government or public sector companies. Besides, for land acquired for public interest by private companies the consent of at least 80 per cent of project affected people would have to be informed through a prior informed process.
Another change, not yet made but likely to be incorporated after objections from states like Punjab, Haryana and Kerala which were seconded by Deputy Chairman Planning Commission Montek Singh Ahluwalia, could be in the clause regarding the acquisition of multi-cropped irrigated land.
The provision has been contested by the states with large tracts of irrigated land under more than one crop, saying that in this way no industrialisation will ever take place in their areas. So while earlier it was being said multi-crop irrigated land would not be acquired at any cost, changes were likely to be incorporated after consultations.
Meanwhile, the revised draft Bill, which has been sent for inter-ministerial consultation, is likely to be introduced in Parliament during the Winter Session. It has already been whetted by the Law Ministry.
On the retrospective clause, the Bill will be applicable to all cases of land acquisition before the date of commencement of the Act if the award under the 1894 Act has not been made. It will also be applicable if the possession of the land has not been taken regardless of whether the award has been made or not.
The new draft Bill also makes it mandatory for an acquirer to give Rs 5 lakh compensation, instead of the earlier figure of Rs 2 lakh, if it is unable to provide employment under the package.
All benefits under R&R that were being given to the STs will now be provided to the SCs as well. Both the SCs and the STs will now get five acres regardless of loss of land instead of one acre being earlier provided only to the STs.
Ministry sources said the proposal for also providing land compensation to people working on the land being acquired had been struck down by the Law Ministry.