Hansi-Butana Row
Centre proposes experts' panel, Punjab rejects it
R Sedhuraman
Legal Correspondent
New Delhi, August 19
The Centre today suggested in the Supreme Court that the dispute over the strengthening of the Hansi-Butana canal should be referred to an expert committee comprising members from Punjab, Haryana and the Central Water Commission (CWC).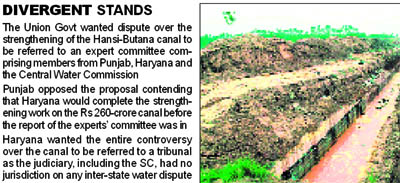 Punjab, however, opposed the proposal contending that Haryana would complete the strengthening work on the Rs 260-crore canal before the report of the experts' committee was in.
Haryana, on the other hand, wanted the entire controversy over the canal to be referred to a tribunal as the judiciary, including the SC, had no jurisdiction on any inter-state water dispute.
Punjab countered this argument, threatening to seek a declaration that the 2002 SC decree on the Sutlej-Yamuna Link (SYL) Canal was null and void. The decree had gone in favour of Haryana. If the row over Hansi-Butana related to inter-state water dispute, the SYL being of similar nature would also fall in that category, senior counsel Harish Salve, appearing for Punjab contended.
Neither SYL nor Hansi-Buta came under the water dispute as the two states had already reached an agreement on sharing the waters of Ravi, Beas and Sutlej rivers. The canals only served as means of distribution of the each state's share, Salve contended.
Appearing for Rajasthan, senior counsel KK Venugopal opposed Haryana's proposal for taking water through the 109-km Hansi-Butana canal by puncturing the Bakhra Main Canal (BMC) at a fresh point as it would reduce the flow of water to its region. However, Rajasthan agreed with Haryana's contention that the dispute was over sharing of inter-state river waters and not of intra-state rivers as contended by Punjab.
Additional Solicitor General (ASG) Harin Rawal also informed the court that an initial report of the CWC had prima facie found that the toe wall being constructed by Haryana along the Hansi-Butana canal was unlikely to obstruct the flow of rain waters from Punjab and cause floods in Punjab. "We will endeavour to resolve this dispute by our experts," he said.
Salve said Punjab would not like a situation that resulted in Haryana puncturing the BMC or laying concrete on the 10-foot-high walls of the Hansi-Butana canal. The arguments would continue on August 26.