NIGHT out
"At least things are moving here," says Harleen Sethi, dentist, returning to her hometown Chandigarh after five years. "Lounge, night club, discotheques…this city is become happening as well," she couldn't stop raving about the changing night life. We second that,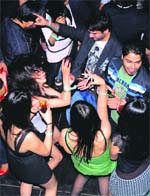 but hang on, did she leave us with a question, unassumingly! Chandigarh is all revved up with night clubs, lounges, bars…a relaxed evening tuned into a trance track or dancing in oblivion to the tunes a deejay! Who's answering this one?


A tale to tell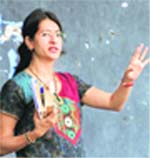 "It's all power of telling and convincing that matters," says Loveleen Misra, writer, director and story-teller, convincingly. In Chandigarh for a four-day writing and performance workshop with author Chatura Rao for Dikshant International School, Zirakpur, students, Misra shares, "Whether it's Anna Hazare convincing the government or the world America on nuclear disarmament, telling plays an important role in life. Stories need to be heard and told."
At your leisure
The City Beautiful has many bounties and Leisure Valley, which criss-crosses the entire city, is one among them. If you fall in the league that is caught up in the web of life and hasn't had a chance for a leisurely stroll, it is time you check out this green expanse at its beautiful best during monsoon.
Bad start
Honeymooners who believe that indulging in verbal duels during their most romantic phase of married life is just another insignificant incident, you should think twice before starting off an argument.
A film from life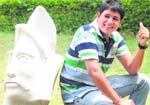 At the age of 28, he doesn't really have any formal knowledge on how the camera works, but that didn't deter Ajay Saklani from not putting his skills to test. After spending a gruelling one-and-a-half-year in the Stpuda forest range, with no road connectivity and electricity, Ajay is proud of his efforts. "Upaasmar—the taste of hunger is the one film that is very close to my heart," Ajay shares.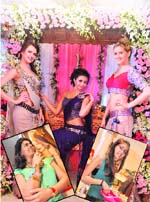 WATCH on!
When it comes to weddings, no luxury is unaffordable. And if you would not mind spending Rs 8 lakh for a watch, read on. The Ammonite-dial watch may not have that typical bridal look, but it does have a unique feel to it. This watch connects you to the days of the yore. And it's not any medieval period or ancient age connection. It's about the timelines of evolution. Ammonites were marine animals that went extinct 65 million years ago. Well, these watches are distinctive, only they come with a price tag of Rs 8 lakh! If a bride wants something ultra-feminine, the jadau collection of watches is just the right one. The peacock collection is another favourite of the brand-conscious brides.
chatter box
Jack of all trades
Gyan zone
Photo-finish!
Star track
Picture perfect
Will he do it? Smith to revive rap career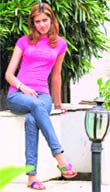 Law of fashion
Style and attitude go hand in hand. It is not a brand thing but the ability to look "in vogue" with a change here and there and of course, to carry the style statement naturally. Smartly turned out Tanisha, who has just completed law from Kingston University, London, believes in looking elegant. Your sense of style To me style means a simple, classic and elegant persona and also being comfortable with oneself. The latest addition to your treasure of clothing or accessories… My new I phone 4 and my watch from Guess. Brand crazy or street pick ups?