Short Takes
Heart and heartbreaks
Reviewed by Randeep Wadehra

Blinkers Off
by Andaleeb Wajid
Rupa & Co. Pages 270. Rs 295.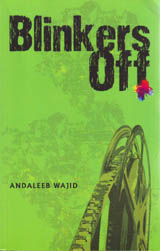 ThIS is the story of a girl who can't recognise genuine love even when it is offered on a platter. Noor has just graduated and, in order to avoid an early marriage, signs up for a filmmaking course —much to the chagrin of her mother. The story unfolds with the interplay of peer rivalry and petty jealousies tempered with anxiety even as quite a few of the students are serious about learning the art and craft of cinema. Enters Dennis who is "handsomer than Hrithik Roshan", and Eros has his work cut out for him. Noor falls in love with Dennis but he has a gorgeous looking girlfriend, Supriya, who is extremely possessive about him. Thus starts a tale of heartburns and heartbreaks, intrigue and separation and everything that turns this love story into an easy light read. The tale becomes spicier with a premarital pregnancy.
Set in Bangalore, this novel is going to be a hit with the youth. Mercifully, the language is not pockmarked with vulgar invectives and innuendoes. Moreover, even the conscious use of such terms as "Muslim wedding" and "Muslim biryani" does not jar; instead, it adds to the tale's charm. The narrative is linear, its flow smooth sans syntactical bloomers. Every twist in the tale comes as a surprise and yet appears plausible. One of the most difficult things to achieve in a romantic novel is to manage mush and melodrama, which Wajid has successfully done. More importantly, not a single situation appears to be contrived — something that requires competent writing skills. However, the ending could have been crisper.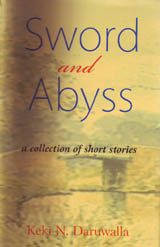 Sword and Abyss
by Keki N. Daruwala.
Har Anand.
Pages 152. Rs 295.
Keki Daruwala is a name to reckon with in the world of Indian literature in English. He is a much-acclaimed poet and fiction writer. In fact, even his prose is so poetic that one enjoys the ebb and flow of emotions; the range of visions and images leaves one fascinated. But Daruwala is not one of our conventional storytellers. He apparently doesn't think in terms of having such elements as conflict and resolution in a prominent mode. Among other elements, although emotion has been used in an understated style, action has been conspicuous. However, he believes in using poetic verbiage for keeping the reader on tenterhooks even as the ending invariably comes as a surprise. The very first story, The Tree, reveals marital perfidy and its consequence in a manner that the images linger on in one's mindscape for quite a while. Shaman, on the other hand, is less a story and more a commentary on the lifestyle of the Bhotiya tribals and its transformation after the 1962 Sino-Indian conflict. Pebble-heap is a satire on the hypocrisy that has crept into the Hindu ascetics' lives. The Bandit Comes Home portrays a woman's plight in the male dominated Rajasthani countryside — with the woman protagonist turning into a fiery tornado in the climax.
Every story is readable. How one wishes due diligence was bestowed upon proof-reading.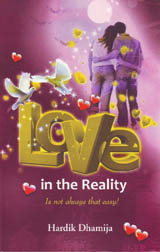 Love in the Reality
By Hardik Dhamija.
Mahaveer Publishers.
Pages 189. Rs 125.
This is yet another love story, supposedly with a difference. You can come up with smart, even if cliched, one-liners. You have a good imagination too and have dabbled in script writing for your college/university annual shows. So, are you ready to launch yourself as a professional writer?
This novel will certainly attract young readers for the simple reason that there is a love relationship as well as flirtations/flings, and plenty of verbiage that today's generation uses. But if "Hardy" Dhamija is serious about becoming a writer he must enroll for a professional writing course.