TÍte-ŗ-tÍte
Realising life with clinical precision
Nonika Singh

A dynamo of acting prowess, veteran actor Mohan Agashe is as dynamic in person. Before you pop the question, he has an answer. But then, reading minds is both his profession and passion. A qualified psychiatrist, Agashe canít say whether art imitates life or vice-versa. "Between reality and fiction lies a twilight area and good literature and art introduces one to this aspect where people may be fictional but situations life like." So, when theatreperson Lillete Dubey asked him to play the protagonist in Mohan Rakeshís modern classic Aadhe Adhure, so fascinated was he by the complex web of relationships, by the aggression, dependence relationship of a husband with his wife that he read out the play to his students of psychiatry.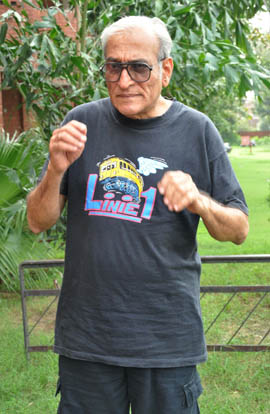 Mohan Agashe

Indeed, he nods that the tale of real-life patients can be similar to those of the characters he essays. But the key difference is "In medicine you have to find real- life solutions." As Professor of Psychiatry at the B. J. Medical College and Sassoon Hospital in Pune and as someone actively involved in the mental health policy, he has met scores of patients having shades of the characters of his plays and movies. Doctor and an actor `85 isnít it an unlikely combination? On the contrary, he feels that both deal with human emotions and quips, "An emergency ward is a classic case of high-tension drama." Only, he qualifies, "Itís not always possible to combine the two roles." Thus, for decades he stayed away from theatre, his first love and forte, and focussed only on films both Hindi and Marathi.
He compares theatre and cinema thus, "One is akin to fresh vegetables and the other canned juice`85the two canít taste the same. Both are incomparable." Working with the likes of Satyajit Ray, Mrinal Sen and other greats, he observes, "Makes you realise the beauty of cinema." Among the vast body of his work (he has played key roles in Seducing Maarya, Train to Pakistan, Trimurti, Apaharan, Ab Tak Chhappan and Mississippi Masala) he has no favourites. He says, "For your part to work the whole has to be right. Ultimately, both the whole and the part need to click in consonance." Still, how does he unfailingly manage to get under the skin of the characters he plays? He replies, "Now that is a subject of oration" but goes on to add on a serious note, "the training of an actor begins in early childhood and goes on to span entire life. One is acting even when there is no role. Actually by the time you comprehend what acting is no one gives you roles anymore." Jokes apart, though in Bollywood he may have been last seen in Rang De Basanti he has his hands full. Besides a role in Malayalam movie, Mammootty- starrer The King and the Commissioner and the power-packed wide-ranging role in Adhe Adhure, his Marathi play Katkon Trikon has been making waves and has already clocked 150 shows in one year alone. He, who has earlier vowed audiences with his portrayal of Nana Padhnavis in legendary play Ghasiram Kotwal, muses " Theatre for me is not just catharsis but my search for truth." This search defined his stint as director FTII, Pune, where he stuck to his guns and often took an uncompromising position.
About the future, he, a recipient of many honours, including the Padmashri, can see a glass half full as well as half empty. What are his dreams at this point in life? Not the one to ever lose his sense of humour, he exclaims, "Hoping to get a wife. Fo, playing married man on stage and onscreen is like looking at oneself in the mirror." Before one can recover from this jibe of the man who forsook family life at the altar of his twin driving forces, acting and medicine, he shares another unfulfilled wish, "To be a woman."
He adds with his characteristic "I dare you" mocking attitude, "What is a dream if it can be realised?" Not the one to confuse dreams with reality, now you know how he manages to pack his performances with blazing yet credible intensity and sublimated energy inspired from the very, very real life.