Tikki tak-a-tak
A dainty quick-fix main dish, shorabewali tikki can be relished with
phulka, puri, parantha, or even steamed rice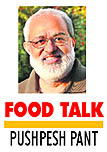 ALU ki tikki is arguably the most popular snack in northern India second only to the ubiquitous samosa. It is quintessential chaat-street food, which is enjoyed shallow fried, crisp and crusty paired with two chutneys ó green and brown, sour and sweetish with a dollop of dahi and garnished with myriad sprinklers.
Few people try to make it at home though the recipe isnít difficult but the myth persists that only a professional can turn a perfect patty. Rejoice all those who love the tikki ó McCain has come up with, as we have informed our readers before, a three-minute tikki that doesnít even have to be thawed from frozen state. It tastes good, and is extremely cost effective.
Free from the chore of boiling, peeling and mashing mounds of potatoes, now you can indulge in fancy creativity. We, on our part, were tempted to transform the tikki from a snack or a starter to a main course dish.
Shorbewali tikki can be relished with phulka, puri parantha or even steamed rice. We spared the sprinklers, forgot the hassle of chutneys and ended up with a dainty quick-fix dish on our plate. The kids loved it and the parents didnít complain either.
Shorabewali tikki
Ingredients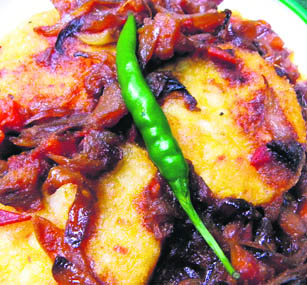 Alu tikki (frozen or made at home or bought from your favourite chaatwaala) 4-6
Onion (medium-sized, sliced fine) one
Tomato (medium-sized, chopped fine) one
Garlic-ginger paste 1 tsp
Cloves two
Bay leaf one
Brown cardamom one
Dhania powder 1 tsp
Jeera powder Ĺ tsp
Haldi powder ľ tsp
Oil 3 tbsp
Salt to taste
Method
Heat oil in a pan and put whole spices in it. When these change colour, add the sliced onions and stir-fry on low medium flame till rich golden brown.
Now add tomatoes, along with powdered spices dissolved in a spoonful of water along with garlic ginger paste, salt and continue to fry on medium flame till fat separates. Add `BD cup of water and simmer, stirring constantly till gravy obtains a thick sauce-like consistency. Remove from stove.
Shallow fry or bake in oven the tikki. Arrange on a platter and pour the gravy on top. What are you waiting for now?