Apes fail to click
The screenplay of Rupert Wyatt's The Rise of the Planet of the Apes is bereft of imagery
and apart from action for action's sake, the film never really develops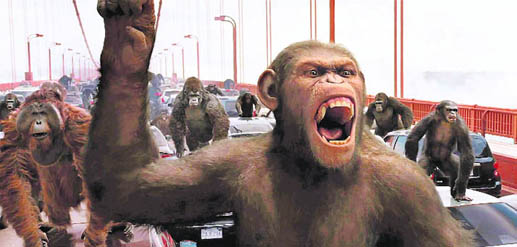 Cinematographer Andrew Lesnie makes the most of the Golden Gate
bridge backdrop with some dazzling camerawork

Way back in 1968, we had the original The Planet of the Apes with Charlton Heston and Roddy McDowall in the lead roles. It became a cult film and spawned four sequels and a remake. One area it did not cover was the origin. Hence, the prequel The Rise of the Planet of the Apes.

Aiming to harness the blockbuster possibilities of another sci-fi thriller, French novelist Pierre Boulle, British director Rupert Wyatt sets the customary tale in modern-day San Francisco with the high jinks on the Golden Gate bridge, by now a landmark of the United States as much as the Empire State building in New York.
A bright young geneticist (James Franco) has been developing a cure for the dreaded Alzheimer's disease. But trials with the apes go wrong. The ambitious scientist, however, decides to raise the new-born chimp on his own.
Christened Caesar, the increasingly aggressive primate, is confined to an animal sanctuary. Next, the genetically enhanced Caesar (Andy Serkis) organises a simian protest against the humans. Not surprisingly, the apes have their day in the sun and cinematographer Andrew Lesnie makes the most of the Golden Gate bridge backdrop with some dazzling camerawork. But the core of the story never really sinks in. May be the timing is not right. Or the screenplay is bereft of imagery and apart from action for action's sake, the film never really develops. Andy Serkis seems to enjoy the action. After all, he is given centrestage even if he's hidden in monkey clothing. James Franco is laboured and our own Freida Pinto as a primatologist is relegated to the periphery. Maybe, she'll be given better parts in good time.
But for all its good intentions, The Rise of the Planets of the Apes is a clear no-no and that's putting it mildly.