Clooneyís success secret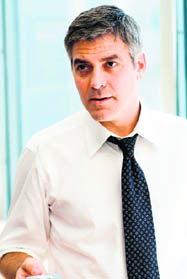 George Clooney has revealed that he had made many mistakes in his career but has always bounced back from them. Clooney, 50, believes that itís all because of the Ďterribleí work he did that he is now a successful actor.
"Iíve made mistakes in my career. Iíve made some terrible TV series and been terrible in them. Iíve been in terrible films, and when a film of mine fails, I just want to go and hide under a rock," Contactmusic quoted him as saying.
"Iíve made mistakes in judgment and Iíve failed many, many times.
"Iíve had a lot of bumps and turns in my road. But the trick is how well you bounce back. Thatís true in the movie business and itís true in life," he added.
However, Clooney believes that to overcome the failure, one must face it. "Whatís my secret to success? The test is how you deal with it when everything goes wrong. Itís the easiest thing in the word to handle your career when itís going well. When itís not going well, thatís the important time," he told HELLO! Magazine. ó ANI