Green decor
Ritu Rana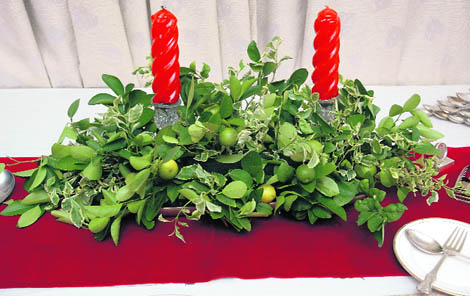 When making table arrangements, take care that the greens
are not too high, else these will obstruct the line of sight
Transform a dinner party table, console, mantle piece or a coffee table with a centrepiece of glossy foliage of evergreens, berries, succulents and candles without having to splurge on ornamental flowers and greens from the florists.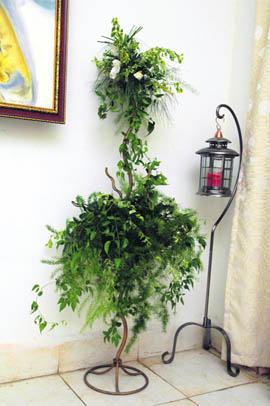 Dinner parties are perfect occasions for creating centrepieces which reflect the mood and provide a talking point. This platter, filled with evergreens and citrus lemons, perfectly compliments the bright candles.
When creating table arrangements, remember that they should not be too high, else these will obstruct the line of sight.
If decorating a long table, simply add more such platters to cover the required length.
Celebrate the arrival of winter with charmingly understated arrangement done with turnips immersed in a shallow dish, less than half-filled with water so as to last for more than a month. Take due care to replace the water frequently.
Grass seed and wheat grains simply sown into a shallow terracotta dish will germinate quickly in the strengthening light throughout the year. This arrangement brings a refreshing hint of simplicity to the room contrasting effectively with crafted objects.
Make sure the oasis blocks are topped up with water, and spray the whole display regularly with a spray mister. Moving the arrangements to a cool place at night will help prolong the life of the foliage to last longer.