On a high with a tie
A tie gives you confidence and makes you feel good, says Hector Choksi

TO wear or not to wear? Wearing a tie to work has always been a bone of contention in corporate circles. India being a tropical country, wearing ties seems quite impractical, but as a fallout of the days of the Raj, it has continued to be a corporate tradition. Though there have been some stirrings of discontent, the tie situation has remained status quo. Most, however, readily confess that it is tough getting through life without ever sporting one. In fact, some firms like Planman Consulting have made it a compulsory wear. Rahul Wadhwani, manager-partner at the Multi-interest Consulting and Business Services Corporation, says: "Like it or not, it is difficult to sell an idea if you donít look professional. Unlike a call centre employee who neednít bother because his voice is all that people will notice, we need to make the effort."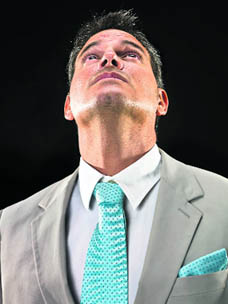 Any tie worth buying should be 100 per cent silk
Thinkstockphotos/ Getty Images

What makes a good tie? "A great tie should look and feel good. It should have a heavy base and fall well, which is the reason silk ties work best. Rich fabric, lining and interlining are very important. Good tie is one that bounces back to its original shape after being knotted for 14 hours," says actor Jackie Shroff.
"Any tie worth buying should be 100 per cent silk. Woven silk ties, as opposed to printed ones, tend to be thicker and richer in texture. They are also more durable, and donít wear out as quickly from frequent knotting. Most ties are lined, as this makes the tie sit well," says Anil Joshi, a US-based IT professional, who has a collection of hundreds of ties.
A tie is like expensive lingerie. That is why the right fabric and feel are important. It makes you feel good about what you are wearing. In the past few years, Indian men have really started buying different ties. They have been getting more flamboyant in terms of fashion. But when it comes to wearing ties to work, only a small section of the corporate crowd wears them, feels Nasir Khan, a retail outlet owner in Chennai.
But ties can be really costly. A decent tie in the market could cost you anything from Rs 200 to Rs1,500. A budget satin tie can be yours for as little as Rs 40, but the price is plastered all over its tacky texture An average good quality tie costs Rs 900. If you want the classic stuff, go to Bombayís Big Bazaar, splattered with quality fashion shops, where famous brands are available. All of Bvlgariís ties are by Italian designer Davide Pizzigoni. These are priced between Rs 7,700 and Rs 10,600. If Bvlgari ties seem a tad expensive, you can buy a host of other top brands such as Versace, Gucci, Armani, Valentino and Cerrutii for a comparatively more sensible range of between Rs 4,000 and Rs 6,000. These are available at a host of large stores in Delhi and Mumbai. Zodiac, the brand synonymous with ties in India, has launched the Zodiac Vicenza collection, which shows that the colours this season are pink, papaya, lilac, mango and mild blue. The prices for the silk range start at Rs 2,299; the micro fibre variety is available for Rs 399.
When buying a tie, keep in mind that it remains knotted for several hours a day and, hence, quality is very important. Always hang your tie when not in use. This will allow heavy creases to drop out. For removing grease stains, apply cornstarch and leave overnight. ó MF