At the Lord's alter
Tribune photographer Anand Sharma and staffer Ravi Krishnan Khajuria
trekked the 14-km- long arduous Baltal track to have a rendezvous with
Lord Shiva at His abode — the Amarnath Cave Shrine this year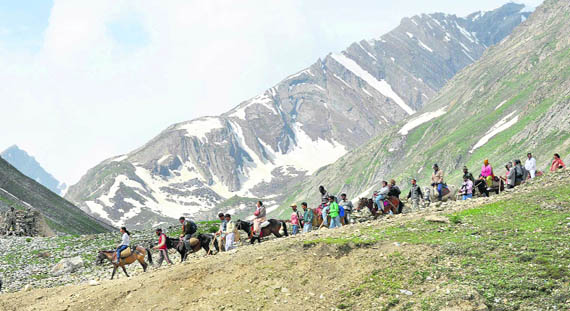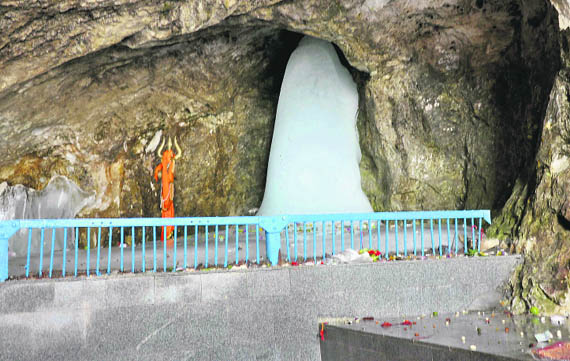 The naturally formed ice lingam inside the cave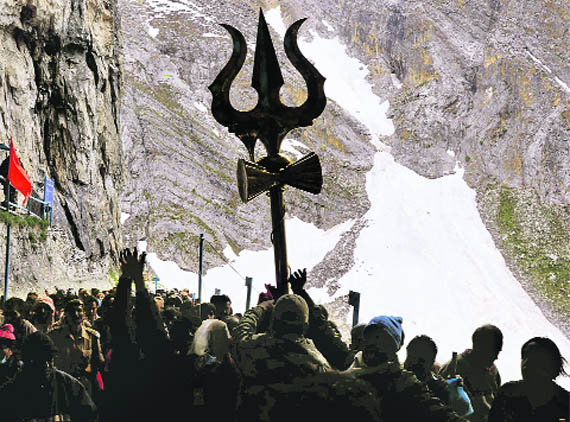 There is a sea of humanity inside the holy cave paying obeisance to Lord Shiva in
wondrous silence. One can feel the divine power of Shiva all around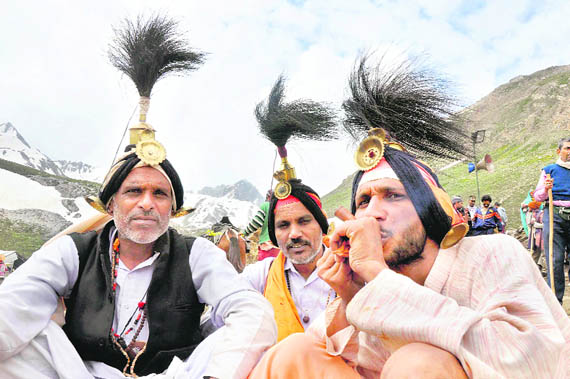 Jangams take a puff, near Poshpatri camp, on way to the holy cave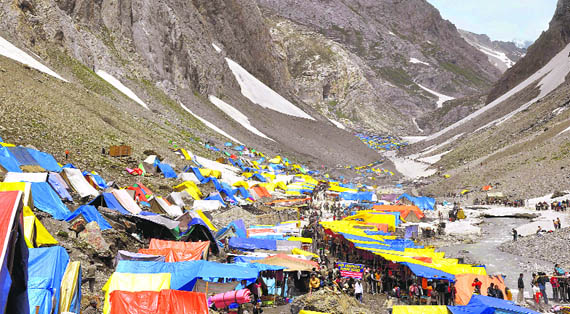 A view of the valley near the cave

In Shiva's abode
Ravi Krishnan Khajuria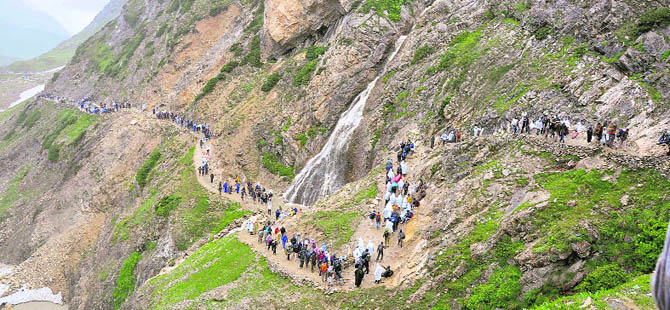 Trekking the last mile to the Amarnath cave can be a Herculean task

Every year more than four lakh pilgrims visit the cave shrine from June-end to mid-August to pay obeisance to the ice lingam. The pilgrimage requires physical as well as mental toughness.
Baltal is one of the two starting points of the yatra. Once at Baltal, our expedition started from Domali around 8 PM on June 28. After one and a half hours of trekking in pitch-dark night using torches, heavy rains lashed the area forcing us to take refuge in a small tent set up by Gujjars.
The sound of high-velocity squalls, rains and gushing waters of an icy stream flowing just by the side of mountain, gave us many anxious moments. In 1996 nearly one lakh pilgrims were caught in a blizzard and 242 had perished in it.
Next morning we reached Brari Marg 3 km short of the holy cave.
From here horses can be hired for the cave shrine. These horses normally move on the edge of narrow track of mountains and steep ravines with glacier-fed rivers flowing beneath. This can certainly give some anxious moments.
The horses stop at least a mile before the holy cave. Trekking the last mile can be a Herculean task. But once inside the cave all fatigue vanishes. There is a sea of humanity inside in wondrous silence paying obeisance to Lord Shiva and a naturally formed Nandi Ganesha in front of it with a pair of doves inside the cave. One can feel the divine power
of Lord Shiva.
The return journey is via Pahalgam. The 46-km Pahalgam track is easier than the Baltal track. The journey starts from Panchtarni, 6 km from the cave shrine. There is CRPF camp for those who have to spend the night.
The descent covers Mahagunas, Sheshnag, Pissu Top and Chandanwari and it takes two days to reach Chandanwari. From there cabs can be hired for Pahalgam. From Pahalgam, cabs can further be hired for various destinations.
A special mention about community kitchens (langars) without whom undertaking this arduous pilgrimage is impossible.
The langar at Poshpathri serves right from South Indian dishes to pineapple shakes, sweets, pani puri, fruit chaat and even ice creams.