ĎBeing sexy is a state of mindí
Anushka Sharma, who was recently chosen as the cover girl for international
menís magazine Maxim, in conversation with Sreya Basu

Whatís your definition of being sexy?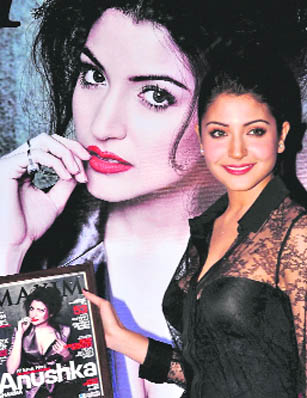 Anushka Sharma will soon be seen opposite Ranveer Singh in Ladies vs Ricky Bahl

I think being sexy is a state of mind. Especially for a woman, itís the way you feel; how confident you feel in your skin. Once that confidence is established within you, itís done. What men feel sexy about you might be because you are confident and have a strong personality. Being sexy is not about skin, figure and all that ... according to me, at least. May be I am wrong, men would know better.
Nowadays, most of the covers you shoot are very sensuous. For example, the one you shot for Maxim. What do you have to say about that?
I donít know what to say. As for the Maxim one, it was a very confidently shot sensuous cover. Itís not something outrageous ... thatís not how I want to pose myself. It was a good photo shoot and a well-turned out cover.
Unlike your contemporaries, we hardly see you in revealing clothes (except the bikini act in Badmaash Company). Comment.
If experimenting is only about clothes, then I will definitely not don a bikini for any film. I donít think clothes are such a huge part of films; itís not modelling where clothes define the whole presentation. In films, clothes are a part of character-building and if I am playing certain character that needs to wear certain kinds of garments, then I would. I donít like to believe that clothes decide the fate of my films. I take my job very seriously, that is, acting. For me, anything that helps me build my character, be it make up, hair, styling, I would take that step and make sure that I am portraying my character convincingly. I have done a film like Rab Ne Bana Di Jodi, and one Badmaash Company and also a film like Band Baaja Baaraat. I donít take clothes as a medium of presenting myself to people. Itís really the roles I try to essay that matter.
So thatís the reason you refused to wear a bikini in your upcoming film Ladies vs Ricky Bahl (opposite Ranveer Singh)?
As I said ... it (wearing bikini) was not important for my character in the film.
What qualities are you looking in a man?
I would like my man to be very self-assured, very confident and he should be able to handle the success of his partner, that means, me. He should be very supporting and I will be supporting to him as well. Itís a give-and-take relationship ... what I expect out of him, I will provide him as well. This is the most important thing in a man-woman relationship. Right now, I have not got any guy and at the moment, I am not even expecting someone in my life. ó TWF