ulta pulta
Gag on CAG
Jaspal Bhatti
Normally, audit is a boring job. And writing an audit report is such an unexciting thing, that auditors have remote relations with entertainment. You will hardly hear somebody say, "We have invited a few auditors to the party. It will be great fun."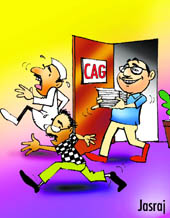 Although CAG rhymes with GAG, but CAG has nothing to do with cracking jokes. By CAG here I mean Comptroller & Audit-General. In fact, when CAG lets a report out of its bag, many people burst into tears. There is uproar in the in the country every time the CAG comes up with an audit report on some issues. The media waits for a CAG report like a multi-starrer Bollywood blockbuster hitting the screens all over.
When sci-fi '2G Spectrum' was released, it did a staggering business of Rs 1,76, 000 crore. The only difference is the nation didn't make this much of money but lost it instead. Former Telecom Minister A Raja and Kanimozhi, who were in lead roles in the '2G Spectrum', landed in jails and the story is still unfinished. CAG's recent new release in Eastman colours was 'Commonwealth Games' featuring Sheila Dikshit, Kalmadi and many others.
A few years ago, the CAG department was considered typically old in its look. Vinod Rai, who heads up CAG at the moment, has rejuvenated the department and given it a young look. Somebody asked, "What is the worst thing a group of young auditors can do?" The other replied, "They can gang-audit somebody."