M A I N N E W S
Anti-Naxal Operations
Sniper squad packs a punch for CRPF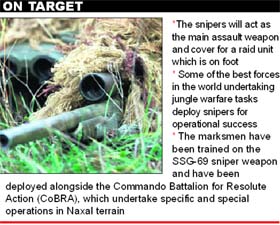 Raipur, August 21
The CRPF, which is undertaking anti-Naxal operations in the country, has trained and deployed an elite squad of snipers for the first time, adding a lethal punch to the force. The first unit of less than 40 marksmen will be part of the world's largest paramilitary, which has close to three lakh personnel.
The force, which has deployed almost 60,000 personnel for counter-Naxal operations, has trained handpicked commandos to be deployed in the special tasks units of the CoBRA.
"The snipers will act as the main assault weapon and cover for a raid unit which is on foot. Some of the best forces in the world undertaking jungle warfare tasks deploy snipers for operational success," a top security officer deployed in the naxal grid of Chhattisgarh and Orissa said.
The marksmen have been trained on the SSG-69 sniper weapon and have been deployed alongside the Commando Battalion for Resolute Action (CoBRA), which undertake specific and special operations in Naxal terrain.
The snipers take the hide of a suitable geographical feature in the jungles and can aim for more than the usual range covered by the standard weapons of the personnel.
The snipers provide an edge to the force as they can aim the target without going close to it, the officer said. This is the first time that a security force has deployed snipers for anti-Naxal operations in the country. According to sources, these measures have been taken at the behest of CRPF chief K Vijay Kumar who is known for his earlier stint as the Tamil Nadu Special Task Force (STF) commander which eliminated forest brigand Veerappan.
The snipers have been trained at the Central Reserve Police Force training facility in Coimbatore and have undertaken a special course in reading jungle terrain maps and operating global positioning devices. — PTI