Spectacles are your child's friends
Dr R. Kumar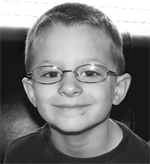 Rahul always makes an effort to sit too close to the television set at home; he cannot see the blackboard in the class; and is having a hard time catching a ball in the playground. He shuns outdoor games and remains home-bound to play video games on the computer. He often complains of headache and eye strain. He has apprised his parents about his difficulties but they have turned a deaf ear to his complaints. Why?
They have a lurking fear that if they take the child to an eye doctor he will certainly put spectacles on the child's face! "When we don't want spectacles for our child, why should the doctor prescribe it? Can't he find some medicine or some other latest technology treatment or prescribe some healthy food", lament the parents. "If your child's vision is weak, go for corrective glasses", counsel eye doctors.
How do I know if my child has a vision problem?
Vision screening is a very important way to identify vision problems. During an exam the doctor looks for an eye disease and checks to see if the eyes are working properly. Children with a family history of childhood vision problems are more likely to have eye-related disorders. It is recommended that children have their eyes checked by an eye specialist at the following ages:
Newborn — All infants before discharge from the hospital should have their eyes checked in the newborn nursery for infections, defects, cataracts or glaucoma. This is especially true for premature infants, those who were given oxygen, and infants with multiple medical problems.
Six months of age — Doctors should screen infants during their baby visits to check for proper eye health, vision development and alignment of the eyes.
Three-four years of age — All children should have their eyes and vision checked for any abnormalities that may cause problems with later development.
Five years of age — The doctor should check your child's vision in each eye separately every year. If a problem is found during routine eye exams, an eye doctor trained and experienced in the care of children's eye problems may be consulted.
Warning signs of a vision problem
Babies older than three months should be able to follow or "track" an object, like a toy or ball, with their eyes as it moves across their field of vision. Before four months of age most infants occasionally cross their eyes. However, eyes that cross all the time or one eye that turns out is usually abnormal and is another reason to seek advice.
No matter how old your child is, if you spot any one of the following, let your doctor know:
l Eyes that look crossed, turn out, or don't focus together
l White, greyish-white, or yellow-coloured material in the pupil
l Eyes that flutter quickly from side-to-side or up-and-down
l Bulging eye(s)
l Persistent eye pain, itching, or discomfort
l Redness in either eye that doesn't go away in a few days
l Pus or crust in either eye
l Eyes that are always watery
l Drooping eyelid(s)
l Excessive rubbing or squinting of the eyes
l Eyes that are always sensitive to light
l Any change in the eyes from how they usually look
If you observe the following symptoms, don't ignore them:
Covering one eye while reading
Frequent headaches (usually when reading or looking at something)
Sitting close to the blackboard when copying notes
Sitting close to the television screen
Having difficulty catching things thrown at them such as balls
Constant scratching of the eyes
Difficulty in reading
Computer screen looking a little fuzzy due to dry eye and visual fatigue
Remember, don't go for witch hunting if your child has been advised spectacles, and accept them gracefully and without reservation. Avoid giving a complex to the child. Your child's future lies in the use of glasses.
The writer is a senior eye specialist and author of medical books based in Chandigarh. Email — drrkumar16@gmail.com