ART & LITERATURE

'ART & SOUL
ENTERTAINMENT

TELEVISION

GARDEN LIFE

NATURE

FOOD TALK

CONSUMER, BEWARE!

FASHION

GLOBOSCOPE

BRIDGE

ULTA-PULTA
EARLIER FEATURE

TRAVEL

RELATIONSHIPS

DREAM THEME

TIME OFF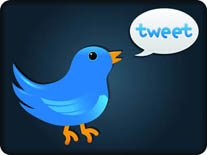 Teens, tweets and tensions
Recent studies indicate that social networking sites offer both risks and benefits to teens. Negative wall posts etc may cause adolescent anxiety on the one hand, and these sites may teach introvert teens to socialise, on the other hand. Shoma A. Chatterji checks out
WHAT is social networking? It is a virtual social world where you make friends, exchange photographs, strike business deals, play games, fall in love, split, fight, argue and quarrel without having met these people in flesh and blood. Is this good for friendships, business, love and long-lasting relationships?
Beyond Taj Mahal
Art historian Benoy K. Behl's film covers a vast spectrum of Islamic architecture in India, writes Man Mohan
India has perhaps as much medieval Islamic architectural heritage as that of the rest of the world put together. But the world is not aware of how much or how great this Islamic heritage is.
Rich legacy to cherish
Author of Mahan Kosh, the encyclopaedia in Punjabi, Bhai Kahan Singh of Nabha was a Renaissance man, who has left a lasting impact on Punjab and Punjabi scholarship. A Sikh with strong convictions, he practised what he preached, writes Roopinder Singh
Administrator, diplomat, encyclopaedist, historian, hunter, interpreter of Sikh scriptures, tennis player, tutor to an heir apparent and scholar, Bhai Kahan Singh of Nabha was, indeed, a Renaissance man, who has left a lasting impact on Punjab and Punjabi scholarship.
The city of falls
A visit to the medieval city of Schaffhausen, Switzerland, is a walk back into history, write Hugh and Colleen Gantzer
Autumn was blazing gold, copper and wine-red on the trees as we strolled around Schaffhausen's beautiful old cobbled streets. Like their autumn foliage, most towns in this part of Switzerland shimmer with history, and their rich past is still a very viable part of their present.
Eat healthy, keep fit
Apart from exercising, a little focus on what you are eating can give perfect shape to your body, says Shilpa Raina
Meenakshi Dhar (25) is heading for a beach. Excited as she is, the thought of wearing a bikini is giving her nightmares. But experts say with the right diet, exercise and a little camouflaging, she can have a happy sun and sand holiday.
Danger from the skies
AN expert has warned that billions of extra-terrestrial rays and particles could shower the earth, threatening the safety of planes and passengers.
Return of the LP
LPs make a comeback, as this analog format of music still appeals to serious audiophiles and connoisseurs, writes Ruchika Kher
THIS is how your grandparents listened to their music. In this age of itunes, ipods, DVDs and downloadable music, granny's LP is making a surprising comeback to music stores.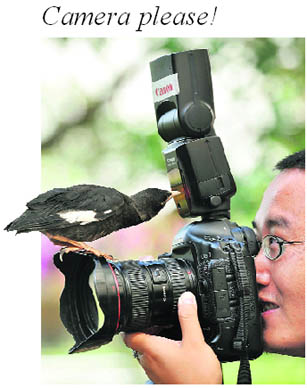 Pet bird Xiao Nuo pecks at the flash while perched on the lens of a camera during an interview by local media with its owner in Kunming, Yunnan province. The bird is attracted to cameras and will approach and investigate any cameras it sees, according to the owner. Photo: Reuters

Family was not in favour of TV, says Big B
Megastar Amitabh Bachchan, hosting the reality game show Kaun Banega Crorepati for the fourth time, says his family members had told him that venturing into television was the "biggest mistake" he was committing, as the genre was no match for his stature.
'There are no camps in Bollywood'
Jyothi Venkatesh chats up Katrina Kaif about her role in Ali Abbas Zafar's Mere Brother Ki Dulhan
After successful on-screen jodis with Akshay Kumar, Salman Khan and Ranbir Kapoor, Katrina Kaif, as a carefree Dimple Dixit, is all set to write another success story with Imran Khan in Mere Brother Ki Dulhan.
Full on at fifties
Colin Firth and Hugh Grant are among the top 10 inspirational figures in their fifties
Colin Firth and Hugh Grant have been named in the top 10 most inspirational figures in their 50s. According to a poll conducted by High50.com, an online magazine offering deals and discounts to the over-50s, Firth and Grant, both 50 were placed second and third in the list.