Say 'no' to ragging
T. K. Gill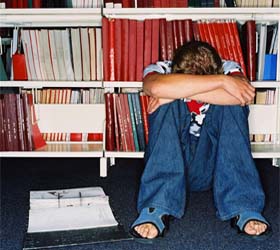 IT is said that the road to hell is paved with good intentions. This truly stands correct in the case of ragging. Though ragging was intended to provide good humour and harmless fun to students, today it has assumed torturous, vulgar and inhuman forms that defy all norms of decency and morality. What began from a friendly introduction turned to disgusting and perverted overtones.
Ragging is an act of aggression committed by an individual or a group of individuals over another individual or a group of individuals and by virtue of their being senior, somehow get the authority and audacity to commit the act to the freshers of the institution. It is any act which causes, or is likely to cause, any physical, psychological or physiological harm of apprehension or shame or embarrassment to a student, and may include teasing or abusing of playing practical joke, or causing hurt to any student, asking any student to do any act or perform any thing which he/she would not otherwise be willing to do or perform.
Ragging is supposed to have its origin in certain European universities, where seniors played practical jokes at the time of welcoming freshers to institutions. Gradually, it became popular throughout the world. However, with time, it has assumed obnoxious and harmful connotations and needs to be severely condemned. Today, almost all countries of the world have enacted stern laws that ban ragging and it has been completely eradicated in countries such as Canada and Japan. But sadly, India, which inherited ragging as a legacy from the British Raj, has not been able to free itself from the clutches of this inhuman practise which is believed to be a major factor that often leads to campus violence and suicides in educational institutions. India and Sri Lanka are the only two countries in the world where ragging exists in the most condemnable form.
Ragging is not merely a socio-legal problem, it has a certain psychological basis that nurtures a sense of authority in an individual, which boosts his morale and puts him on a high by having the freshmen always at his command. Senior students believe that since they were ragged, they have the right to rag their juniors. It also gives them an opportunity to satiate their sadistic pleasures at the cost of a poor freshmen's imagination. But not always all seniors who commit ragging enjoy doing it at their will. Seeing most of their batchmates indulging in ragging, they fear being left out and to avoid isolation, they too join the herd. Many senior students live under the misconception that ragging makes a style statement and thus will put them in the "influential crowd" of their college.
Let us examine some shocking forms of ragging. Some of the most popular forms prevalent in institutions are prescription of weird dress code which may make the freshmen feel awkward and uncomfortable as it often brings them unnecessary attention from everybody. Formal introduction as asking the freshmen to introduce themselves in pure local language. Verbal torture involves indulging in loose talks. The freshers may be asked to sing the lyrics of any vulgar song or use abusive language while talking to the seniors. Severest form of ragging that takes place in colleges is sexual abuse and the freshers are forced to try drugs thereby driving them into addiction.
In many cases, the freshers have been asked to strip before the seniors. They may be asked to enact scenes from a particular movie or mimic a particular film star, doing silly scenes, proposing to someone from the opposite sex, etc. Students who stay in hostels are most vulnerable to ragging. They may be asked to do all odd acts from cleaning the room of seniors to washing their clothes. This leads to loss of individuality and break the self-esteem of a newcomer. The fear engenders feelings of bitterness and revengefulness, which is often taken out on juniors next year.
Consequences of ragging are shocking, for it spoils the environment of the college, creates gap between seniors and juniors, increases the crime on campuses, juniors can't concentrate on studies because they live under constant fear, it harms the mental level of juniors and compels some to commit suicide also. There have been more than 25 deaths due to ragging during the last seven years.
Despite the law and occasional steps taken by governments, ragging does exist in our institutions. Therefore, institutional authorities, government and the public should take some serious decisions to stop this increasing menace. Various states have been passing anti-ragging legislations, but the issue is far from being resolved. In 1997, Tamil Nadu became the first state to bring a legislation against ragging. Even the Raghavan Committee has failed to put an end to this menace. The Supreme Court initiated a step by defining new guidelines for ragging in 2001.
However, passing laws will not end this menace until massive nationwide awareness is created about ragging. Efforts need to be made to make ragging a social evil by highlighting its ill effects and thus establishing a public opinion against it. Community and the students in particular must be aware of the dehumanising effect of ragging through posters, signboards and notice boards, etc. Anti-ragging movements should be initiated by all educational institutions. Undertakings should be taken from freshers, seniors and their parents or guardians. Ragging-prone zones such as hostels, canteens, playgrounds and secluded areas need to be identified and carefully guarded. Surprise checks should be made by the hostel warden, especially during the nights. Freshers can be allotted separate hostels. Faculty members should have personal interaction with freshers and should stay in close contact with them and instil in them a sense of confidence. Freshers should be made aware where to approach for redressal in case of ragging. Professional counsellors can also be engaged to counsel freshers to prepare them for the life ahead.
Migration certificates issued to students should mention if the student ever indulged in ragging. Anti-ragging and vigilance committees should be formed and senior responsible students should be part it. Failure to prevent ragging should be taken as an act of serious negligence on the part of an institution. Accountability of institutions should be taken care of and financial assistance and recognition should be withdrawn from the institutions where ragging incidents are reported.
Hopefully, all pledge to hold the responsibility that ragging is not considered as a fashion but as a crime that deserves to be condemned ,as it breaks lives, careers and families. Let us say "no" to ragging and commit to make the coming session ragging free.
The writer is Professor, Department of Extension, Education, Punjab Agricultural University, Ludhiana