Road stopper
Being one with the road was what late PG Tenzing, the author of Don't Ask Any Old Bloke for Directions, had to say about driving. We like to extend it a bit further by adding more…it is the excitement, the gratification of controlling a machine that has a mind of its own; the thrill of curve hugging, not taking one's foot off the accelerator, zooming past the slow traffic with eye-balls piercing through the glass, and of course creating a style statement on the road!


Dressed to win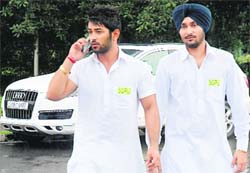 What camp you belong to ought to be worn on your sleeves. Well literally! Though girls rather go a little chic by sporting the party affiliations on their sling bags or hemlines…we even spotted a couple of them on umbrellas. While for those campaigning around, it's a to and fro switch between casuals and formals. More than an exercise of secret ballot, student elections are a colourful mish-mash of party stickers, style statements, logos, captions, and fashion invariably cuts into the scheme of things.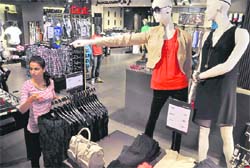 Generation brand!
CK, Levi's, Versace, Fast Track, Jacks & Jones, Timberland, Tommy Hilfiger, Polo, Puma, Lee, Nike - brands are increasingly ruling the minds of youngsters in Ludhiana. "I just fit into a pair of Levi's perfectly," smiles Urja Aurora, an engineering student, who adds that she wears jeans most of the time. "If it's not Levi's, then it has to be Pepe," she exults.
star track
Traditional treat
Reese sets eyes on Pitt's paradise