Won For The Road
Even as the India debut of F1 is round the corner, there has been action on other tracks, too
Ruma Kat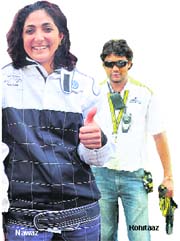 Formula One is all set to make its India debut next month. There is a huge wave of excitement in areas around the Buddh International Circuit in Greater Noida (near New Delhi), where the all-important race will be held. Hotels in and around the place have been sold out much in advance at astronomical rates. There is still some work left to be done as far as the construction of the track and other details are concerned. But the organisers are quite sanguine that everything will fall into place well in time. While it still remains to be seen how much of a success this F1 race will eventually turn out to be, elsewhere in the country track races are going on in full swing as if to cash in on this frenzy.
Just last week, I was at one such track race in Chennai (the Madras Motor Sports Club) as part of the JK Tyre National Championship and what I experienced there left me completely spellbound. For starters, I sat in one of the cars with a participant, who performed incredible stunts. This driver, Rohitaaz from Chandigarh, has been practising these stunts for more than a decade.
`A0Sitting beside him while he performed these stunts, I realised what it is like to be racing with other cars on the track at speeds in excess of 250 km per hour. And, it is not one or two laps of the track. Itís more than 40 laps at this breakneck speed ó something that requires a lot of concentration and stamina of a different kind. One thing is for sure: this sport is not for the faint-hearted.
Track record
So, welcome to the world of Motor Sports in India, where entrepreneurs and sports lovers are sponsoring talented drivers to race in the name of their brand. This sport is "peaking at the right time," says JK Tyre Motor Sports head, Sanjay Sharma. With F1 making its debut in the country in October, the companies here are also forming their own teams to compete in the national championship that has produced some notable international drivers. Bringing along their tech-savvy teams that prepare that one exclusive car for their driver, these companies vie in their own way to finish on the podium.
Housefull
The scenario has not been like this always. "There have been times when the minimum number of cars to race in a competition was 10 and even to complete that number we had to bring down our own cars on the track!" says Sanjay. "But today, we have to refuse some of the teams as the entries are already full."
Topography & terrain
India has always been a place where rallying competitions have been held. From Mumbai to Chandigarh, Rajasthan to the Himalayas, one can see a variety of terrains in just about 500 km, something which isnít found in any other part of the world.
But rallying has its own pros and cons. While it has always been exciting and adventurous for the participants, the crowds have been sparse. It is also a sport that is difficult to market or cover. This is where the track races in the country come in.
Fashioning the format
Just like a season of F 1 comprises a set number of races in various parts of the world, this JK Tyre National Championship is held six times a year, with two races organised each time. The team and the driver that come out with the maximum number of points at the end of these 12 races are declared the winner.
At present, there are three tracks in India: MMSC in Chennai, Buddh International Circuit in Greater Noida and another one in Hyderabad.
Part(y)ing note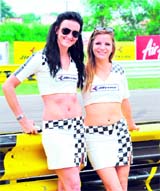 If JK is known for its superior races and competition, it is also famous for its spectacular parties and the fun that brings everybody together at one place to dance and booze. "We win or we lose, but we always booze" ó thatís the JK motto which enthuses everyone around and makes it into one big family. If these drivers carry stress and pressure with them on the track, then these parties allow them to destress, have a nice time and recharge their batteries, both literally and figuratively.
Adding glam quotient to the event are some hot babes, who have been modelling for JK motor sports since the past many years.
Chak de! Chandigarh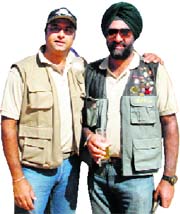 n The event featured three drivers from Chandigarh. Nawaz (42) began racing when she was 18 yearsíold. Coming from a sports background, it had been easy for her to develop a liking for motor sports. "It gives me an adrenaline rush when I am on the track. I love driving and this whole pack of speed and thrill involved in this sport attracted me towards it." Nawaaz stood second in the Pro Women's Race held in Chennai.
n Hari Singh, manager, JK Motor Sports, has been a national rally champion from 1994 to 1998. He belongs to Chandigarh and is well-known for his thrilling stunts. "This is all what I have done in my life and want to do in future, too. I have been with JK Motor Sports from the beginning and it is my passion more than my job. I love driving on the track, the adrenalin-pumping speed and stunts."
n Rohitaaz Kumar had one thing on his mind while entering this "addictive" world of motor sports. "I just wanted to see myself as a champion. And it was decided that the day I become one, I will quit racing, as I never wanted to see myself being defeated. So, I participated in the National Rally Championship, won it and left racing. But this is such an addictive sport, that actually I could just never leave it." Today, besides managing the entire championship every year, Rohitaaz showcases his major programme ó stomach-churning stunts ó in every edition along with partner Hari Singh.