ART & LITERATURE

'ART & SOUL
ENTERTAINMENT

TELEVISION

GARDEN LIFE

NATURE

FOOD TALK

CONSUMER, BEWARE!

FASHION

GLOBOSCOPE

BRIDGE

ULTA-PULTA
EARLIER FEATURE

TRAVEL

RELATIONSHIPS

DREAM THEME

TIME OFF
Hobbies amid hard work
Many people take up a hobby that is far removed from their calling but answers the call of creativity. S. D. Sharma meets some such professionals to find out how they balance their passions with demanding careers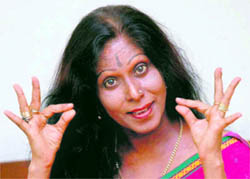 There are people whose excellence in a hobby makes them scale such heights that they come to be better known for their passion than their profession. There are others who strive to strike a balance between their calling and their creativity so as to achieve proficiency in both realms.`A0A few such persons share their experiences and tell how their hobbies complement or enrich their professional pursuits.

Bureaucrat-cum-dancer Shovana Narayan does riyaz or writing before going to office daily. Photo: Manoj Mahajan

Alice in the garden
The Mad Hatters, Cheshire cat, besides other characters from Lewis Carroll's famous book Alice in Wonderland, stole the show at this year's flower show near London, writes Daksha Hathi
What on earth were Alice, the Mad Hatters, and that cheeky Cheshire cat doing at the Hampton Court flower show near London? Could it be to coax more visitors to pay up the hefty 20 pounds for the ticket? This always well-attended floral extravaganza lures garden lovers like catnip lures the sleepiest and laziest cats.
Leaders in fashion
There was a time when Indian politicians wore crumpled clothes to project an image of being one with the masses. Now they are making fashion statements before a new generation of voters, says Nivedita Sharma
Under constant media glare, Indian politicians are leaving behind their shabby, Socialist look to make fashion statements before a new and demanding generation of voters, albeit in native cultural style. From the elderly Sheila Dixit to the graceful Sonia Gandhi to the dashing Omar Abdullah, they do not hesitate to dress well in their own crisp cotton-and-silk way.
Beauty by design
Today, beauty does not lie in the eyes of the beholder. It lies in the hands of a cosmetologist, says Homai Sagar
Once upon a time, the old saying, "Beauty lies in the eyes of the beholder," might have held true. Today, it would appear that beauty lies in the salon of the cosmetologist. Image-conscious people are flocking cosmetic surgery clinics for new noses, tummy tucks and larger breasts. Cosmetic counselling, also known as anti-ageing counselling, is becoming increasingly popular.`A0
Think right and lose weight
People who want to lose weight and keep it off have to not only change their ways, but their way of thinking about food, exercise and lifestyle behaviours, according to experts at the Loyola Centre for Fitness.
Caves of contrast
One of the earliest groups of Jain rock-carved shelters, Udayagiri and Khandagiri caves, were built as austere cells for monks, but the caves have many beautiful sculptures of dancing girls, exotic paintings and carvings of second century BC, writes Tanushree Podder
Although Orissa has some beautiful beaches at Puri, the Jagannath Temple and the exotic architectural beauty of Konark Sun Temple, there are many unexplored ancient monuments in Orissa, which have not been eulogised in the media. So it was a casual conversation with a co-passenger in the bus that took me to Udayagiri and Khandagiri, just across the highway to Bhubaneswar, very accessible and very historical.
Goya's historic war prints
Disasters, war, hunger and human suffering fanned the imagination of iconic 18th century Spanish artist Goya, who captured the horrors of Napoleon's invasion of Spain on canvas, drawings and etchings. Now his legacy has travelled all the way to India.
Bollywood statues woo fans
A large number of Indians throng to see the wax models of the Bollywood superstars in London's Madame Tussauds. Officials of the Madame Tussauds said that over the years, there was a surge in the number of Indians who visited the museum.
The bare truth
When actresses shed their inhibitions, it does add a bang to commercial Hindi cinema's buck. But the act is rarely allowed to go beyond the point of no return, writes Saibal Chatterjee
All-out nudity is a strict no-no in mainstream Hindi cinema. That is how it has always been. Mumbai filmmakers have no qualms about getting a lead actress to slip into a two-piece bikini or a micro-mini to inveigle the masses but they still draw a clear line between resorting to 'harmless' titillation and going the whole hog in the dare-bare department.
Ingrid's charm endures
Gifted with intensity and emotional depth, Ingrid Bergman was at her best in romantic scenes, writes Ranjan Das Gupta
Satyajit Ray was watching Joan of Arc at Lighthouse, Kolkata, during its second run in the mid 1950s. After seeing the film, his opinion about its heroine Ingrid Bergman was that she hypnotised her audience. This view of Ray was also shared by Alfred Hitchcock and Ingmar Bergman.The 'Swedish Cow', as Hollywood defined her during her initial days, took the American cinema by storm in the 1940s and 1950s.