Personal touch to dining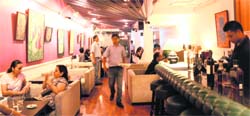 While a man would want to sit across the table on a date, a woman would prefer a side-by-side seating. Likewise, a group of friends or a bunch of family members would always request the hotel or restaurant staff to join tables, saving them from playing pass-the-parcel on the table.

Friends & more: At Bistro, sector-7, it is all about adding a personal touch to the dinning experience.

Role reversal
Teaching is not a lost art, but the regard for it is a lost tradition.
Food for thought
As we celebrate Nutrition Week, how about giving a thought if you are eating right? 'Khaana' is no more a priority in today's high tech lives that we lead, but, at the same time, we cannot deny the significant role it plays!
Guns 'n' noses!
In a funny and quirky scene between Imran and Katrina, director Ali Abbas found something amiss. He decided to add a gun as a fun and interesting element to the scene but while shooting, Imran accidentally hit the gun on Katrina's nose and her nose started bleeding.



Brave 'n' sporty: The adventures of Imran and Katrina
Teacher's day out…
They can be strict, they can be hot, sometimes cute, and sometimes support like a rock - Bollywood has portrayed a teacher in varied forms through the years with films like Mera Naam Joker, Sir, Mohabbatein and Taare Zameen Par. Recently their portrayal has taken on a more realistic form thanks to recent movies like Stanley Ka Dabba and Aarakshan.
Justin freaks out Taylor
Teen star Justin Bieber, who has taken over the reins of TV show Punk'd, made singer Taylor Swift his prank victim by tricking her into thinking she'd set fire to a boat and ruined a wedding.
And they lived happily ever after…
Holmes, who also has a five-year-old daughter Suri from her marriage to Cruise, says they enjoy being low-key despite their fame. "It will be five years in November and our relationship is great.
Abhay to meet Scarlett Johansson
This September, Abhay Deol will journey to Shanghai, China to celebrate the glamour, grandeur and generosity of Moët & Chandon. While there, Abhay will attend the "Diner Du Siècle" (Dinner of the Century) as a guest of Moët & Chandon.
All set to direct
Matrix star Keanu Reeves is planning to step behind the camera for a kung-fu story. The actor, who turned 47 recently, is currently in negotiations with the China Film Group and Australian studio, Village Roadshow Pictures about directing and starring in a movie named Man of Tai Chi, a Mandarin and English language kung-fu story that he wrote.
Heartbreaker
Anne Hathaway's jailed ex lover Rafaello Follieri has for the first time opened up about how the Hollywood sweetheart broke his heart and didn't even tell him that their five-year relationship was over. Melanie Bonvicino, the best friend of Follieri, told that he is still shocked that Hathaway left him when he needed her the most.
stress buster
Healing touch
Sitting under a tree, eyes closed lotus posture. Wind blowing through your hair and a calm soothing aura seemed to be hanging in the atmosphere. We suddenly have this visual when someone talks of meditation, and yet that's not the way, and, it always is!
GET PHYSICAL
Ten-minute workout options
If you find your days packed with work deadlines, family commitments, friends, and, you often feel overwhelmed by all the exercise you are supposed to be doing, don't worry! For many of us, finding the time to fit exercise into our busy schedule is not easy.
Trend setter
No drab working clothes anymore, it is high fashion wear for everyone whether they are into professional courses or otherwise. Suvra Nayyar, a MBA student has her thoughts clear with the sense of haute couture.
Say no to dieting
Experts have advised health freaks not to indulge in dieting to lose weight after piling on pounds. The Sinai Hospital program offers weight loss surgery patients expert advice and consultation from Melissa Majumdar – who consults patients on real life scenarios such as how to make food decisions while on vacation and after.
Power- packed role
For all the glamour that Hindi serials may infuse in a mother's role, the Punjabi mothers on screen like motherhood to be a no-frills affair. At least this is what Anita Shabdeesh, the SAS Nagar-based actress who plays the role of a stern mother in Punjabi soap Kach Diyaan Vangaan, believes.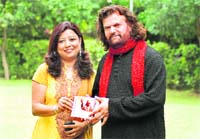 Soulful sojourn
"The devotional music came in existence following the spiritual utterances of sages, seers and sufi saints which, imbued a person with divine modesty as he learns to see one in all and all in one, " offers sufi singer Hans Raj Hans releasing Rinku Kalia's devotional album Mere Sai.


devotional notes: Rinku Kalia & Hans Raj Hans

Astro turf
Chatter box
The year ahead