M A I N N E W S

Sheikh Hasina
The Last Word


Hasina maan jayegi
Syed Nooruzzaman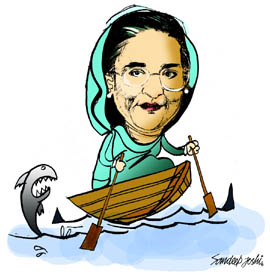 When she won the December 2008 elections with a thumping majority as the leader of a 14-party alliance, Prime Minister Sheikh Hasina Wajed of Bangladesh had made some major promises. Now she is under tremendous pressure from various quarters, including a section of her own party, the Awami League, to deliver. The Opposition led by Begum Khaleda Zia of the Bangladesh Nationalist Party (BNP) has come into the streets demanding mid-term polls owing to a decline in Sheikh Hasina's popularity. The Awami League government is also faced with the charges of large-scale human rights violations and doing little to fight corruption. Similar charges were levelled against her during her previous stint as the head of the government from 2001 to 2006.
Among the promises she made was improving relations with her country's neighbours, particularly India. This seems to be on top of her agenda. Better ties with India may spur economic activity in Bangladesh, leading to the creation of new job opportunities, essential for handling widespread unemployment. She is depending a lot on Prime Minister Manmohan Singh's two-day visit to Dhaka beginning on Tuesday. The agreements likely to be signed by the two leaders will not only lead to the emergence of a new era in India-Bangladesh relations, but will also speed up economic advancement in Bangladesh.
But these gains will come to Bangladesh after a lot of efforts made by Sheikh Hasina. She began to transform her country's relations with India by handing over to the Indian authorities a few senior insurgent leaders working to create instability in India's Northeast. She sent across the message that the time for using Bangladeshi territory for spreading terrorism in India was over.
It may not be difficult for Sheikh Hasina to make the people of Bangladesh feel that her country got enough from India during Dr Manmohan Singh's stay in Dhaka. Former Prime Minister Khaleda Zia and the others in her camp —- mostly rightist parties —- are describing the give-and-take between the two countries as a "sell-out" to India, but those who want an improvement in India-Bangladesh relations may not take this seriously.
Once Sheikh Hasina is ready with huge gains as a result of a number of accords with India, she may try to introduce some changes in the Bangladesh constitution. She may not be able to restore its 1972 character, removing Islam as the state religion, as demanded by her secular and left-leaning supporters. But she may attempt to do away with the system of having a caretaker government for holding elections. The Bangladesh Prime Minister is interested in the India model, which, she believes, may provide stability to her country. However, how she handles the charge of going in for this change with a view to rigging the 2013 elections remains to be seen.
There is considerable pressure on her from the Sector Commanders Forum, comprising 1971 liberation fighters, to remove from the constitution all the non-secular ideas introduced in it during the rule of the BNP-led alliance, which included religious parties like the Jamat-e-Islami. In 2008, the forum worked tirelessly to revive the "1971 spirit" by highlighting the sacrifices made by Bangbandhu Sheikh Mujibur Rehman. This led to the BNP-headed alliance getting only 30 seats against the Awami League-led group capturing 235 seats in a 299-member-strong parliament of the country. She will have to take some concrete measures so that she does not lose the sympathy of the influential Forum.
Sheikh Hasina has to handle another section of people angry with her, though they have been mostly her supporters. These are those who drew pride as Bangladeshis from the conferment of the Nobel Prize for Peace on Prof Mohammed Yunus of the Grameen Bank movement. The Awami League leader and Professor Yunus had been in the same camp till the latter came up with the idea of cleansing politics in Bangladesh with a new political movement. This happened in 2007 when the two battling Begums had been sidelined under a transition arrangement backed by the army.
Soon after coming back to power Sheikh Hasina removed Professor Yunus as the head of the Grameen Bank, levelling serious charges against him. In the emergence of Professor Yunus as the new hero of the Bangladeshis she saw a threat to the position of Sheikh Mujib, who she wants to be officially remembered as "the father of the nation". The popular professor's followers and admirers are waiting for the right opportunity to hit back. In their opinion, if Sheikh Mujib was the political liberator of what is now called Bangladesh, Professor Yunus is the economic messiah for those on the margins of society.
Sheikh Hasina, 64, appears to be in difficult straits today, but she knows how to swim to the shore safely. In the political battle she has been fighting to defeat her archrival Begum Khaleda Zia, she has experienced many ups and downs. Once even she was jailed on corruption charges. But nothing could dampen her spirits to emerge a winner at the end of it all.
Mother of a son and a daughter, she has little time for her family. Politics is her first priority as she was born in a family at Tungipara in Gopalganj district where she saw only politics being discussed most of the time. Sheikh Hasina is the eldest of five children of Sheikh Mujibur Rehman. She had been actively taking part in political activities during her school and college days too. That is why she did not find it difficult to jump into the race for her country's leadership when her father was martyred along with other members of his family under dramatic circumstances on the fateful night of August 15, 1975. She survived as she and her younger sister, Sheikh Rehana, were in West Germany at that time.
Sheikh Hasina is no different from her father, who was secular every inch. Her position is shaky today because of the poor performance of her coalition government. But she has still time to show results, as the next elections are far away —- in 2013.