Brush with an artist

"I am the bridge over which coming generations of artists will pass," said world famous painter Cezanne. Sunirmal Chatterjee, teacher–artist who continue to inspire generations of artists and architects, is one such example from Chandigarh. "All my works are dedicated to my dear students of art and architecture from whom I have learnt a lot," wrote Chatterjee.
Past magic: DS Kapoor, principal, GCA-10, at the exhibition— Retrospective of Sunirmal Chatterjee—which he has curated.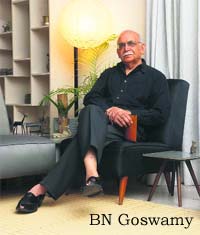 SUCCESS MANTRA
Following his heart
BN Goswamy, widely regarded, nationally and internationally, as India's most distinguished art historian, has trodden an unconventional path. Trained initially as a historian, in his career he has taken some sharp turns. For instance, he got into the prestigious civil services (batch of 1956) and was an IAS officer for just a little short of three years, when he took the decision to give it all up – status, power, privileges, money – and returned to academics.
In the sad list
Steven Spielberg's Holocaust epic Schindler's List has beat tearjerkers such as Love Story, Terms of Endearment and Titanic to be the saddest film of all time. The 1993 film, starring Liam Neeson as German businessman Oskar Schindler, won seven Oscars — including Best Director for Spielberg.
Role of honour
Can't do films just to be in short clothes: Sameera Reddy
After playing a Naxalite in Red Alert - The War Within, actor Sameera Reddy is getting back into a glamorous image in her next action thriller Tezz. However, the 32-year-old actor says that it isn't the lure of looking glamourous that makes her choose her roles now. "After being in the industry for so long, I have the understanding to know whether a film really needs me or not," said Reddy, who made her debut in 2002 with Maine Dil Tujhko Diya.

Departmental stint
Mega star Amitabh Bachchan will be seen doing a cameo in Ram Gopal Varma's upcoming film Department. The film, which was earlier offered to Abhishek Bachchan in the lead role, will now see actor Rana Daggubati instead because of date issues with junior Bachchan. "Ram Gopal Varma's Department - where I have agreed to do a friendly appearance - begins next week and that should come as a somewhat better proposition for me," Amitabh wrote on his blog.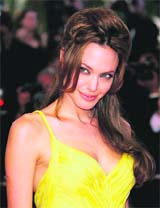 Glitter & gold
Angelina Jolie says she created her jewellery line for fun and to raise money for charity. The 36-year-old, who has her own range of accessories, said it has never been a huge ambition of hers and she did it because she wanted to design pieces she could wear, a website reported. "I did it for fun. The proceeds go to the Education Partnership for Children of Conflict, a foundation I started with Gene Sperling. I like certain types of jewellery I wasn't finding, big chunky stones with gold. I worked with a designer, saying, If I had an ideal ring, it would look like this. Or, I'd love a pair of earrings that look that," said Joile.
Good show: Angelina Jolie
Designer debut
Hip hop star Snoop Dogg has roped in fashion designer Karl Lagerfeld to direct his latest video. The pair have been spotted shooting the new video together in a luxury resort in St Tropez. Rumours of a collaboration were doing the rounds ever since Lagerfeld attended Dogg's West Coast party in Paris early this summer, reported a publication online.
Cool act
Riteish Deshmukh is all set to shoot the sequel to his 2005 comedy film Kya Kool Hai Hum with Tusshar Kapoor. The film titled Kya Super Cool Hai Hum will see Deshmukh, 34, and Kapoor coming together onscreen after five years.
Can-TEEN platter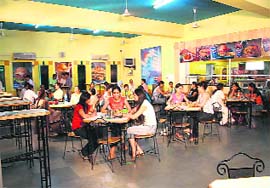 Sessions at Chandigarh colleges and the Panjab University have begun. In this scenario what all the students can look forward at the canteens this time…
Attending lectures, but having a growling stomach? Is your nose continuously twitching to the whiff of what the canteenwala is preparing for the day? Attention students — this time the canteen guys are thinking a step ahead to present some new items, which are equally easy on your pockets!
Food for eye: The MCM College canteen
Par Excellence
Visualise, commit and execute
To be good at the short game one must practice a variety of shots. The most important part of your practice is to hit different type of shots - chips, pitches and lob shots. It is also important to use different clubs for the same shot - hit chip shots with a less lofted iron, some with the pitching wedge and others with the sand and lob wedge. One should also try a few chips with the rescue as this is useful when the ball is resting against a thick fringe. Similarly pitch shots should also be hit with different clubs.
Romancing the book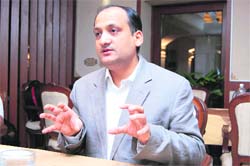 Manish Singh, Country Manager, Harlequin Mills and Boons India, in Chandigarh, discusses the future of the classic romantic novels in India
Remember the classic romantic novel series Mills and Boons, better known as MBs, which no female missed out during those years of growing up and dreaming about their ideal man?
Double shift
Juggling work and kids— women are prone to depression
Depression among women has doubled since the 1970s, thanks to pressures of juggling work and children.
Future Shock
Screen presence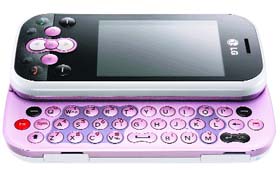 Connecting with people is fun, and mobile phones are offering colourful ways of connecting. Coloured screen is a jazzy option provided by mobile phone companies. Whether it is a simple 'on and off purpose' mobile or a hi-end one loaded with umpteen options, coloured screens definitely add a sparkle. And top it, colourful jackets is yet another option that can spice the calling experience.
HEART talk
I am a 30-year-old working woman. I don't believe in the institution of marriage, which is why I haven't settled down. But my parents, friends and colleagues give me a hard time by asking all kinds of uncomfortable questions. What do you suggest?
There's a Sea change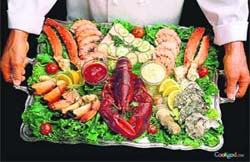 Ludhianvis are going beyond tandoori chicken and butter chicken to try out lobsters and squids
The sea is hundreds of kilometers away from the city. But the specialties of sea are closer home. Fish, prawns, lobsters and pomphrets come 'swimming' to the seafood lovers in the city. Although chicken tandoori and butter chicken remain the favourite pick in city menus, but seafood has also made the people drool and slurp.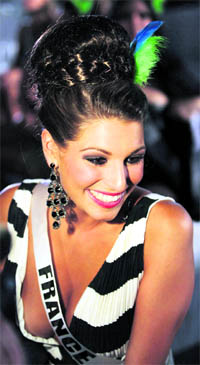 GET, SET ...DANCE: Miss France 2011 Laury Thilleman attends a samba dance class at Vila Maria samba school in Sao Paulo. The contestants are in Sao Paulo for the 2011 Miss Universe pageant which will be held on September 12. —REUTERS
Hollywood, here they come!
Computer hackers have made Gerard Butler their latest target by posting the details of the actor's private Gmail account on the Internet. Hollywood Leaks, claiming to be an offshoot of the cyber hacking group Anonymous - which pirated credit card details from Sony, paralysing its Playstation network, bears a grudge against Hollywood.
Dear daddy…
Hollywood actor Hugh Jackman's son thinks he is embarrassing even though he portrays X-Men hero Wolverine on the big screen.
Career to kill for
Twilight star Taylor Lautner says he would love to emulate the career successes of Hollywood stars Tom Cruise and Matt Damon.
Road to fitness
Tall and handsome Nishant Malkani has girls swooning over his fit body. However, the actor reveals that he does not always follow a strict diet. Check out what Nishant's fitness fundas are.
Quiz time with Saumya
Saumya Tandon is clearly enjoying her role as a co-quiz master with Derek O' Brien in Bournvita Quiz Contest on Colors. We exchange roles with her as we quiz her about the show.
Reality bites Audrina
She shot to fame with The Hills but actress Audrina Patridge says she has had enough of reality TV. The 26-year-old star has decided not to sign up for a second season of her MTV show Audrina, reported E! online. "I kind of decided I wanted to take some time off from reality. I want to act or host," she said.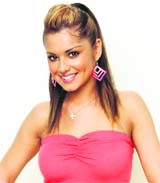 Friends again
Cheryl Cole has forgiven Simon Cowell and rekindled her friendship with him after he said sorry for dropping the singer as judge from The X Factor. Cheryl Cole was axed as a judge from the American version of the show in May, and the two friends fell apart after Cowell did not do more to keep her on.
n Chatter Box
n The year ahead
n Astro Turf