Screen presence

A small theatre with a seating capacity for 50 on the eighth floor is what Mukesh Ambani is planning for his new palace. Wonder why people go to theatres to watch movies and not sit at home for the same? The answer is simple--the big screen, the sound system and the effects and altogether a different feel!


Big bliss:Manan Gupta with his friends

Finger count
Here's an advice for ladies who are really passionate about someone - check his ring finger as its length could be linked to his sex drive. The longer the fourth finger compared to the second, known as the 2D:4D ratio, the more attractive he is likely to be to the opposite sex.
Like father, like son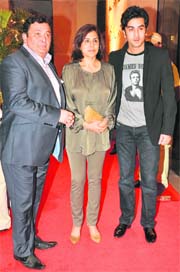 Fans who have been eager to see the two Kapoor men share the screen will not have to wait any longer. Heart-throb, Ranbir Kapoor has already shot for Pepsi's new commercial with his father Rishi Kapoor which will go on-air on September 15.
The trump card
Bet on the flamboyance of Punjabis. Keep the stakes high. You will never lose. Because it is one attribute Punjabis are known for. Going by the same measure, we blindly trusted the source which added to the account, "Four hundred and fifty people from Punjab visited Goa last month in a chartered plane to enjoy themselves at Casino Royale."
The Tiger returns
Bollywood star Salman Khan, who recently underwent a surgery in Pittsburgh, US, to treat a nerve problem, is expected to resume shooting for Ek Tha Tiger from September 10 in Dublin.
Star track
Almost after two years of absence from the big screen, actor Preity Zinta is returning to movies with her maiden home production Ishkq in Paris. "So excited to start ISHkQ IN PARIS soon! Been a long time since I've been in front of a camera. Too long! Time 2 get back into the groove!," Preity wrote on Twitter.
Oh My Gold!
It's the glitter of the gold that never fails to impress an onlooker; especially a woman! Though diamond is called a girl's best friend, it is the yellow metal that sets the heart racing. Fashion trends in gold jewellery are fast changing even as gold prices continue to set new records every year. And the latest trend to catch up with the soaring gold prices is gold jewellery in 14 and 18 karat.
celeb point
Kuch different ho jaye
Shooting for Zilla Ghaziabad was fun. A guy flick with Sanjay Dutt, Vivek Oberoi and Arshad Warsi. I have been fortunate to be part of both mainstream and parallel cinema.
Behavioural problem
Many parents in Britain are turning an embarrassment for their children due to their awkward behaviour at public places, says a study.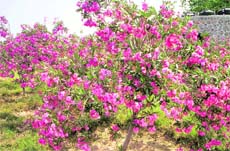 When water is scarce...
One of the big problems of gardening is the water management especially during the lean periods when the restrictions are on. The solution is to fix priorities depending on requirements. The other is to select species that need less water. The third method is to provide with aids that help conserve moisture. However, the best method is to grow plants that need minimum water.
Astro turf
Chatter box
The year ahead