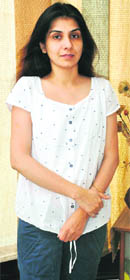 Threading the divine
Namita Jaspal, a heritage conservator, who got an opportunity to restore a dress worn by sixth Sikh Guru Hargobind, shares how it has been the biggest challenge of her life
A stitch in time, sometimes, is not enough to save nine. It, in fact, has the opposite effect. Especially if the cloth happens to be some 400 years old and the needle belongs to an amateur. Namita Jaspal, a heritage conservator, has learnt it first hand when she got an opportunity to restore a dress worn by sixth Sikh Guru Hargobind.





proud moment: Namita Jaspal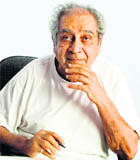 A legend comes calling
The Chandigarh Lalit Kala Akademi brings to the city the legendary artist Akbar Padamsee. This is for the first time Padamsee will be in the city to interact with art lovers and present his art works in a slide show. Padma Bhushan awardee and a contemporary of MF Husain, Padamsee is the founder member of the Progressive Artists Group which was formed after Independence. FN Souza, SH Raza, Husain and Krishen Khanna are some of the other prominent members of the group.
Master Artist: Akbar Padamsee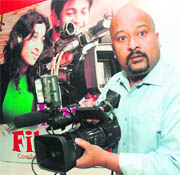 The perfect script
The camera is stable. It has diffused shots. Two children are playing in the house. A young girl steps in to scold the children. The girl approaches the grandmother. Dekho dadi aapke liye kya aaya hai. And soon there is clarity for dadi and the viewers — the film is called Nazar and it promotes the idea of eye donation.


lens eye: Pankaj Roy

Her image
The beauty business is fine till it gets too intrusive to let you be what you are. Miss Earth 2010 Nicole Faria is not the one to give thumbs-up to assembly-line production of beauty. So, it's a big 'no' to photoshopped images, even if they make her the prettiest woman. "I'm quite happy and comfortable with myself. I don't strive for any unrealistic perfection," she says.


Pun'jab'

Sandeep Joshi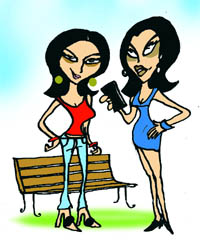 OFF RECORD: You were not on FB or Twitter. Where were you between 12:36 pm to 12:41 pm?
Brush with mythology
Art is one form of expression that really has no boundaries. Apart from art students, inclined towards paints and brushes, there is Manasvi Rasgotra, an MBA and a marketing manager in a leading food and beverage firm, whose love for art has taken him places. With his work displayed at Bistro Flamme Bois, he is more than excited about bringing his work to Chandigarh.
Subtle and beautiful
Are you getting married and worried about how will you look on your D-day? Does the idea of wearing all that cakey make-up gives you a horrific feeling?
Trendsetter
High on retro
When it comes to the meaning of style and fashion, there are very few who go truly global. Meet Kiran Bajwa, a young style file studying German in Panjab University, a true representation of hi-street fashion.
TROUBLE SHOOTER


Change your attitude
I am a 27 year old man. I live with my mother and sister. My father who had a business of renovating and reselling houses died recently. Though there are no financial problems, my mother remains quite upset and does not like me going out late. On occasions, I have drunk excessively and come home late. She checks my cellphone, my sister reads my messages and as a result we are always fighting. The atmosphere at home is very tense. I also get very anxious suddenly which lasts 20-30 minutes and cannot sleep at night. I hate being at home.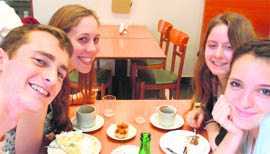 Slim without gym? Here's how
Then have an active social life, says a new study. Scientists from Ohio State University found that socialising and meeting with friends aid weight loss by converting energy-storing white fat into energy-burning brown fat. Lead researcher Dr. Matthew J. During and his colleagues used mice to study the effects, a socially and physically engaging environment has on weight loss and obesity.
MASTER CHEF


Eat like the Japanese
Tempura is, in many ways, an archetypal Japanese food. All the essential qualities of Japanese cuisine are reflected in its preparation- the use of fresh ingredients, the artful presentation, and the perfection of technique by a skilled chef. The result is one of the triumphs of Japanese cooking -- a fried food that is light and fresh-tasting rather than heavy and greasy. It's a cooking style in which the essence of the ingredient itself completely defines the taste.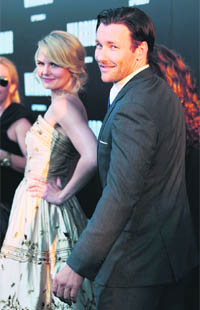 War zone:

Actors Joel Edgerton (R) and Jennifer Morrison arrive at the film premiere of Warrior in Hollywood, California. —Reuters
star track
Problem of plenty
People love to complicate matters. Keeping love simple never worked! Love stories with three or more characters are becoming the trend these days. Here are some upcoming movies that involve more than two people in love.

n Alien beauty
n Fourth attempt
n No Twitter and Facebook for Katrina
n When Anurag meets Michael
chatter box
Out of action
Sara Khan fell ill few months ago and was diagnosed with stomach infection and kidney stone. Recently, she had yet another kidney aliment and had to be operated. She got a kidney stone surgery in a Mira Road hospital and currently is recuperating at home. The shooting of her show Zee TV's Ram Milaayi Jodi has gone for a toss but as the TRPs are decent, the channel and production house don't mind altering the story a bit for a few days.

n No time to waste
n Too difficult to handle
n The beauty and the pet
n Another love story
n On shaky ground
n The ad boy
n Finally, Aamir on tube


Red hot
Red is an eternal favourite colour of the stunners of Bollywood. Nothing grabs one's attention quite like red does. Here's looking at who looked hot and who didn't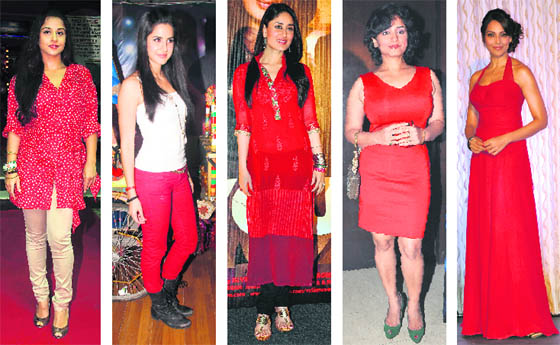 Dressed to depress
Vidya Balan: How we pity her! We thought she had realised that western clothes are not meant for her. She murders the FCUK tunic by wearing it with jeggings. Red lipstick with red dress is not recommended!

The red panther
Katrina Kaif: Just when we were bored of seeing gorgeous Kat in black and white, she surprised us carrying off red pants! They fit her well. The boots look a tad incongruous, though.

Bling-aholic
Kareena Kapoor: She looks stunning but there is too much going on with the super-long kurta. This is the way she is dressed in Bodyguard. We would have liked the look if the kurta were shorter.

Red alert
Divya Dutta: It's okay if she is unable to lose weight. She ought not to wear such dresses that expose her unflattering arms. The green peep-toes and Indian bag don't quite gel with the look.

Red letter day
Bipasha Basu: What a gorgeous lady in red! She looks like a dream. We must say she has moved out of her comfort zone. She pulls off the dress and everything else is falling in place too. She is clearly having fun! — HRM