M A I N N E W S
NDA protest rocks Parliament
BJP says injustice meted out to its 2 ex-MPs held in cash-for-vote scam
Arrest me, Advani dares government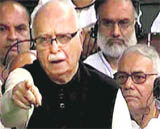 Arrest me if you think the MPs, who honestly displayed bribe money in the House, are criminals. Itís shocking that whistleblowers are in jail while the beneficiaries are sitting pretty ó LK Advani
New Delhi, September 8
The NDA today staged a protest in Parliament complex demanding Prime Minister's resignation over the cash-for-vote scam after BJP leader LK Advani was not allowed to speak in Lok Sabha on the alleged "injustice" meted out to two former party MPs arrested in the case.
Senior BJP leaders, including Advani, Sushma Swaraj and Arun Jaitley, along with those of NDA partners gathered around the statue of Mahatma Gandhi in the Parliament complex and raised slogans against the government on the cash-for-vote scam.
Demanding the resignation of Prime Minister Manmohan Singh, the leaders including Jaswant Singh, Rajnath Singh and JD(U) chief Sharad Yadav accused the Congress-led UPA government of being "corrupt". Leader of the Opposition in the Lok Sabha Sushma Swaraj alleged that the cash-for-vote case was the biggest scam of the present government.
She claimed that those who "exposed the UPA for having secured the trust vote after buying votes of MPs" were still sitting in power, but those who exposed their "corrupt deeds" were put in jail. "While those who exposed this government by showing the notes are today behind bars, the person whose government was saved is still the Prime Minister," she told reporters outside Parliament.
Swaraj said the BJP wanted to raise the matter of arrest of two of its former MPs Faggan Singh Kulaste and Mahavir Bhagore yesterday, but because of the bomb blast it could not do so. "However, when our senior leader Advani gave a notice for suspension of Question Hour today, he was not allowed to speak.
When he started speaking in the din, directions were given that nothing would go on record and his mike was shut." "It is unfortunate that Advaniji, who today, for the first time in his life had sought suspension of the Question Hour, was not allowed to speak," Swaraj said, asking, "Has the Question Hour never been suspended earlier on the request of any other political leader?"
Swaraj said BJP leader Ravi Shankar Prasad had also given a similar notice in the Rajya Sabha, but it too was declined. She alleged that the UPA government was saved through "sin and dishonesty. Those who spoke the truth are in the jail, while those who spoke lies are enjoying. "The entire NDA has now come out and stands before the statue of Mahatma Gandhi to lodge its protest against this injustice." Reacting to the NDA protest, Congress MP Jagdambika Pal said Parliament ran on certain rules and regulations and no one can over-rule them.
Pal also lamented that the BJP had tried to stall the proceedings of Parliament on one pretext or other and termed it as "an attack on the democratic values of this House". He said a Parliament Committee has already given its report on the cash-for-vote scam and questioned that under what rules could Advani speak on the matter, especially when the matter was pending before the court. "The Government cannot speak on the matter when it is sub-judice," he said. ó PTI