M A I N N E W S
China not allowing Tibetan traders into India
Pratibha Chauhan/TNS


Shimla, September 8
Although Indo-Tibetan border trade resumed in 2004 along the old "Silk Route", authoritative sources said not a single trader from Tibet had been allowed so far to enter India for trading.
one-way trade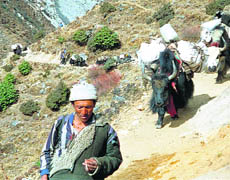 n Not even a single Chinese trader has come to India since border trade resumed in 2004
n Every year, more than 20 Indian traders go to Tibet and bring back Chinese goods for sale in India
n The trade has not really flourished with goods worth Rs 91.93 lakh being exported and goods worth Rs 76.61 lakh imported from China by the same traders last year. It was in 2005 that the trade was the highest when exports were valued at Rs 1.28 crore and imports were worth Rs 3.63 crore
n The negative fallout of the red sander wood smuggling incident of last year has been that intelligence agencies have become more strict while issuing trade passes now
"Though traders from Kinnaur have been going every year, not even a single Chinese trader has come to India," confirmed Sanjay Sharma, Sub-Divisional Magistrate, Pooh, the issuing authority for trade passes.
In sharp contrast, Indian traders, majority of them hailing from Kinnaur have been going across to Shipki village in Tibet with their cargo every year.
There are three routes, one each in Himachal Pradesh, Uttarakhand and Sikkim, through which trading is conducted with Tibet and China.
"The reverence that Tibetans have for Dalai Lama is so immense that they embrace us and kiss our hands, all the time exclaiming how lucky we are to have been blessed by His Holiness the Dalai Lama, leading a life in exile in Dharamsala, Himachal Pradesh," said Jeet Ram, a resident of Dubling village. He went deep into Tibet on several occasions till 1986 and now, after resumption of trade, his son Bharat Bhushan goes to China every year.
"The trade was resumed in 2001, we kept waiting with garlands for Chinese traders at Chuppan to come to Kinnaur with their goods but our wait proved futile as no one was allowed to enter India by the Chinese authorities," reminisces Pasang Cherring who, however, goes over to Tibet every year.
The traders say that the local residents revere the Dalai Lama but keep his photographs hidden for fear of repression from Chinese officials. One of them claimed that while there was no Buddhist monastery at Shipki, the one at Tholing, which was damaged earlier, had been rebuilt but no one was being allowed to pray and keep photographs of the Dalai Lama.
As per the Indo-Sino trade pact, Indian traders can carry 29 listed items that do not attract customs duty. They mostly carry rice, oil, gur, tea, spices, utensils and textiles.
"Interestingly we also carry the brocade and carpets made by exiled Tibetans residing in India back to their homeland where they are not easily available," said Jeet Ram.
The quantum of trade between the two neighbours remains negligible mainly on account of security concerns on both sides of the border.