COLUMNS



THIS ABOVE ALL

TELEPROMPT

GOOD MOTORING

LIFE'S LESSONS

LEXICON

NETWATCH

FOR CHILDREN



CROSSWORD

RHYME TIME
Earlier Feature


TELEVISTA


AUDIO SCAN
As the world's favourite secret agent gets set for another film next year, Swati Rai gives a run-up to the charming spy, who has been winning hearts for five decades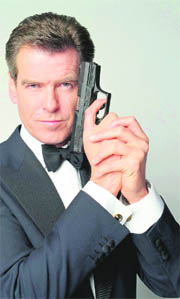 "Name: Bond, James; height: 183 cm; weight: 76kg; slim build; eyes: blue; hair: black; scar: down right cheek and on left shoulder; all-round athlete; expert pistol shot, boxer, knife-thrower; does not use disguises. Languages: French and German. Smokes heavily (NB: special cigarettes with three gold bands); vices: drink, but not to excess, and women.'
(This is how his creator Ian Fleming describes his most famous character in From Russia with Love.)
Little did Ian Fleming know when he created James Bond or 007, the iconic status his character would come to gain. Fleming created Bond in 1953. The spy has also been the hero in the longest running and most financially viable English language film franchise to date. From Fleming's first book Casino Royale, James Bond took a 'quantum' leap into the movies and has lasted for more than five decades. After the release of the first Bond movie, this rogue but loveable spy's fan base has kept swelling all over the world, always eager to see the next edition of 007.
the 007s
Ervell E. Menezes takes a look at various heroes who have played this loveable and iconic character
In a series, which began way back in 1962 and is still going strong, celebrating its golden jubilee next year, the Bond films have broken all boxoffice records, retaining their magical touch with its 30-odd films and five Bond heroes beginning with Sean Connery in Dr No.
Toon talk
India is one country that no one can ignore. This is evident from the latest Disney film Phineas and Ferb: Across the 2nd Dimension , which is based on the popular TV series, Phineas and Ferb. In the film, the two boys, Phineas and Ferb, finally discover that their pet platypus, Perry, is a secret agent, who battles the forces of evil almost everyday.
Spa for peace, health
There is nothing quite as invigorating as spending a few hours getting yourself pampered in a luxurious spa, says Shobita Shivshankar
Need a break in life but have no time to go vacationing to a hill resort? The answer is new age spas that have sprung up in major cities that promise to take the load off one's mind and body. They promise you an experience of rediscovering the old-fashioned health benefits of sun, sand and water, packaged with a lot of gloss.
Elegant and ethnic
Punjabi juttis are delicately embroided with colourful threads and beads, says Gagan K. Teja
Punjabi jutti needs no introduction. Right from the time of maharajas to the 21st century, it continues to be the top choice of women, especially Punjabi women, the world over. Name any festival, and there is ample variety available to suit the occasion.