Digital footprint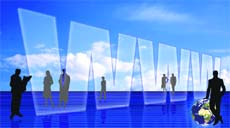 The Internet has dramatically changed the way in which businesses interact, market, and sell to customers. The rapid replacement of traditional media by social networking sites, websites, blogs, and video sharing sites has created an urgent demand for professionals who can think innovatively about how to successfully capitalise and capture the opportunities of an enormous audience through digital channels.


Training trail


Think beyond US


Alternative to MD
demography
Count on success
In a prevailing scenario of unemployment among educated youth in India and elsewhere in the world, we need to identify employment opportunities. There are some specialisations not known to many which are having abundant job opportunities. Demography is one such field.
Biotechnology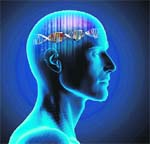 Field of opportunities
Biotechnology is a booming industry and is expected to grow at a tremendous pace in the next five years. A recent survey by FICCI has revealed that the shortage of doctorate and post-doctorate scientists in biotechnology is around 80 per cent. This is the reason why job prospects in biotechnology are 10 times more than those in other life science industries. Hence, a student with a professional degree in biotechnology is sure to find a good job and good remuneration.
FILM-MAKING
PERFECT FRAME
Film making has always had an aura of glamour that lures thousands of youngsters each year to this career field. Massive growth of this industry has given rise to a wide range of employment opportunities.
office mantra
Surviving change
Many companies today are under intense economic pressure. Reorganisation, takeovers, mergers, downsizing, joint ventures, and other major changes are extremely common as companies try to grow and survive in this kind of economic scenario.
JOB INDEX
Steady hiring in Chandigarh
The Naukri job speak index for Chandigarh indicates that hiring in the city has been continuing at a steady pace over the past few months. However, a yearly comparison shows that the hiring activity this year is higher than what it was last year. This is primarily because the key job creators of the city, IT- Software, Banking and Pharma were hiring at a rapid pace in the first half of 2011.
Effective time management
Sometimes it becomes difficult to decide whether something is important or urgent for us and we keep on oscillating between "important" and the "urgent". How to decide whether something is urgent and not important or important and not urgent becomes a nerveracking dillemma.

CareerCature
Sandeep Joshi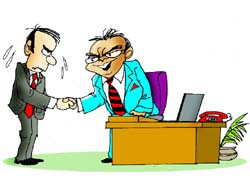 You have been elevated with immediate effect. Now onwards you'll sit on the top floor.
MANAGEMENT TIP
Dealing with slow workers
"Employees who are slow to react can be frustrating, especially in environments where it's imperative to respond and adapt to change quickly. However, don't assume these slow pokes are trying to undermine progress or resist change. They may have very good reasons for their response times.
Happiness @ work
Safety saves
The workplace is not the place to display bravado. Don't forget to wear the protective gear that has been recommended.
COURSE WATCH


Design courses