Centre unveils agenda for Naxal-hit areas
PM emphasises on development in tune with needs of the local people
Vibha Sharma
Tribune News Service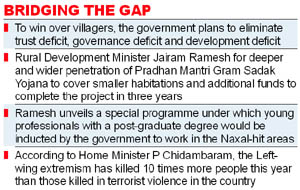 New Delhi, September 13
Indications of decline in Maoist violence in areas under the Integrated Action Plan (IAP) have prompted the government to extend the scheme to 20 more Naxal-hit districts to tackle the "most formidable challenge" staring at it.
Since bridging the development gap and governance deficit have emerged as the irrefutable way to deal with Left-wing extremism (LWE), among key conclusions presented by Rural Development Minister Jairam Ramesh to Prime Minister Manmohan Singh, after a meeting with Collectors of Maoist-hit districts, include deeper and wider penetration of flagship programme, Pradhan Mantri Gram Sadak Yojana (PMGSY), to cover smaller habitations and additional funds to complete the project in three years.
Addressing the Collectors, the Prime Minister called for integrated action in Maoist areas, saying that development in Naxal areas must be in tune with the needs of the local people. Pointing that the lack of security was a big constraint in pushing development plans, Singh said the government must provide security to those dealing with the cash component of the development schemes. "Post offices and bank branches can be operated from the police stations," the Prime Minister suggested.
Surprisingly, the most violent movement in India is not terrorism or insurgency but Left-wing extremism. The Left-wing extremism, as per Home Minister P Chidambaram, has killed 10 times more people this year than those killed by terrorists in the country. "While 26 persons were killed in terrorist violence and 46 killed in insurgency (27 in Jammu and Kashmir), 297 persons were killed in Naxal violence. That is 10 times of those killed in terror incidents" he said.
While the Centre has plans to raise specialised forces which will have both security and engineering components, Chidambaram said the responsibility of bridging trust and development deficit remained with the states. "The villagers are not yet on our side or at least not all villagers are on our side because of trust deficit, governance deficit and development deficit," he said, adding that the responsibility of winning hearts of villagers and winning them on "our side" must remain and will always remain the responsibility of the respective state governments.
Both Chidambaram and Ramesh said there was a "definite view" that the IAP being implemented in 60 selected tribal and backward districts should continue and expand. "We are trying to add another 20 districts. The Planning Commission has given approval for 18 districts. This brings the total districts under IAP to 78," Chidambaram said. The IAP currently covers 60 districts and the project has to be completed with in two financial years. While there is a unanimous view that the IAP should continue in the 12th Five Year Plan too, there is also a proposal to implement the scheme on the smaller revenue model of a block instead of a district for better implementation.
Collectors of the Naxal-hit districts of Orissa, Jharkhand, Chhattisgarh, Madhya Pradesh, Bihar, Andhra Pradesh, Maharashtra, Uttar Pradesh and West Bengal attended the workshop.
Meanwhile, Ramesh unveiled a special programme under which young professionals with a post-graduate degree would be inducted by the government to work in the Naxal-hit areas. To be initiated next year, the proposal is christened the Prime Minister's Rural Development Fellows Programmes.

2,000 retired Armymen to help CRPF tackle Naxals
New Delhi, September 13
The CRPF will for the first time in its 71-year history induct over 2,000 former Army personnel in one go to bolster its anti-Naxal operations, offering them a salary of upto Rs 55,000 per month.
A total of 2,012 retired Junior Commissioned Officers, Non-Commissioned Officers and others are being hired by the force to enhance its capabilities to undertake counter-IED operations in Naxal-hit zones where the force has deployed over 70,000 troops.
Initially, 348 JCOs and 1,754 NCOs will be recruited on a minimum contract of three years. While the JCOs would be paid Rs 55,000 a month, NCOs would draw Rs 34,000, Sudedar Majors Rs 34,000, Subedars Rs 33,000 and Naib Subedars Rs 32,000.
The ex-Armymen's numbers could be increased if the force requires more personnel. They would render special training and assistance in CRPF patrols to counter ambushes and IED. — PTI