The Indian Show at Toronto
A diverse slew of global productions set in India or about Indian themes is among the highlights of the 36th Toronto International Film Festival, writes Saibal Chatterjee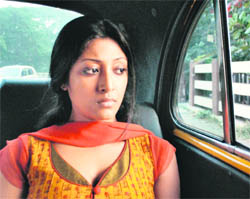 Sri Lankan director Vimukthi Jayasundara's Chatrak (Mushrooms) is an Indo-French co-production set in Kolkata. Jayasundara has captured the innards of Kolkata in a manner reminiscent of Satyajit Ray and Ritwik Ghatak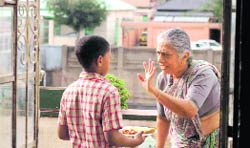 Bangalore theatre actress Jayashree Basavra (R) plays the elderly Indian woman Padma in Lucky
The Toronto International Film Festival's (TIIF) engagement with Indian cinema goes back a long way. Over the years, North America's premier celebration of the movies has screened films of all hues from and about the subcontinent: offbeat works by the masters, sparkling little gems by directorial debutants, mainstream Mumbai masala fare and cutting-edge documentaries.
Toronto film festival regulars have been exposed to Bollywood films like Kabhi Alvida Na Kehna and Singh is Kinng, besides smaller, more intimate Mumbai films like last year's Dhobi Ghat and That Girl in Yellow Boots. Also in TIIF's programming have been powerful documentaries about Indian themes made by filmmakers abroad. But it has never been quite like what it is this year.
It is that incredible global blockbuster, Slumdog Millionaire, Danny Boyle's much lauded drama that seems to have opened the sluice gates. This year, the 36th TIFF has brought into its fold a quartet of much-anticipated international co-productions, either set in India or about characters with roots in this country. Obviously, interest in the Indian cinema has never been more pronounced.
By the time the 11-day film festival winds down on September 18, all four India-specific films it would have been unveiled, which are so unlike each other that they could well have been about four different cultures. But they are not. These co-productions, anchored in varied filmmaking traditions and spaces, are bound by their geographical unity.
The big desi blockbuster wannabe in this lot is the Indo-Canadian production, Breakaway, which views the immigrant experience through the prism of ice hockey, a game that is hugely popular in Canada but is barely followed in India.


Breakaway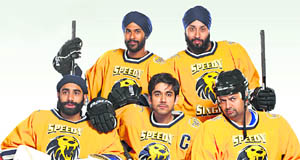 Breakaway has been scripted by its lead actor, debutant Vinay Virmani


Robert Lieberman

Vinay Virmani
Speedy Singhs, with the international title Breakaway, is a forthcoming Canadian/Punjabi comedy-drama film. Camilla Belle plays the female lead. Anupam Kher plays a father who wants his son to quit ice hockey and devote his life to the family business. Music composer and head of Columbia Records India, Sandeep Chowta has composed music for Speedy Singhs. Speedy Singhs is originally a Hindi project. The international version, Breakaway, will release in theatres in Canada, Europe and UK on September 23, 2011, a week before the global release of the original version.
Lucky


Avie Luthra


Sihle Dlamini
Avie Luthra is an Indian film director and screenwriter, who graduated from the National Film and Television School, UK. He is a practicing psychiatrist. Lucky is about a South African AIDS orphan. It premiered at the Edinburgh Film Festival and got a special mention at the AFI Festival in Los Angeles. Lucky was nominated for the BAFTA Award in 2006. The cast includes first-timer Sihle Dlamini, who plays the 10 year-old title character, and Jayashree Basavra, James Ngcobo, Vusi Kunene, Brenda Ngxoli.
Trishna


Winterbottom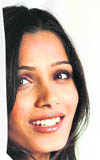 Freida Pinto
Trishna is director Michael Winterbottom's third Thomas Hardy adaptation, after Jude and The Claim. The film, starring Freida Pinto and Riz Ahmed, was shot extensively in Jaipur and Mumbai early this year. It premiered at the Toronto Film Festival. It is produced by Andrew Eaton, with Michael Winterbottom as the co-producer and screenplay writer. The music is by Shigeru Umebayashi, while Marcel Zyskind is the cinematographer.
Mushrooms


Jayasundara


Paoli Dam
Vimukthi Jayasundara got his filming education in Le Fresnoy – Studio National des Arts. Chatrak is the first film to be directed by a Sri Lankan for a non-Sri Lankan producer in a foreign language. The film has represented India at various film festivals, as it is a Bengali language film. In May this year, Chatrak was screened in the Director's Fortnight at the Cannes Film Festival. Kolkata's Vinod Lahoti is the producer the film. Bengali actress Paoli Dam, Sudeep Mukarji, Anubrata Basu, Sumit Thakur, Shanker Dey are the main cast of this film.
Set for release in India later this month with the title Speedy Singhs, Breakaway is helmed by American-born Canadian director Robert Lieberman and scripted by its lead actor, debutant Vinay Virmani. The cast includes Canadian standup comic Russell Peters, Rob Lowe and American actresses Camilla Belle and Noureen DeWulf.
Bollywood star Akshay Kumar, who is a co-producer of the film, along with leading Indo-Canadian entrepreneur Ajay Virmani, puts in an on-screen cameo appearance and attributes his backing the film to his "love for sports movies".
The film's lead actor, who learnt the ropes of the craft at the Lee Strasburg Actors' Studio in New York City, plays the son of a conservative Sikh immigrant (Anupam Kher), who wants the boy to ease himself into the family transport business set up by an uncle, Speedy Singh (Gurpreet Singh Ghuggi). But all that the young protagonist wants to do in life is play ice hockey, the favourite sport of his adoptive country.
Caught between his dad's demands and his passion for ice hockey, he resorts to a bit of subterfuge, with the help and monetary backing of his uncle, to set up a rag-tag outfit of Sikh boys to take on the might of the local champion team. After initial hiccups and some reverses, the team makes its presence felt.
Not quite the Lagaan of ice hockey, Breakaway is, however, an easy-to-like feel-good drama in which an underdog beats all odds to achieve his dream. "It is not really about one particular community," says Virmani. "The story underscores the fact that you might be different in many ways but you still have a chance to assimilate yourself in the culture of the land that you have adopted."
From the robust Punjabi Canadian milieu of Breakaway to the more languid rural Rajasthan setting of prolific British director Michael Winterbottom's Trishna, the leap is pretty significant. It is especially so because this film, starring Freida Pinto and Riz Ahmed, is actually a loose adaptation of a classic of English literature, Thomas Hardy's tragic novel, Tess of the d'Urbervilles.
Trishna is a British production, mounted with some assistance from Anurag Kashyap, who also plays himself in the film along with his real-life partner Kalki Koechlin.
Winterbottom transports Hardy's novel — well, only some segments of it — to Rajasthan, where the son of a blind British citizen of Indian origin (Roshan Seth) falls in love with the eponymous heroine, a village girl, whose father owns and drives a pick-up van for a living. The relationship takes on sinister dimensions and ends in tragedy.
For Indian audiences, the unusual spin on a classic might seem a tad stretched, but Trishna is likely to find takers around the world, although not to the extent that Slumdog Millionaire did. According to a review in The Hollywood Reporter, "The film benefits from a strong sense of place, without overworking the ethnic exotica."
British-Indian director Avie Luthra's South Africa-set film is markedly less ambitious and none the worse for it. Luthra, who has also scripted the film, tells a simple, heartfelt and sensitive tale of an orphan boy, Lucky, who leaves his village and travels to Durban to live with a dissolute uncle, after his mother succumbs to AIDS.
The boy wants to go to school but his uncle has no interest in giving Lucky a solid foundation for the future. As he drifts in search of love and understand, the boy develops a bond with an elderly Indian woman, who lives next door.
The woman, played by Bangalore theatre actress Jayashree Basavra, does not understand Lucky's language, and neither does the latter know Hindi. Language barrier and racial differences notwithstanding, a deep emotional connection brings them close to each other. Lucky celebrates the power of humanity without going overboard. It is understated and yet poignant.
Probably the most intriguing of these four films is Vimukthi Jayasundara's Chatrak (Mushrooms), an Indo-French co-production set in the city of Kolkata and an unspecified forest location in Bengal. A successful architect, just back from Dubai, goes out in search of his missing brother.
The latter is believed to have gone mad and sleeps on a tree in the middle of a dense jungle. In characteristic style, Jayasundara creates a surreal universe in which appearances are deceptive and the brothers might have more in common with each other than is instantly palpable.
The young Sri Lankan director, who won the Camera d'Or in Cannes for his first film, The Forsaken Land (2005), captures the innards of Kolkata in a manner, reminiscent of Satyajit Ray and Ritwik Ghatak, two filmmakers he admires. "Yes," says Jayasundara, "it is my conscious tribute to the Bengali movies that were my first introduction to this culture."
Language was certainly a problem for Jayasundara but not big enough to deflect him from his path. "There were three Bengali-speaking assistant directors who ensured that everything was right," he says. The director also had Bengali filmmaker Bappaditya Bandopadhyay by his side during the project.
Apart from these films in various programmes of the festival, TIFF hosted a conversation woven around Deepa Mehta's upcoming adaptation of Salman Rushdie's epochal 1981 novel, Midnight's Children. While the theme is obviously entirely Indian, the production is purely Canadian. "This film would not have happened without the funding made available in Canada," says Rushdie.
Mehta, on her part, is a Toronto resident and is regarded as a Canadian filmmaker. Says TIFF co-director Cameron Bailey: "Mehta has completely redefined what it means to be a Canadian director with her consistently international outlook."