Perfect cocktail

A facade of happy marriages, casting couches and much more goes into the making of this racy, juicy story of famous men and women

Hollywood Sinners
By Victoria Fox.
Mira Books. Pages 588. Rs 299.

Reviewed by Nonika Singh

IN a way itís a perfect cocktail. Of sex, scandal, lust, greed, impotency and even incest. But, is it intoxicating enough? Now that is a million-dollar question. Indeed, like all pulp fiction tales, this isnít for the cerebral highbrow nor for the faint-hearted puritans. Expectedly, sex pops and peeps out of every closet and is a dominant thread, almost a parallel storyline that makes and mars the lives of those involved.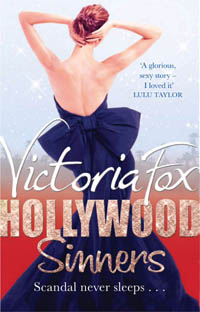 Hollywood Sinners, as the title suggests, is about the sins, the dirt and grime and the deceitful manoeuvrings behind the seemingly enviable and perfect lives of Hollywood celebrities. The facade of happy marriages, the casting couches (as true for male of the specie as females) loveless, albeit passionate, bouts of sex sessions and much more goes into the making of this racy, juicy story of famous men and women. People whose lives are defined by one word ó artifice.
So, you have superstar Cole Steel and his lovely wife Lana Falcon trapped in a contractual marriage yet putting up "touch wood" pretence for the world to see and the paparazzi to cover. Then, there is an upcoming English actor Chloe French whose fate is sealed by the same rules that apply to others who want to make it at any cost or as the author herself would say, sell their soul to make it. In between is thrown the character of Kate di Laurentis, a middle aged actress whose desperation to make a comeback finds a match in her overzealous "zeal" to save her marriage to comedian actor who falls for anything with " two legs and a pair of breasts".
The pivotal character is the Las Vegas king Roberts St Louis, strong, formidable and handsome whose powerful status is trailed and threatened by a murky past. Lead characters in the book expectedly have many tracks to cover, including a murder. How their lives cross each otherís paths, how their destines intertwine, tangle and again untangle form the basic narrative that goes up and down, has many twists and turns, some fascinating, some run-of-the-mill. Fox follows the now predictable, now surprise style, which is readable and racy; saucy and fun.
In the web of intrigue and infidelity, strangely enough, a real love story shines through and meets the "happily ever after" fate and state. And this is where this debutant novelist falters. This is where the book falls way short of other searing accounts of celebs like the famed book Valley of Dolls that told a timeless story of how true love too takes a beating at the altar of celebrityhood.
While all of Foxís characters are brittle and unstable, including the beautiful rich heiress Elisabeth engaged to Roberts, for the lead pair love somehow conquers all. How come they manage to find happiness even after years of separation, while all others are caught in the vicious cycle of fame and success beats and defies logic? Itís this fairytale romantic twist that one is forced to take with not only a pinch but bagful of salt.
Many subplots in the book ó the dead brother resurfacing, the incestuous angle, erotic romance between a beautiful young woman and a wry old man ó seem exaggerated, if not contrived. Then, certain elements like the convenient elimination of the unwanted even remind you of the Bollywood formula, where everything is dovetailed and conspired to suit the inevitable that is the expected climax. But then such salacious books are not to be taken seriously. Like the mechanical sex it keeps referring to and going back to after every few pages, it is meant to be enjoyed (read) as long as it lasts.
And to give credit to Fox, she does keep you engrossed about the future of her key characters and does leave you wanting to know what happens next. Even if a d`E9j`E0 vu feeling grips you often enough, the writer, a self-confessed fan of Jackie Collins, does manage to whip up the curiosity quotient, and takes you through till the end. No mean feat, since itís a book spanning nearly 600 pages. Comparing her to Collins, whose book Lovers and Gamblers by the way figures in her top ten favourite books, however, would be both audacious and unfair. So would be judging her on the yardstick of critical appreciation.