Lost & found
Eminent litterateurs talk about the lost glory of the Urdu language and literature and ways to regain it

S. D. Sharma
Urdu hai jiska naam sabhi jaante hain Dagh, Hindustan mein dhoom hamari zaban ki hai`85
This couplet by poet Dagh Dehlavi is a veritable salute to the supreme status the Urdu language commanded as an official language of the Mughal empire across the centuries. But with the changes in policies during the British rule and subsequently, Urdu lost its dominance, there coming about a paradigm shift in the preference for Urdu education, with it no more remaining a job-oriented subject.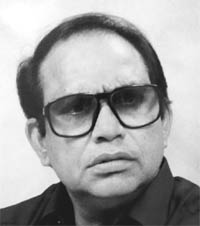 Sardar Anjum
Eminent literary personalities express divergent views on Urdu regaining its lost glory, the formidable challenges it faces at the national level and in the region and measures to resurrect it.
"Known as the lashakri zubaan, Urdu is said to have evolved from the hybrid folk expressions used by soldiers coming from different origins, areas and cultural backgrounds in the war camps of Emperor Babar. But it blossomed and later attained literary elegance in Haryana, then a part of Punjab," says Kashmiri Lal Zakir (92), a prolific author of over 132 books and secretary, Haryana Urdu Akademi.
Envisaging a bright future for Urdu, with the liberal state government support, the Akademi has taken a lead by enrolling over 4000 Urdu lovers from five states for free-of-cost distance learning. Even Haryana Chief Minister Bhupinder Singh Hooda is learning Urdu under this scheme, claims Zakir.
Besides, a number of national-level seminars with the participation of poets from abroad, monetary awards for literary works, setting up of Urdu teaching centres at the district level by the NCPUL and some software training centres will go a long way in propagating Urdu language and literature, feels Zakir. Also, the approval and implementation of the recommendations of Sardar Zafri on Urdu will give an impetus to its promotion, he adds.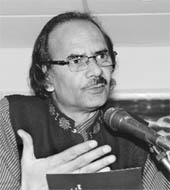 Nashir Naqvi
Mumbai-based Bollywood lyricist Muqtida Hasan Nida Fazli laments that this rich language with great literary elegance has suffered cruel apathy at the hands of vested politicians, who designed and utilised it for a communal divide, especially after Partition.
Credited with 21 poetry publications, all running into several editions, film songs, ghazals and nazms, Fazli is a poet with a national conscience. While his family members migrated to Pakistan in 1947, he preferred to stay back and do a Master's degree at Gwalior. His poetry has been deeply influenced by Partition, human relations, the devotional moods of Surdas, Kabir and Meera, besides the Ganga-Jamuni tehzeeb and love in all its manifestations.
"Earlier, Urdu had been an aam aadmi ki bhasaha or Hindustani replete with Persian, Sanskrit and Hindi vocabulary. Just sample a kalaam by Amir Khusro, the founder-creator of Urdu: "Khusro raen suhag ki jaaki pee ke sang, Tan mera man piyu ka dono bhye ikk sungg".
Hindu poets like Krishan Chander, Rajinder Singh Bedi, Kashmiri Lal Zakir and Sudershan Faqir, to name a few, had earned a name as Urdu writers, while Muslim poets like Nazrul Islam, Bashir Vaikam and Shayda wrote in Bengali, Tamil and Gujarati, respectively, proving that languages had no religious bigotry but an emotional appeal and a social responsibility to represent the ethos of the public.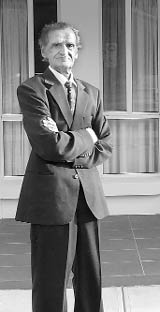 T. N. Raz
"An Anna Hazare type of movement and mobilisation is necessary to get the lost glory of Urdu restored. And its place can be further secured by making Urdu employment-oriented," Fazli suggests. Discrimination towards deserving Urdu litterateurs in giving awards will continue unless learned and art-loving politicians come to the helm of affairs.
Gifted with vision and impulse, acclaimed Urdu poet of international eminence-cum-bureaucrat Ramendra Jakhu Sahil enjoys the distinction of participating in prestigious mushairas in the UAE and Pakistan and his ghazals are sung by top maestros. Having held additional charge of the Haryana Urdu Akademi for three years, he opines that concerted efforts will have to be made preserve and propagate the rich grandeur of the language. "With a view to creating awareness, I had ventured to involve youngsters by holding seminars, workshops and quiz contests in colleges, which brought good results," shares Jakhu. Thanks to the ghazal singers who popularised Urdu kalaams, I introduced a distant Urdu learning programme and we designed an educative book in Devnagari at the Akademi to facilitate quick learning. Besides, a bilingual magazine Nai Disha was launched to reach the masses," he claims. "Revival of Urdu is difficult but not impossible, especially when there is government support," he adds.
Says Padmabhushan poet Dr Sardar Anjum, "Urdu language and literature certainly have a bright future if the modern writers emulate legends like Bismal, Munshi Prem Chand, Faiz, Sardar Jafri, Sahir, Manto, R. S. Bedi and others who were dedicated literary exponents of human concerns and the struggles of the common man. They took Urdu to a zenith at a time when there were no Urdu akademis in India. Sadly, present-day akademis have limited their operation to political stages to organise mushairas and seminars for literates only and merely for exchanging awards."
Anjum, with 27 published works in Urdu, Hindi and Punjabi and a TV serial Goongi Twareekh to his credit, is a hard-hitting poet. Perturbed at the disabled status of Urdu, he shares his anguish through his couplet: "Apahaj ban ke jeene ki adaa achhi nahin lagti/ Jo sooli tak naa ley jaaye saza achhi nahin lagti."
T. N. Raz, undeniably the only established poet of humour in the region, with over a dozen books and reviews published in international magazines, feels that there are no takers for poetry books in Urdu though works published in Devnagri script are widely read.
"In the absence of healthy competition, the literary level of poetry or the afsaana, too, has deteriorated. Unless the learning of the Urdu language is linked to employment and patronised by the government, its promotion is not possible," maintains Raz, quoting his couplet: "Urdu ka muhafiz (saviour) hai, Hindu na Musalman hai/ Begoad se bachhe ko, ab kisney uthana hai."
Credited with over a dozen literary works in Urdu, Dr Nashir Naqvi is highly optimistic of the rising of Urdu. Substantiating his view, Nashir says special Urdu universities — Abul Kalam Azad at Hyderabad, Hamdard in Delhi and Maulana Ali Johar University at Rampur — are in the offing, all in a span of 10 years. More so, two TV channels (ETV and DD Urdu) relay exclusively Urdu programmes, besides regional channels Hadi (Mumbai) and Saleem (Hyderabad) and Urdu training centers are teaching Urdu pronunciation to actors.
As per a notification by the NCPUL (National Council for the Promotion of Urdu), the language has been rated as the third most popular language in the world, says Nashir. But, unfortunately, it is the old guard — people aged above 80 or so and devoid of modern technological advancement — that is at the helm of affairs. This stalls a new visionary approach being injected into the promotion of Urdu, laments Nashir.