TÍte-ŗ-tÍte
Ethereal notes
Nonika Singh
In an age when all and sundry love to blow their own trumpet, waxing eloquent about "I, me, myself," celebrated vocalist Padmashri Madhup Mudgal simply refuses to gloat over his achievements. Not only is pompousness alien to his being, but even the "art" of lying is antithetical to his persona. But then this disciple of Kumar Gandharva, the master of pure swar and purer thoughts, who would never ever lie, has learnt lifeís lessons and higher values from the late vocalist, too.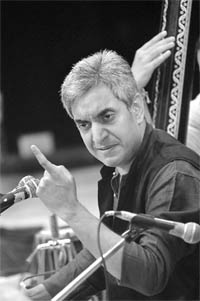 Madhup Mudgal
Recalls Mudgal, "He would train only those students who were truly dedicated to music." Thus, when Mudgal, son of Pandit Vinayachandra Maudgalya, decided to pursue music as a vocation and train under the legendary singer, his only condition was "agar sangeet se pyar hai then come to me".
And throughout the training he reminisces, Kumarji would offer nothing on a platter, no readymade package. Without doubt, he was a stern guru and Mudgal remembers how he would refuse to teach if the taanpura was not properly tuned. Mudgal is more than grateful for the disciplined taalim and says with great fondness, "He gave me wings."
Sailing on which Mudgal has been flying high delighting listeners, with both classical renditions and devotional music. Between the two, he says the fundamental difference is that one is steeped in emotional power and the other is swar pradhan.
In the last few decades, he agrees that the following of devotional music has increased manifold. He laughs, "People today are stressed out and afraid, so from bhay comes bhakti." And itís not only bhajan concerts that draw more listeners, his albums on Kabir and gurbani also sell more than classical music albums. But then he reasons, "Classical music is not everybodyís cup of tea. Not all can understand Darbari ka gandhar." Nor can all learn music directly from a guru. Thatís why he feels that institutions such as Gandharva Mahavidalya that he runs are vital. But isnít classical music imbibed better in the guru shisya parampara?
Quips he, "On your first day to a medical college you donít start operating on patients. Similarly, what we offer is an appreciation course, a kind of whetting of musical appetite. Among those in whom we sense an insatiable urge to learn music we tell them ó start all over again."
The divide between performers and teachers, he asserts, is exaggerated. "Anyone who is a good singer will be a good teacher." Though he does teach at the Gandharva Mahavidalya and takes his teaching role earnestly he sees himself as a performer first. Conductor of the Gandharva Choir and a composer, too, who loves to create compositions for his sister Madhavi Mudgal, the famous Odissi dancer, and now for his daughter Arushi Mudgal, an upcoming dancer. A proud father, he rates the experience of accompanying daughter dearest on stage, as truly exhilarating. Wasnít she daunted by his presence? "No way," he smiles, "Remember her guru is her aunt Madhavi and she is scared of her. With me itís a father-daughter relationship and like all daughters, she is my boss." Of course, his other daughter Sawani Mudgal is being trained by him and has blossomed into a fine teacher herself loved by her students, who refuse to graduate out of her class. On shishyas of today he says, "Well, when we were young time was not in short supply. The present generation, however, is in a tearing hurry."
On the easiest short cut to success ó fusion music ó he says, "Itís fine if you foray into it once in a while, but if it becomes your prime time occupation you are likely to be uprooted from your classical base." Indeed, he nods that exposure to music from other parts of the world helps. He himself grew up listening to Beatles, memories of which, helped him come together with musicians like Paula Moura, Harmeto Pascoal and Benjamim Taubkin in Brazil. Having performed at prestigious venues like Fez Festival in Morocco, Theatre de la Ville Paris, he observes that listeners abroad are more receptive.
Back home, if he had his way he would put mobile jammers at the concerts at least he organises. Performer, teacher, composer and organiser`85. how does he manage to combine all his roles? And once again no euphemisms ensue. Music for him is neither a ladder to achievement nor a means to strike at goal posts. A way to inner realisation and spiritual salvation? "That, too," he confesses "doesnít happen all the time. I would be lying if I say each time I sing there is a communion with the Almighty." However, his listeners continue to swear by the spiritual connect he provides with his deep mellifluous voice.