Going global with Gems
With more and more takers among world celebrities, Indian jewellery is rising in stature, writes Vimla Patil

Malaika Arora Khan displays a collection at the recent India International Jewellery Week Photo: AFP
It seems the 'hunger' of the rich and famous for gems and jewellery is increasing by the year! No wonder India, renowned since millenniums for its treasures of gold and diamonds, is once again in the news. Hollywood stars like Kate Winslet, Drew Barrymore and wives of the world's top leaders like Michelle Obama have shown their preference for jewellery created by leading designers in Indian style. Every year, either the grand wedding season or international red-carpet events become veritable showcases for India's fabulous jewellery and once again, the media is full of images of celebrity women wearing dazzling ornaments created by Indian designers. In 2010, international film festivals saw a large number of Hollywood stars wearing India-designed jewellery, setting the seal of international style leadership on this regal industry of India.
Many scintillating events organised by Bollywood last season also showcased the grandeur and richness of Indian jewellery. At these shows, 600 million television viewers worldwide watched the collections of jewellery created by exclusive designers like Farah Khan Ali, whose sister Suzanne Roshan and her famous superstar husband Hrithik wore jewellery created by her. A-listers like Kareena Kapoor, Deepika Padukone, Priyanka Chopra, Dia Mirza, Zayed Khan's wife Malaika, Kangna Ranaut, Sushmita Sen, Lara Dutta, Bipasha Basu, Raveena Tandon and Mugdha Godse also wore designer jewellery. Similarly, jewellery by Queenie Dhody, Priti Patel, Neelam Kothari and, of course, the large jewellery houses like Orra, Tanishq and Jaipur Gems created a dazzling spectacle.
However, the magnificent story of Indian jewellery does not end here. Its opulence and glamour are making headlines in the world's power centres, too. Michelle Obama, the First Lady of the US, recently wore a "Nizam-inspired" necklace made of pearls, Swarovsky crystals and zari threads, which was created in Delhi. The necklace was inspired by William Dalrymple's book The White Mughals!
"Internationally, Indian jewellery is the flavour of the new decade despite the recession in western countries," says designer Rhea Shah, "Hollywood stars like Nicole Kidman, Kate Winslet and Drew Barrymore are choosing chandelier earrings and bangles with Indian motifs. Beyonce is showing off chandbalis from Hyderabad. Indian jewellery is experiencing a memorable high in western society. Pop star Gwen Stefani wears anklets and neckpieces with Sanskrit inscriptions. Victoria Beckham can't do without her maang tika!"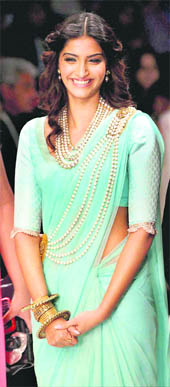 Sonam Kapoor presents the trends for the new season at IIJW-2011 Photo: PTI
Many US, French, Italian and British jewellery designers make their annual pilgrimage to Mumbai, Delhi and Jaipur to work with renowned traditional Indian designers to hone their skills. One such exclusive designer is Man Singh Nathawat of Jaipur, who apparently guides many designers from the West. Mumbai's Priti Patel designs exclusive Burma rubies-and-diamond or Brazilian emerald-diamond encrusted pieces for the rich and famous. India's maharajas and nawabs wearing priceless gems set in kundan and meenakari are considered the height of fashion and all celebrities want to possess pieces like those they wear in the portraits. Owing to this passion, western connoisseurs and Indian royalty earlier commissioned pioneering master designers like Ambaji Shinde from New York's Harry Winston showroom to create fabulous pieces for them. From the British colonial era, Shinde – who died recently – created outstanding pieces for royals – starting with the Maharaja of Gwalior – and rich families across the world. The Maharaja of Patiala, Bhupinder Singh had his sarpech or turban ornament made by Cartier. A grand book of Shinde's designs was published in New York some years ago. Some old portraits of Maharajas and the fabulous pictures of Shinde's designs show the incredible treasure of diamonds the royals possessed. These priceless gems are now scattered around the world after being auctioned by Christies or through private sellers!
"Indian jewellery has always had a fabulous aura," says Janette Reese, a New York-based designer for celebrities, "India's design sensibility is unchallenged even in this age of fast cars and computers. Its old-world charm remains eternal and every woman dreams of wearing at least one piece of jewellery, a la India, to feel like a maharani herself. We must also remember that British, French, Russian and Iranian royals have always worn Indian jewellery throughout the colonial era. Priti Patel, who specialises in coloured stones, says, "In recent years, danglers, chandeliers and jhumkas with cut and uncut diamonds – specially teamed with rubies, emeralds and more often with semi-precious stones – and rings as well as unusual bracelets have been in vogue. Celebrities and stars have so many events – in India and globally. The rich and famous have a lust for jewellery from time immemorial. I am happy to be the medium which helps them to realise their dreams."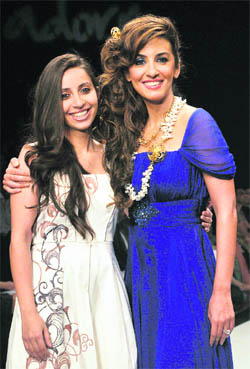 Perizaad Zorabian (R) with designer Pallavi Dudeja at IIJW - 2011 Photo: AFP
Priti has a keen eye for designs from India's royal past. She adds, "The Nizam's collection, the absolutely riveting jewellery of the maharajas and maharanis and the historic jewellery pieces from the Mughal era are extraordinarily beautiful. But they cannot be worn in their original design by today's active women, firstly because they are too costly, and secondly, as they would be uncomfortable to wear. I have taken many vignettes of this past treasure and given each piece a contemporary touch to make it more acceptable and wearable for today's women. So, my designs are royal in look and modern in styling, giving women a feeling of exotica with contemporary comfort."
"The whole world loves exotic Indian jewellery because it is inspired by history," says Pieter Erasmus, eminent US designer, "I'm working on a line inspired by colonialism from the period 'After Gandhi'. The West feels jewellery inspired by India has an old-world charm!" Another US designer, Pippa Small, has created a peacock collection inspired by designs in Orissa, "It was a sellout," claims the designer, who creates jewellery for Gucci, Nicole Farhi, and Chloe. `A0"Indian jewellery has lost its over-the-top, gaudy image. The modern jewelled look is royal, bold and distinctive," says Rajiv Arora of Amrapali Jewels, makers of jewellery for actresses Freida Pinto, Sandra Bullock, Megan Fox and Angelina Jolie.`
Hollywood A-lister Nicole Kidman regularly orders jewellery from Jaipur. Lindsay Lohan also wears Sanskrit-motif necklaces from Indian jewellery designer Rosena Sammi in New York, as do Kate Moss, Jessica Alba and Naomi Watts. Every year, western jewellers like Adeline Roussel and Emma Chapman come to Jaipur to seek inspiration for their collections. A large number of designers spend time in Jaipur watching local jewellers. Jaipur is not only the 'emerald centre of the world', it is also the international jewellery design city. They say, "These days, jewellery doesn't make you feel like an antique portrait. Indian designs have been the turning point in our sensibilities. Indian designers like Anish Kapoor and Subodh Gupta also sell their unique pieces in the West." However, the guru of all designers remains Mal Singh Nathawat, a jeweller in Jaipur from whom innumerable designers learn the art. It seems haute jewellery today is still inspired by the period of the Maharajas and designs by erstwhile designers like Ambaji Shinde are being reinvented for modern tastes.
It is well-known that the gem and jewellery industry, worth more than Rs.5000 crore, is an important part of the Indian economy and is growing at the fastest rate, earning huge foreign exchange. The base of this industry is gold and diamonds – while 80 per cent of the market is gold, the rest is devoted to diamonds and studded jewellery. India's diamond cutting industry is huge and gives employment for 1.3 million people apart from earning foreign exchange. India accounts for 20 per cent of the global consumption of gold and the world's biggest diamond processor – around 90 per cent of the global market! Thus, India remains the star attraction at all international jewellery fairs. Today, with millions of Asians becoming richer than ever before, jewellery fairs have become regular events in many cities and Indian jewellers participate in most of them to further increase the share of India in these markets. In 2011, for instance, already, more than 10 such international fairs will be held: These are:
n The Hong Kong Jewellery Show
n The Hong Kong International Gem & Jewellery Show with Design Excellence Awards.
n The 47th Gems & Jewellery Fair 2011 in Bangkok.
n India Jewellery Fair 2011, Trade Show, New Delhi.
n The Jewellery Fair GJIIE 2011, Chennai, for the South Indian jewellery industry
n Costume Jewellery Exhibition, South Africa-2011
The recent India International Jewellery Week (IIJW) in Mumbai once again highlighted the new trends for 2011. These are:

Big stones: Precious or semi-precious, big stones are in vogue. Fashion-conscious women all over the world are wearing tourmalines, garnets, aquamarines and other stones in thick chains together making chunky necklaces. For those who want inexpensive jewellery, the same trend is copied in faux gems or resin/acrylic beads interspersed with Swarovski crystal beads. Remember Michelle Obama wore such a necklace on her visit to India last year? A side trend from this major wave is the meteor necklace by Swarovski crystals and semi-precious stones.
Chunky bracelets with clustered stones: These are in, especially in geometric designs, as well as bracelets with carved semi-precious stones surrounded by smaller stones.
New and traditional motifs: Many Bollywood stars who modelled jewellery from various houses wore predominant motif jewellery, or stones clustered to make flowers, birds, snakes, elephants etc. Designers added a touch of creativity and workmanship to the traditional kangans and rings to introduce a new wave of 'same shapes with novel treatments,' which made the designs edgy and unique.
Textured pieces: Gold and silver no longer need to dazzle. The textured surfaces that are now sweeping the jewellery markets are awesome and give the wearer a controlled, opulent look.
The industry looks forward to even better results next year. As GJEPC chairman Rajiv Jain says, "Over the last five years, India has emerged as one of the most dynamic centres in the gems and jewellery industry worldwide. To celebrate this global stature of India in the jewellery industry, we held the second edition of the IIJW recently."
"I believe that jewellery should have a special emotional appeal to the wearer. A woman should feel empowered and special when she wears her favourite piece. This is what we aim for," says Farah Khan Ali, designer to many world celebrities.
Farah Khan Ali's jewellery has been worn by singer Beyonce in her latest album
Say it with
statement pieces

Chetna Keer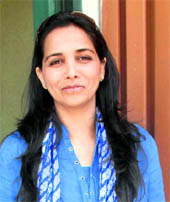 Revivalist designer Roopa Vohra
Leading Mumbai-based and Chandigarh-bred revivalist jewellery designer Roopa Vohra, whose creations styled Madhuri Dixit in Jhalak Dikhla Jaa 4, and are sported by stars Anushka Sharma, Jacqueline Fernandez, Chitrangada Singh and others at red-carpet events, spells out the styles for the season and more.
What are the jewellery trends for this wedding season, in terms of styles, stones and palette? What's going to be out of fashion?
A kaleidoscope of south sea pearls, pink tourmalines, rubies, sapphires, emeralds and dazzling diamonds and uncut diamonds are the flavour of the season. The designs are especially for women who recognise and appreciate impeccable setting and well-defined detailing. Unique, one-of-a-kind pieces that have a story, pieces that can become the centre of a conversation when worn`85these are going to be in. Standard, mass-produced gold and diamond jewellery is a definite has-been.
What are the trends from recent jewellery shows and red-carpet events?
The artwork that adorned the courts of the rajas and maharajas of ancient India is now a style statement for the contemporary woman. The amazing Indian heritage is what is asserting itself in the season's styles. With a zing of contemporary flavour, rich colours are being blended with a touch of classic romanticism.
Roopa Vohra's jewels were worn by Madhuri Dixit in Jhalak Dikhla Jaa 4, and have also adorned (R) actor Jacqueline Fernandez
Indian ornaments are adorning many global celebrities. Any international personalities who have worn your creations?
Elizabeth Hurley and Lisa Ray are amongst the many celebrities who wear my creations from time to time.
How are the big and small screens influencing jewellery trends this season?
Television has developed a reach that is unparalleled today. It is, therefore, highly instrumental in helping create instant awareness of styles. Especially for a brand such as ours, which is highly experimental and innovative, the small and the big screen both are very effective mediums to create a reach and awareness for jewellery. When adorned by prominent figures on the small and big screens, these collections take on a life of their own, as could be seen in Jhalak Dikhla Jaa 4.
The collection is designed for a spectrum of women especially those who are bold, magnanimous, passionate, sensual and, above all, expressive.
How do you see India's growth as a jewellery destination of the world?
Indian has a tremendous cultural heritage to offer the world. This is what makes it different from the rest of the world. Our design inspiration and craftsmanship stands out and is appreciated by one and all. I believe India has already come a long way as a jewellery destination for the world. There is a lot of scope for growth for Indian designs globally.