Queen of kathak
She is 91 with the soul of a youthful dancer, who refuses to bow to the vagaries of years. Kathak queen Sitara Devi has been honoured with the Legends of India Lifetime Achievement Award 2011 for her contribution to the classical dance genre for over six decades.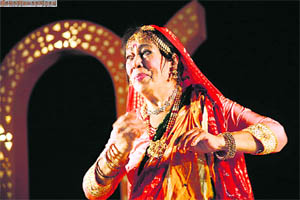 Her petite frame may have been confined to a wheelchair now but at 91, Sitara Devi's spirit still remains fiery
Dressed in pink chiffon, glittering gold jewellery and shining vermilion bindi on her gently wrinkled brow, Sitara Devi was forceful in the defence of purity of kathak.
"Aab kathak hota hi kahan hain (there is no kathak now). No one dances the pure kathak. The dancers perform whatever they think is right in the name of kathak," adds Sitara Devi.
Her petite frame may have been confined to a wheelchair but the spirit still remains fiery. "Most people donít know kathak. They dance for easy livelihoods," says the danseuse.
"I am happy. A committed dancer is feted only when she devotes her life to dance and achieves fame. Tab bahut tarif hoti hain (Then you get a lot of praise)," the veteran dancer adds.
However, she has no message for youngsters. "Young dancers, I really donít know. What can you wish for them," she says, a wee wistful.
Born in 1920 in Kolkata, Sitara Devi draws from the themes, poetry and choreography collected by her father in her choreographies. She also integrates from the environment around her ó whether it is a town or a village. The characters around her come live in her dance.
"By training, I am just a kathakar of Krishan leela (tales of Krishna)," she says.
Kathak, which literally means katha, was a narrative drama, which evolved out of the Krishna temples of Indian hinterland to scale the pinnacle of glory in Muslim courts.
Sitara Deviís roots are inextricably woven to the tradition of kathakars, the early kathak dancers. She was born as Dhannolakshmi to a family of Brahmin kathakar Sukhdev Maharaj.
She chose school and dance over an early wedding, as was the norm of the 1920s. Her father, a Vaishnavite Brahmin scholar and kathak exponent, sent her to a local school where young Dhanno impressed her teachers and the local media with her performance in a dance drama, Savitri Satyavan.
When her father learnt of it, he re-christened her as Sitara or the star and placed her under the care of her older sister for kathak training.
By the time Sitara Devi turned 11, the family moved to Mumbai, where she impressed Nobel laureate Rabindranath Tagore with a three-hour solo recital.
Tagore offered her a "shawl and Rs 50", which Sitara Devi refused and sought his blessings instead, to become a great dancer.
Over the next six decades, she became a kathak legend and was a pioneering force in bringing the genre to Bollywood.
Sitara Devi married director K. Asif of Mughal-e-Azam fame and then Pratap Barot.
According to Sangeet Natak Akademi vice-chairperson, Shanta Sarabjit Singh, "Sitara Devi is a vital force, who stood for zest and vigour in Indian dance. I recommended her name for the Legend of India honour and I am glad they accepted it."
Reminiscing his first brush with Sitara Devi, ICCR director-general Suresh Goel says: "I met her for the first time at a concert at Kamani theatre in 1979 where she was dancing a duet with Yamini Krishnamurthy. She was down with flu but she remained on stage for hours. She was wonderful..." ó IANS