ulta pulta
Bare support
Jaspal Bhatti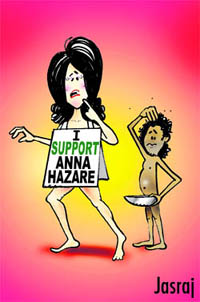 A few weeks ago, model Salina Wali Khan declared that she would dance naked if the Jan Lokpal Bill was not passed. It was her way of showing solidarity with Anna. My slow mind has taken a bit longer this time to understand and think whether her declaration would support the movement or drag it back. Because many pervert minds might go for her dance than the Bill. Just the opposite of it Marathi actress Yogita Dandekar had claimed that she would run marathon topless if the Jan Lokpal Bill was passed in Parliament. I think her level of exposure will depend on in what shape the final Lokpal Bill takes.
I also had gone to Ramlila Maidan to lend my voice against corruption. My wife had doubts whether I really went to protest against corruption or I had Yogita's incentive in mind. The aim of the civil society is to unsheathe the corrupt minds and not sexy models. These models, by such statements, in fact, corrupt the minds of many and make a mockery of serious issues.
If this trend continues, most Bills in the Parliament will either be supported by somebody going on fast or going nude. A boy was roaming about in the street naked. Somebody asked him, "Are you supporting some Bill in Parliament?" He replied, "No, I am naked because of poverty."