18 killed as strong quake strikes Sikkim, Nepal
* 6.8 in magnitude * Epicentre near Gangtok * Over 100 injured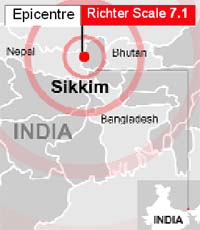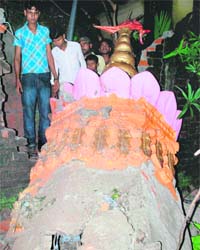 A temple minaret damaged by the quake in Siliguri. — PTI
Gangtok, September 18
A powerful earthquake with a 6.8 magnitude jolted Sikkim and several areas of the North-East and neighbouring Nepal on Sunday leaving at least 18 persons dead and over 100 injured besides causing extensive damage to several buildings.
The first tremors were felt around 6.10 pm. The epicentre of the quake - the biggest in two decades - was located at Mangan and Sakyong areas, over 50 km from Gangtok on Sikkim-Nepal border.
Five persons were killed in Sikkim - two at Singtham (East), two in Rishi (West) and one in Mangan (North) as the government sought Army's asistance in reaching help to the affected, state Chief Secretary Karma Gyatso said. Two Army jawans were also killed in the north Sikkim area and three Army vehicles were reported missing, Army officials said in Delhi.
Three persons were killed in Darjeeling and one in adjoining Jalpaiguri in West Bengal while two others - a five-year-old girl in Nalanda and a youth in Darbhanga - lost their lives in Bihar.
At least five persons were killed in Nepal, three of them outside the British Embassy in Kathmandu, when a high brick wall collapsed.
Many tall buildings shook and developed cracks in Gangtok and Darjeeling and windowpanes shattered as thousands of people ran out to the streets in panic.Two buildings of the Indo Tibetan Border Police collapsed in Pegong area.
Communication links were snapped with mobile towers getting damaged. Gangtok and several other areas were plunged in darkness following major power failures.Heavy rains and darkness hampered relief operations in the night. Tremors were felt in Assam, Meghalaya, Tripura, parts of West Bengal, Bihar, Jharkhand, Uttar Pradesh, Rajasthan, Chandigarh and Delhi.
Several buildings developed major cracks in Sikkim as personnel of the Disaster Management were deployed, Gyatso said.
Three after shocks of 5.7, 5.3 and 4.6 magnitude on the Richter Scale were felt in the region within 30 minutes of the first quake.
"Tremors were felt between 30 seconds to one minute in some parts of Sikkim, including Gangtok," Shailesh Nayak, Secretary in the Ministry of Earth Sciences, said in Delhi.
The National Disaster Relief Force is on way to Sikkim and would reach the state by tomorrow, Gyatso said. "We have alerted the armed forced and paramilitary personnel," he said.
Prime Minister Manmohan Singh spoke to Sikkim Chief Minister Pawan Kumar Chamling and offered help in all possible ways.
On the direction of the Prime Minister, Cabinet Secretary Ajit Kumar Seth reviewed the situation with Home and Defence Secretaries and senior officials of the National Disaster Management Authority.Five IAF planes pressed into action for relief operations.Two teams of the National Disaster Response Force - five each from Delhi and Kolkata - are being sent to assist in the relief and rescue operations.
A woman was seriously injured in Gangtok near a cinema hall in the market area when stones from an wall fell on her, he said. Reports said a building housing a small hotel in Singtham collapsed and people were being evacuated. Another house collapsed in Dikchu town in the same district. A portion of the market at Dikchu also collapsed.
Several buildings in Gangtok developed major cracks and people were seen moving to the Paljor stadium and other open areas.Power and water supply connections got snapped and continuous rains during the last three days worsened the situation.Around 200 persons have been brought to the ITBP relief camp in Gangtok. Army columns in small teams were deployed in rescue mission across Sikkim. The tremor was felt in Delhi and Kolkata as well as Ranchi, Darjeeling. Jalpaiguri, Siliguri, Birbhum and Bankura districts in West Bengal.
"Darjeeling and Kalimpong are now in total darkness," West Bengal Chief Minister Mamata Banerjee said. — PTI