M A I N N E W S
Sushma remark sparks Mehbooba-Omar slugfest
Ehsan Fazili/TNS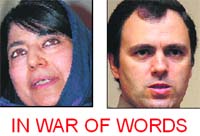 New Delhi/Srinagar, Sept 20
A day after BJP leader Sushma Swaraj said both BJP supporters and rivals like PDP's Mehbooba Mufti had praised Narendra Modi, a war of words erupted between the PDP chief and Jammu and Kashmir Chief Minister Omar Abdullah, even though she denied having praised the controversial Gujarat CM.
It all started at Modi's fast venue in Ahmedabad on Monday with BJP leader Sushma Swaraj saying: "Not just BJP supporters, even rivals like PDP's Mehbooba Mufti have praised Modi's work ethics at the recent National Integration Council (NIC) meeting. This makes us proud."
Today, Omar Abdullah was unsparing in his criticism of his political rival and her policies. "I am not surprised Mehbooba praised Modi. She can praise whoever she likes; I am surprised she'd deny it knowing others heard her speech," Omar tweeted. "Why can't she (Mehbooba) just admit what she said rather than deny the whole thing? So much more graceful to accept rather than call Ms Swaraj a liar," he said in his second tweet.
Denying reports of her praise of Modi, Mehbooba said her remarks were quoted out of context and asked the Centre to release the transcript of her speech to clear the misgivings. "The remarks associated with me that I have praised the Gujarat Chief Minister are incorrect. It is very unfortunate that Leader of the Opposition (Sushma Swaraj) has misquoted me," Mehbooba said here.
After Mehbooba's denial, Swaraj tweeted that she has "correctly quoted" Mehbooba Mufti. "I only quoted what she spoke in presence of over a hundred people in the afternoon session of the NIC meeting on 10th September. It wasn't a private conversation," she said.
Omar continued his tweets on the topic and brought in Mehbooba's father, Mufti Mohammed Sayeed: "At least her father had the sense not to deny calling up Lalu, as Home Minister, to order Advani's release. He just did what ostriches do."
Taking a dig at both the BJP and the ruling National Conference, Mehbooba said if the BJP was so "desperate" it was better for them to quote their former ally Farooq Abdullah. "I feel the party (BJP) is frustrated, but I would request them if they want some Muslim leader on their side to prove their secular credentials, they must approach Farooq Abdullah, who has praised Modi and even said he had seen Allah in Modi's eyes."
She further said, "Omar was a minister in the NDA government when Muslims were massacred in Gujarat." Meanwhile, Omar's senior party colleague and Baramulla MP Sharif-ud-Din Shariq said that the PDP had always indulged in doublespeak to hoodwink the people and Mufti's eloquent praise of Modi was only "testimony of their true colours and dubious machinations".
"Why should Mehbooba not praise Modi? After all, Modi is responsible for killing of thousands of people of a particular community in Gujarat and Mufti Mohammad Sayeed, as the Union Home Minister, was responsible for killing of thousands of Kashmiris," he said.
(With agency inputs)