M A I N N E W S
Firearms behind 12% of murders in India
UP, Bihar, Jharkhand most unsafe; unlicensed weapons used in 92% of killings
Aditi Tandon/TNS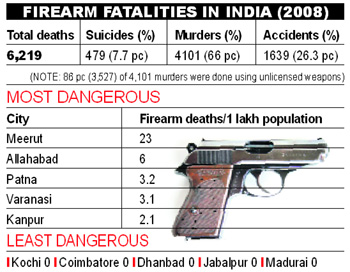 New Delhi, September 21
The easy availability of illegal firearms made Uttar Pradesh, Bihar and Jharkhand witness to two-thirds of all murders committed using firearms in 2008, the latest year for which the related data is available.
India, as a whole, witnessed 4,101 gunshot murders during the period. These accounted for 12.2 per cent of the 33,727 murders reported during the year. Overall, the country lost 6,219 persons to gunshots - 66 pc of them were murdered, 26.3 pc killed accidentally while 7.7 pc committed suicide using weapons.
These and many more revealing facts form part of the India Armed Violence Assessment, a UN Information Centre and UNODC-supported first-ever study of firearm crimes in India.
Conducted by Delhi University's Anil Kohli for the Small Arms Survey, a global project on armed violence assessment, the research reveals that most of the victims of firearm murders in India were killed using unlicensed firearms. Such arms were used in 86 to 92 per cent of all arms-related murders committed from 1999 to 2008. Further, out of 650 million civilian-owned guns in the world, 40 million were in India. Of these, just 6.3 million are licensed, thereby increasing the possibility of criminals procuring unlicensed weapons for crimes.
The availability of unlicensed weapons is particularly easy in Uttar Pradesh, Bihar and Jharkhand which accounted for 2,559 of all 4,101 firearm murders in 2008. Uttar Pradesh alone reported 1,470 murders; six of its cities figured among the eight most unsafe mega cities in India.
Picture this - in 2008, 35 Indian mega cities together reported 791 firearm fatalities. Out of these, the maximum 263 were reported in Meerut, the most dangerous city. Others in Meerut's league are Allahabad, Patna, Varanasi, Kanpur, Agra, Indore and Delhi.
Regionally speaking, Manipur, Nagaland, Jharkhand, Jammu and Kashmir, Uttarakhand and Chhattisgarh are among the most dangerous in terms of gunshot fatalities, with Manipur reporting 6.11 firearm deaths per one lakh population, the highest for any single state in India. The figure is 1.72 for Jammu and Kashmir and 0.70 for Chhattisgarh. These figures represent the reality of Naxal violence, closeness to international borders that facilitates smuggling and separatist violence in the North-East and J&K.
"In UP, Bihar and Jharkhand, a high rate of firearm murders not only reflects easy arms availability (Meerut and Patna, for instance, have several illegal firearm factories), it also reflects political violence, caste conflicts and Naxal attacks in which gun use is common," Kohli said at the launch of the study on the eve of International Peace Day today.Another telling finding of the study is that deaths by gunfire halved from 12,147 in 1999 to 6,219 in 2008. Out of all deaths, surprisingly, murder-related deaths declined from 77 pc in 1999 to 66 pc now while the number of accident and suicide-related incidents went up. Between 1999 and 2008, the proportion of suicides among firearm-related deaths, however, rose from 19 to 26.3 pc so also of accidents from 4.5 to 7.7 pc.
Shocked by the drop in murder-related deaths, researchers apprehend the police might be reporting murders as suicides and accidents.
The study sourced crime-related data from the National Crime Records Bureau.