Trends
Penguins identify mates, kin by smell
CHICAGO: Penguins can sniff out the door of lifelong mates, helping them reunite in crowded colonies, and also can identify the scent of close kin to avoid inbreeding, scientists said on Wednesday. Some seabirds have previously been known to use their sense of smell to find food or locate nesting sites but the experiments with captive Humboldt Penguins at Brookfield Zoo near Chicago proved, for the first time, that the birds use scent to discriminate between close relatives and strangers.
Arkansas' lost moon rock found in Clinton's gubernatorial files
LITTLE ROCK, Ark: For years, Arkansas historians have searched for a valuable lunar rock from the Apollo 17 mission, one of the moon rocks NASA presented to each state in the 1970s. While other states also continue to dig for the rocks that came to be known as the Goodwill Moon Rocks, the mystery in Arkansas was solved Wednesday-sort of-when an archivist discovered it in former President Bill Clinton's gubernatorial papers.
Spooky theory, leukaemia drugs top Nobel tips
LONDON: Researchers who developed ground-breaking leukaemia drugs, discovered dendrimers and delved into the intricacies of what Einstein dubbed "spooky action" are among Thomson Reuters 2011 top tips to win Nobel prizes for science. Nobel prediction expert David Pendlebury's annual forecast is made using the company's "Web of Knowledge" data on how often a scientist's published papers are used and cited as a basis for further investigation by other researchers.
Crime witness ID method can affect error rate
DES MOINES, Iowa: Showing photographs of suspected criminals to witnesses in sequence, rather than all at once, can produce fewer mistakes in identifications, according to new research. Gary Wells, a psychology professor at Iowa State University, said presenting photos one at a time produced a lower error rate than when witnesses were shown a simultaneous array of photos.
China to launch "Heavenly Palace" on way to space
BEIJING: China will next week launch an experimental craft paving the way for its first space station, an official said on Tuesday, bringing the growing Asian power closer to matching the United States and Russia with a long-term manned outpost in space. The Tiangong 1, or "Heavenly Palace," will blast off from a site in the Gobi Desert around September 27-30, adding a high-tech sheen to China's National Day celebrations on October 1, the Xinhua news agency said.
NASA unveils new plan to buy rides for astronauts
CAPE CANAVERAL, Florida: NASA plans to spend $1.6 billion over the next two years bolstering industry efforts to develop space taxis, officials said on Monday. The U.S. space agency will be looking for complete systems- launchers, spaceships, mission operations and ground support- to ferry astronauts to the International Space Station by the middle of the decade, a draft solicitation released on Monday shows. — Reuters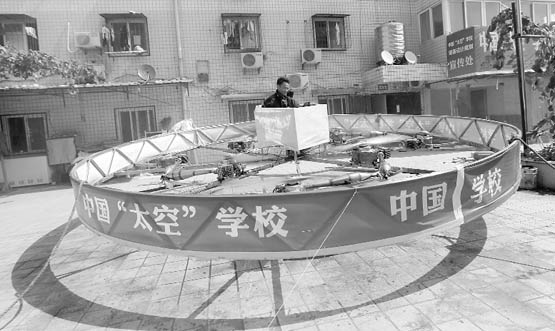 A farmer Shu Mansheng hovers above the ground in his self-designed and homemade flying device during a test flight in front of his house in Dashu village on the outskirts of Wuhan, Hubei province, in China on September 21, 2011. The round steel flying device, which cost more than 20,000 yuan (Rs 1,54,350), is the fifth model made by Shu, a junior middle school graduate. It measures around 18 feet in diameter, and is powered by eight motorcycle engines. Shu managed to hover for 10 seconds at about 3.3 feet above ground during a recent test flight. — Reuters photo