THIS ABOVE ALL
Formula for painless exit
Khushwant Singh

Whenever Anees Jung wanted to pull down a few rungs in my self-esteem, she accused me of telling lies and contradicted me with a loud "nevvah (never)." Some time ago she told me about a true incident concerning the Dalai Lama. One of his disciples brought a four-inch-long red string, which I was asked to tie on my left hand wrist. It would assure me of a painless exit from life.
Now I am in acute agony. I did not use the red string and put it in one of the drawers of my working table. I am determined not to use it. I know my end is to come very soon. And I sense my end will come any day in the near future.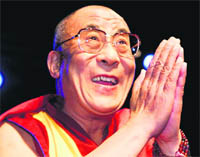 I am determined not to use the Dalai Lama's red string of good luck
I told Anees Jung about it. She has shifted residence from Delhi to Versova. When I first told her about it, her response was a loud "nevvah," and an assurance that she knows the Dalai Lama very well. I tried to shake her self-confidence. "Perhaps you were in the same school in Lhasa," I said. She ignored my jibe and continued to belittle me.
Now that I am in acute agony and know I will not last long, I do not know if she still regards the Dalai Lama as a close confidante. I will not be around when news about my departure appears in the obituary columns of newspapers — hopefully, on some channels of our TV, too.
Cracking cynicism
Dancing in every street of Mumbai, Kolkata, Delhi;
Bharat and India, in a state of unprecedented frenzy;
Celebrating the determination, grit, honesty;
Of a simple man, replicating Gandhi;
And epitomising the frustration, anger and hopes of the country;
Mark for our democracy a unique victory;
Not that rogues will now cease to hold sway;
Not that corruption will go away;
And money and muscle will no role play;
But it gives cynicism a rude shock;
And people may begin to walk the talk;
Melting an iceberg long frozen;
Thus giving hope to the common citizen;
That even a war against corruption can be won;
A war which has just begun;
And for which everything is yet to be done;
But whatever the outcome of the flight;
Anna has already become a house of light.
(Contributed by Kuldip Salil, Delhi)
Wind problem
Banta was a rich man and had to attend big parties in connection with his business. His wife had been suffering from wind problem. The couple felt very awkward when she passed wind or farted. People around felt as if a bomb had exploded. Banta spent a lot of money, consulted many doctors but there was no permanent cure.
His friend Santa directed him to a cobbler near Karol Bagh, who said: "Bantaji, I cannot cure it, but by making the sound a little musical, your problem will be solved. The charges will be Rs 2 only."
He asked him to buy a small whistle. He tied the whistle around the sensitive portion through her waist. Whenever she farted or the wind passed, the whistle would blow. The gentry in the party felt very happy.
But Banta's wife went and asked the cobbler if the sound produced could be made a little more melodious. The cobbler replied that with Rs 2 that Banta had given him, only a whistle could be fitted, not a piano.
(Courtesy: J.P. Vinayak, New Delhi)
Incomplete lesson
Vijay Mallya, the liquor baron, was once teaching his 17-year-old son how to approach a girl, how to ask her to dance, what to say and what not to say, and how to persuade her to come for dinner. The boy went away, and half an hour later came back and said: "Now teach me, father, how to get rid of her!"
(Contributed by Anirban Sen, Delhi)