Guru-shishya paramapara
Nonika Singh explores the tradition that is not only unique, sacred and inimitable but also one whose resilience or significance can never be undermined
I am indebted to my father for living, but to my teacher for living well ó Alexander of Macedon
In the Indian context, especially in the world of classical tradition, however, the debt of gratitude that students owe their teachers goes way beyond ordinary mortals understand the teacher-taught relationship. Considered the backbone of classical tradition, the guru-shishya paramapara is not only unique, sacred and inimitable but also one whose resilience or significance can never be undermined.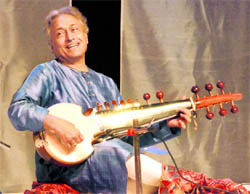 Ustad Amjad Ali Khan's advice to his disciples is ó Be aware of your limitations; donít try to show off more than you are capable of. Photo: Nitin Mittal
Gifted singer Sanjeev Abhyankar, disciple of celebrated vocalist Pandit Jasraj, feels this unusual tie is unparalleled. Madhup Mudgal, a leading vocalist, rates it above all other human ties, where he deems the connection is spiritual.
Chandigarh-based exponent of Patiala gharana Primila Puri dubs her interface with her guru Ustad Munawar Ali Khan, son of Ustad Bade Ghulam Ali Khan, a life-changing experience. She recalls, "In 1968, when I became Munawar Ali Khanís gandabandh shagird, till then I was a completely westernised person, totally oblivious of Indian values and culture." Learning music from Khan sahib, she feels, not only transformed her but her entire family.
Mudgal, too, doesnít know what he hasnít learnt from his great guru, the late Kumar Gandharva. And he is not just talking of musical influences but the entire philosophy of life. All of what the legendary vocalist said is ingrained in him ó donít be oblivious of your faults, more so, when you become successful.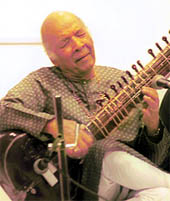 Ustad Vilayat Khan
Classical musician and creator of musical instruments Sarasvani and Swarragini, Subhash Ghosh, too, shares how Ustad Amjad Ali Khanís advice, "Be aware of your limitations; donít try to show off more than you are capable of" has been a guiding light for him. He also reveals that consciously and unconsciously he has not only imbibed music from the sarod maestro but has even copied ustadís impeccable traditional style of dressing. Abhayankar may feel his perspective of life is different from his guruís, yet he, too, canít help but be suitably impressed when he finds his guru has an Facebook account and opens one immediately.
Admiration for gurus invariably borders on deification. Puri avers that she never forgot the yawning gap between his greatness and her own limited capability. Mudgal, who took immense pride in being called Kumarjiís chamcha, doubts if any other musician could match his guruís music and path-breaking ideology. Such reverence, such dedication ó so what explains the murmurs that often accuse gurus of being biased or discriminatory? One charge that has always stuck on them is regarding favouritism towards their own progeny whom they go all out to promote? Ghosh argues, "When ustadji took me on, the promise was to teach me not promote me." Puri remembers the words of her ustad to dispel any such notions. She says, "He would say guru daana dalta hai`85. It is up to the disciples who have the courage to pick it up."

Sanjeev Abhyankar and Pandit Jasraj; and (right) Abhyankar during a concert
Kathak dancer Shobha Koser, whose relationship with her gurus Kanhaiya Lal and Kundan Lal Gangani, has spanned the test of time and even death, says," Gurus donít discriminate; they only teach differently. For they know each disciple has his or her own potential and that has to be tapped." So though her guruís son Rajendra Gangani is a noted performing artiste, never has she felt that her guru withheld something from her.
Sitar player Harvinder Sharma reminisces how legendary sitarist Ustad Vilayat Khanís children Shujaat Husain Khan, Zila Khan and he would learn at the same time and there was no differential learning. The only defining difference is that while his ustadís children had the natural advantage of being with him all the time all the year around ó a fact he envied ó he could visit his guru only for a limited period of time. Mudgal asserts that a true guru, who loves music, can never be biased. Rather, he thinks, the guru-shishya relationship is a notch above the father-son bond. So while Kumar Gandharva had problems with Mukul, the son, but as a shihsya he held him in great regard.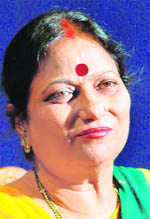 Kathak dancer Shobha Koser Photo: Pawan Sharma
While both Kumar Gandharva and Ustad Vilayat Khan had a tumultuous relationship with their sons, is the guru-shishya bond above reproach? Abhayankar deems that like all other bonds this one, too, is human, which means there are ups and downs. How bittersweet moments encapsulate this relationship is best explained by Mudgal. He shares how six months after his concert in Mumbai, his guru Kumar admonished him for not quite rendering raag Multani in the right spirit. But seeing the crestfallen look on his discipleís face, he immediately added, "Never mind, I will create a composition for you in a lower octave in this raga."
Truly, are gurus this indulgent, patient and concerned about their disciples? Says Pandit Jasraj, "Jo deta wahi paata." He observes that guru-shishya relationship is not a one-way street.
Moreover, he avers that a guru canít demand respect; he has to command it with his conduct. And only those who change with time are able to bridge the gap. A guru has to learn to accept that if he learnt raga Bhairav in seven years, doesnít mean his tech-savvy disciple too, has to do the same. According to him, any guru who harps on the beaten track, "Mere zamane mein aisa hota tha`85.consider him dead." Fortunately, great gurus not only move with the present but are often ahead of their times.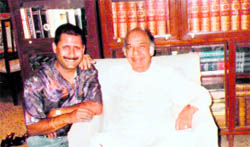 Harvinder Sharma with guru Ustad Vilayat Khan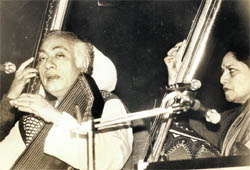 Primila Puri with guru Ustad Munawar Ali Khan
But do shishyas change with times? Do they care to remember their gurus and more importantly keep in touch with them? Koser has not forgotten her debt to her gurus and tries to repay in whichever way she can by remaining in constant touch with her guruís families. Abhyankar makes it a point to remember his guruji on his birthday, on Guru Purnima and whenever he is performing in Pune.
But he thinks all this is immaterial for each time he picks up his taanpura, before he utters the very first swar, he can see the image of his guru. Mudgal can feel his guruís presence all the time, for he muses, "Jo vichar deta hai, he never dies." Therein lies the crux of this sacred and sublime relationship. Guru-shishya, its English translation the Ďteacher-taughtí will never ever sum up its all encompassing, multidimensional nature. But Thomas Carrutherís thoughts, "A teacher is one who makes himself progressively unnecessary," does underline how since, times immemorial, gurus have inspired their disciples to excel on their own dint. And what happens when shishyas race ahead? Guru has the last word and the final victory even then. Pandit Jasraj says, "In our shastras it is said that a man whose children and disciples overtake him is blessed and not only becomes immortal but goes straight to heaven." About heavens and Gods who knows but on this mortal earth many a guru and shishya do experience this heavenly relationship.


Silken bonds
Gandabandh is a traditional knot-tying ceremony, which cements the relationship between a guru and his shishya. Usually performed on an auspicious day, it heralds the beginning of teaching. Akin to a mini religious function, a token of appreciation guru dakshina that includes sweets and clothes, is given to the guru. Since time immemorial, the ceremony has held great sanctity and ghandabandh shagirds take immense pride in their "official" status. Ustad Munnawar Ali Khanís words "Hope, the Almighty gives me the ability to make you a partner in my talent" during the ceremony are etched on Primila Puriís mind and musicalscape. In 21st century, sadly, while some gurus have become less discerning about whom they choose as their disciples, several shishyas, too, are not worthy of receiving the treasure trove of knowledge that a guru possesses.
| | |
| --- | --- |
| Left: Subhash Ghosh; and (right) in concert with guru Ustad Amjad Ali Khan | Left: Madhup Mudgal; and with guru late Kumar Gandharva. Mudgal is to the left of Gandharva |